'Elegant' Clos Fontaine Reflects the New Young Generation of Bordeaux Winemakers
---
---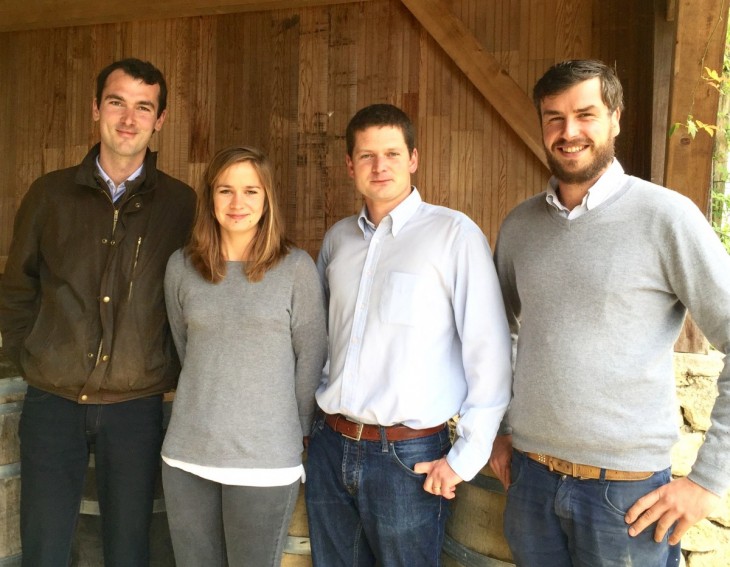 Surrounded by used French wooden barrels in a small shed used as an aging room, I tasted the 2015 Clos Fontaine for the first time in May 2016. I am certain my face lit up and I scribbled furiously in my wine notebook as the wine unraveled itself on my palate: "Gorgeous flavors of violets, sweet spices and red plums. The palate is velvety with an opulent texture provided by firm, ripe tannins. An elegant wine with amazing purity, detail and balance."
In this small shed, the size of an American double car garage, at a modest appellation, Francs Côtes de Bordeaux, I made a discovery: an amazing red wine that retails for less than US$15 per bottle. Francs Côtes de Bordeaux is the smallest appellation in Bordeaux situated east of the more famous wine regions of Saint-Émilion and Pomerol. The region has been cultivated since the Roman times and the vineyards here have some very old vines. The Clos Fontaine I tasted is mostly from 60-year old Merlot vines that are cultivated without any chemicals or herbicides.
Florian Thienpont and his brother Jan, both in their 30s, fully took over from their father in 2012 in managing the small 5-hectare property that is Clos Fontaine. "We do everything from wine making to marketing, but we started in the cellar by cleaning the tanks. And we continue to clean the tanks now." The brothers are completely hands on in every aspect of the wine making and selling process and have decided to do something radical. Prior to 2014, all the Merlot grapes from the vineyard went into one wine, but in 2014, they decided to create two wines: The "grand vin", making 3,000 bottles per year from vines that are over 45-years old; and a second wine made from the younger vines producing 15,000 bottles a year.
"It is all about precision," says Thienpont when I ask him why he decided to separate Clos Fontaine into two wines. He is keen to increase quality and show the potential of the vineyard site by identifying and bottling the best grapes separately.
We are sitting around Florian Thienpont's kitchen over lunch and he has invited a few of his cousins along including Guillaume Thienpont. Guillaume, like Florian, is also in his 30s and works alongside his father, Alexandre Thienpont. "I am just an assistant," says Guillaume modestly, though he holds several degrees in winemaking and worked in famous wineries around the world including Ornellaia in Tuscany, Château Margaux in Bordeaux, Domaine Jean Grivot in Burgundy and Swanson Vineyards in Napa Valley, California.
Guillaume Thienpont is involved in every aspect of viticulture to winemaking at the renowned Pomerol château, Vieux Château Certan. He is also involved in managing the vineyard at his uncle, Jacques Thienpont's property Le Pin, a wine widely acknowledged as one of Pomerol's top wines. Guillaume says the current younger generous of Bordeaux winemakers are much more concerned about what is happening in the vineyard than in the winery. He admits learning a lot working alongside his father who has been making exceptional wine at Vieux Chateau Certan for nearly 30 years. "Our philosophy is that if you work correctly in the vineyard, you don't have to work as much in the cellar."
There is much work to be done in the vineyard, Guillaume tells me. "We need to learn to use technology to our advantage. We need to use more precision in viticulture assisted by new technologies that can test water stress levels or the health and composition of a vineyard. I believe that the biggest gains in quality can still be made in the vineyard." When I ask for examples, he talks about satellite imaging and soil analysis tools that can be used to understand the nuances and variations in the vineyard much better than before. But doesn't that also require quite a bit of human effort as well as technology, I ask. "Yes," he replies. "Nothing can beat work by hand, so we are taking the best of both worlds."
Both Florian and Guillaume are descendants of Georges Thienpont, a successful Belgian wine merchant who became wealthy enough to buy two properties on the right bank of the Gironde river in Bordeaux during the early 1920s: Vieux Château Certan and Troplong Mondot. "He was having some financial difficulties during the global recession in the late 1920s and had to sell one of the properties," explains Florian. "He chose to sell Château Troplong Mondot because at that time the price of vineyards in Saint-Émilion was twice that of Pomerol." His cousin Guillaume adds with a smile, "Now that was a very smart decision."
Florian and Jan Thienpont are also part-owners of Château Vieux Château Certan and Château Puygueraud (the latter two are managed by relatives within the Thienpont family). They are also busy with a negociant business, the Dominique Thienpont Wine Merchant House, working with and marketing on behalf of small wineries that share similar philosophies.
When I ask what his philosophy is, Florian Thienpont replies, "My goal is for simplicity, wines made naturally. We love gastronomy so when a bottle is finished, we like to open another one. We don't care about concentration, color or tannins; we want to make wine for us to enjoy and for the future generation."
Tasting his Clos Fontaine 2015, Florian's prior life as a chef working with three-Michelin star chefs like Yannick Alleno surfaces – behind this wine is a composer, an artist with the heart of a farmer.