Don't Say Boutique Winery in China?
---
---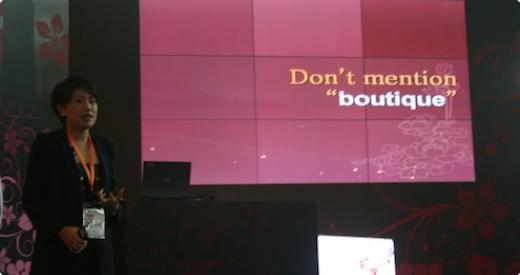 China is now the fastest growing wine market in the world, according to the London-based International Wine and Spirit Research (IWSR).  They forecast a consumption of more than 1 billion bottles for next year.  China has more than 400 wineries, although the top tier wineries such as Dynasty, Great Wall and Changyu produce majority of this volume.  
Boutique wineries are carving out a niche. In the recently concluded Cathay Pacific Hong Kong International Wine and Spirits Competition, the best wine from China was Deep Blue 2008, from Grace Vineyard, a boutique winery.  
A few hours before receiving the award, Judy Leissner, President of Grace Vineyard shared to media and wine trade at the HKIWSF the challenges of being a boutique winery in China. She boldly starts her talk by saying, "Don't mention boutique."  Apparently, in a country where mass-production is highly valued, boutique evokes negative connotations of a mom and pop enterprise.
Grace Vineyard was established only in 1997, and produced only its first vintage in 2001. The vineyard now produces 1.2 million bottles a year of Cabernet Sauvignon, Cabernet Franc, Merlot and Chardonnay, but aims to make fewer bottles.  They aim to produce Shiraz, Pinot Noir and Riesling in the next decade. With 266.67 hectares of vineyard spread in three provinces of mid-western China, the past 13 years required a lot of problem solving and experimentation. Leissner is learned to open-minded, innovative with both marketing and wine production, and to remain focused in the business of creating the best wines.  Leissner says: "In China, there are so many opportunities. People would say, "Let's do property development or resorts. You have to focus on what you have to do."  This Hong Kong Chinese owner of Grace Vineyard appears to be successful with her wines as the preferred Chinese wine in top restaurants and hotels in Shanghai.  
Other boutique wineries worth looking out for is Silver Heights, a small winery in Ningxia province, made by Emma Gao Yuan, one of the few female winemakers making French-style reds.  The depth, complexity and structure of her wine impressed the Aman resorts.  The only other Chinese wines sold in Aman properties are from Grace Vineyard, long-established Changyu Castel and from Golden Valley Vineyards.  Another boutique winery getting international exposure is Jade Valley, a modern spa resort and winery, set in a valley in Shanxi Province. International wine critics are starting to notice the exceptional quality of the Sauvignon Blanc, Cabernet, and Pinot Noir.  
Perhaps, it is worth defining what is a boutique winery in China.  Leissner may be considering her winery as a boutique winery compared to top three Chinese winemakers.  But in reality, her volumes may be considered more like a mid-sized winery in other wine regions.  She explains it is tough to define a boutique winery: "In Europe, boutique may mean 10,000 cases a year.  In Napa, it [a boutique winery] means 500 cases.  In China, I guess anything below 400,000 cases a year is boutique."
Interestingly, Marc Curtis, a California tour specialist sees it in a different way. From a western perspective, the concept of boutique wineries in China is unique and fascinating. He is now offering tours called China Wine Tours to Xi'an, Taigu, Beijing, Yantai, and Qingdao, to get a first-hand experience of China's boutique wineries namely: Shanxi Grace Vineyard, Changyu AFIP Winery, Chateau Bolongbao Winery, Chateau Junding, Treaty Port Vineyard and Huadong Winery.  
Ultimately, the 'boutique' label then becomes both an asset and liability. It merely becomes a question of whether the wineries are targeting the growing domestic wine market in China or feeding the growing curiosity of the international wine trade closely monitoring China's emerging wine sector. 
Text & Photo by Maida Pineda
Posted on 17 November 2010