Domaine Ponsot
---
---
21, Rue de la Montagne
21220 Morey Saint Denis
Telephone: +33 (0) 380 343 246
Fax: +33 (0) 380 585 170
Email: [email protected]
Website: www.domaine-ponsot.com
Overview
Area under vine: 11 hectares producing 55,000 bottles on average per year
Established in 1872 by William Ponsot and now managed by Laurent Ponsot who continues to espouse minimal interventionist philosophy in the winery and avoiding chemical sprays in the vineyard
Unique Aspects
William Ponsot passed the domaine to his cousin Hippolyte Ponsot who started domaine bottling over 100 years ago, very rare in those days
Hippolyte's son Jean-Marie then took over and he became one of the pioneers of clonal selection and many of the highly regarded Pinot Noir clones are from the estate's Clos de la Roche vineyard, including the 114, 115 and 667 clones
No new oak is used here – only 5 year old barrels purchased from other domaines
Ponsot uses the Ardea closure
Jeannie's Insights
Laurent Ponsot is a controversial Burgundian figure – he is not one to follow trends and is quite vocal about the things he believes in. All this in a small region like Burgundy where nearly everyone is related to one another is quite unusual. Recently, his personal crusade has been against counterfeit wines. In 2008, he flew to New York to stop the sale of fake Ponsot wines at auction. Since then he has been involved with helping the FBI investigate and catch fine wine counterfeiters. Laurent Ponsot has publicly said that he believes more than 80% of Burgundy sold before 1980s are fake. He doesn't understand why more producers are not upset and joining his crusade. He has tried to get other owners of top Burgundy domains to rally in his cause but they have been reluctant.
At Domaine Ponsot, the philosophy is low-intervention winemaking – no fining, filtration or sulphur dioxide additions since 1998. Laurent is the first to admit that back 20 years ago, Domaine Ponsot wines were not consistent. His father was mayor of the village and spent more involved in politics than in the vineyard. Also during that time in the 1960s and 1970s, the climate was very different with only a handful of vintages per decade allowing the Pinot grapes to fully ripen.
The change has been dramatic at Domaine Ponsot since 1990. All of Ponsot's wines are highly sought after buy buyers and bidders at auction. This one wine sums up Laurent Ponsot's style and direction: In 2004 Laurent replanted the historic Clos des Monts Luisants Monopole vineyards in Morey-Saint-Denis with Aligote, not a logical choice for most who associate white Burgundy with Chardonnay. Ponsot's justification for pulling out all the Chardonnay and replacing it with Aligote was that prior to 1965, the vineyard was 100% Aligote. The results speak for themselves and the Monts Luisants Blanc from Ponsot is one of the most coveted wines from the region, as much for its unique personality as its high quality.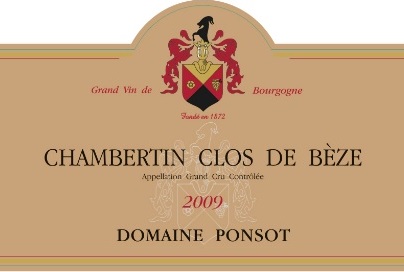 Jeannie's Tasting Notes
2010 Ponsot – Chambertin-Clos de Beze Grand Cru
Unlike other domaines, Laurent Ponsot says 2010 was not an unusually small yield. 25 hectolitres per hectare is an average yield at Ponsot and 2010 fell right within this range. The Chambertin-Clos de Beze offers delicate floral and ripe mixed berries on the nose but the palate offers much greater depth and intensity with spices and savoury notes coming through. This is a gorgeous, elegant wine with amazing finesse and great concentration. (95)
2011 Ponsot – Clos Saint-Denis Grand Cru Vieilles Vignes
Love the spices and earthy elements in this Clos Saint-Denis. Flavours are generous with great concentration and finesse. Tannins are silky and the length persistent. An impressive 2011. These vines were planted in 1905 and the vineyard was taken over by Ponsot in 1982. Yields are only 12 hl/ha. (94)
2011 Ponsot – Chambertin Clos-de-Beze Grand Cru
Flamboyant, colourful flavours with amazing intensity and grace. There is both concentration and delicacy here. Made from 30-35 year old vines. (94)
Recommended Wines
Clos de la Roche Grand Cru
Clos Saint-Denis Grand Cru
Chambertin Grand Cru
Chambertin Clos-de-Beze Grand Cru
Chapelle-Chambertin Grand Cru
Charmes-Chambertin Grand Cru