Domaine Jacques-Frederic Mugnier
---
---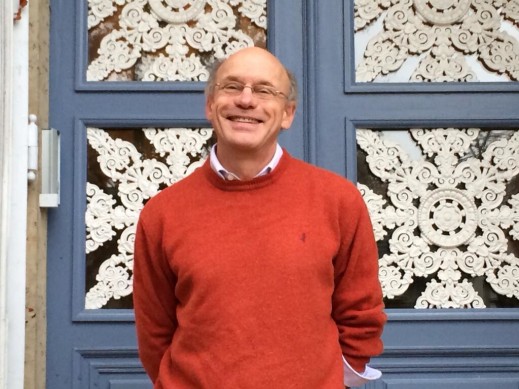 Chateau de Chambolle-Musigny
21220 Chambolle-Musigny, France
Telephone: +33 3 80 62 85 39
Fax: +33 3 80 62 87 36
Email: [email protected]
Website: www.mugnier.fr
Overview
Unique Aspects
The vineyards are farmed almost organically with only two non-organic treatments against mildew per year – no herbicides since 1991 and no pesticides since 1997
The grapes are de-stemmed and a vibrating table is used to sort healthy berries
Little new oak is used for maturation, only up to 30%; the wines are bottled without fining or filtration
Jeannie's Insights
Frederic Mugnier makes classic Chambolle-Musigny – without much new oak, with very little intervention, no fining or filtration and lots of humility. He is a soft-spoken man who talks about his wines with great respect. Frederic was originally an engineer and then a commercial pilot before returning to the family domaine. Prior to his return, the vineyard was leased to negociants and the Clos de Marechale wine was a staple in Faiveley's portfolio until Frederic took the vineyard back.
While Domaine Mugnier is based in Chambolle-Musigny, their holdings in Nuits-Saint-Georges of 10 hectares is actually double the size of their land holdings in Chambolle. However, even the Nuits-Saint-Georges has a touch of Chambolle charm in them – aromatic profile with gentle rather than firm tannins typical of the Nuits. The wines, from the village to the Grand Crus, are elegant, beautifully perfumed with an energy that is palpable on the palate in most years.
Mugnier's vineyards are not certified biodynamic or organic but he has stopped using herbicides and pesticides in the vineyards in the early 1990s. The vineyards have fairly low yields of only about 30 hectolitres per hectare on average, though the last three years have been even lower than this. The elegance combined with intensity for many of Mugnier's wines reflect the health and vitality of the vineyard. While the village wines, especially the Chambolle-Musigny, is very good, it is Les Amoureuses and Musigny that are magical. Both are well worth seeking out.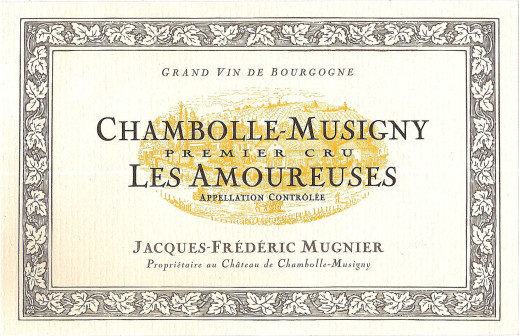 Jeannie's Tasting Notes
2002 Jacques-Frederic Mugnier – Chambolle-Musigny 1er Cru Les Amoureuses
A gorgeous wine with a seductive nose of freshly gathered roses, violets and lavender. The palate is silky with flavours that are fresh, light and persistent. Long finish. A light bodied wine with a fine line and amazing length. It is ready to enjoy now but one can keep this for at least 10+ years. (93)
2011 Jacques-Frederic Mugnier – Musigny Grand Cru
Incredibly perfumed, very seductive nose – violets, jasmine, sweet spices, red berry fruits. Long finish. Complete, complex and approachable. Two plots of Musigny – one plot planted in the 1940s and the 2nd plot in the 50s and 60s. (93)
2007 Jacques-Frederic Mugnier – Nuits-Saint-Georges 1er Cru Clos de la Marechale
An elegant, balanced, linear Nuits St Georges showing lovely flavours. This 6-year-old red is ready to enjoy now – filled with subtle mixed berries, spices and roses. Tannins are silky and beautifully tame. (91)
Recommended Wines
Jacques-Frederic Mugnier Chambolle Musigny 1er Cru Les Amoureuses
Jacques-Frederic Mugnier Chambolle Musigny 1er Cru Les Fuees
Jacques-Frederic Mugnier Bonnes Mares Grand Cru
Jacques-Frederic Mugnier Musigny Grand Cru