Domaine Dujac
---
---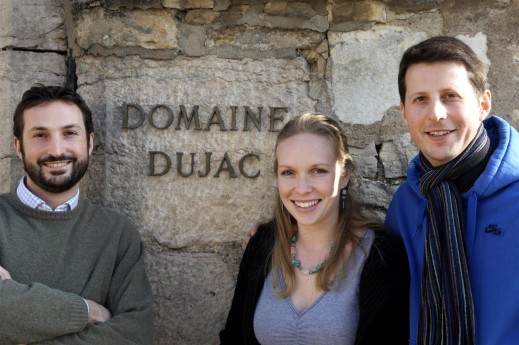 7 Rue de Bussière
21220 Morey-Saint-Denis
Telephone: +33 (0)3 80 34 01 00
Fax: +33 (0)3 80 34 01 09
Email: [email protected]
Website: www.dujac.com
 Overview
Area under vine: 15.5 hectares with an average production of 75,000 bottles per year
Founded in 1967 by Jacques Seysses and now run by his sons, Jeremy and Alec; Jeremy's wife, Diana, who is also a trained oenologist, is also involved in the winery
In 2000, Jeremy and his father started a negociant business called Dujac Fils et Pere 
Unique Aspects
One of the leading domaines in Burgundy making 7 Grand Cru wines
Leading proponent of whole bunch fermentation, de-stemming is seldom
75% of the domaine, including all Premier and Grand Cru vineyards, are organically farmed
Jeannie's Insights
The first vintage for Jacques Seyesses in 1968 after purchasing the initial 4.5 ha vineyard was a disaster – as one of the worst vintages of the decade, all the wines were sold off to negociants. That was probably the most difficult time for Dujac, when they were just starting out, expanding their vineyard holdings and also moving away from chemical sprays and herbicides towards more natural farming. 45 years on and the situation is very different – it is now one of the most respected and finest estates in Burgundy.
The estate is now run by a very young team: Jeremy Seyesses in charge of winemaking, together with his wife Diana, a trained winemaker and graduate of University of California's Davis. Jeremy's brother Alec is also involved in the winery while his father now takes a back seat. The trio continues the tradition of making quality-focused, soulful wines that reflect and respect their terroir.
While whole bunches are preferred, the estate is no longer so strict about using a percentage of de-stemmed grapes, it varies by vintage. Compared with some traditional producers, the percentage of new oak used at Dujac is fairly high – for the Grand Cru, 100% new oak is used while the 1er Crus get about 50% new oak. Even when the wines are tasted from barrel, there is very little taste of new oak. The wines are always beautifully perfumed with silky tannins and a refinement that comes from intelligent work in the vineyard.
Their strong ties to the United States – Jeremy's mother and wife are both American – means their wines are in high demand among American wine collectors, leaving too little for the rest of the world. Their land holdings apart from the seven Grand Crus include wonderful sites such as Beaux Monts, Les Combottes, and Malconsorts. Their village wines, especially the Morey Saint Denis, are terrific – easier to find and well worth seeking.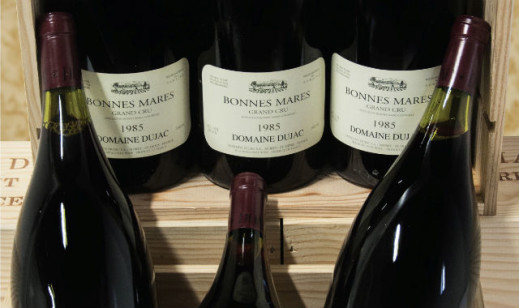 Jeannie's Tasting Notes
2010 Dujac – Chambertin Grand Cru
Chambertin is always powerful but at Dujac, the delicacy of the grapes from this vineyard site is allowed to emerge. The floral and sweet spice flavours are alluring on the nose and the palate reveals great intensity and depth with velvety tannins and firm acidity. This is an intense wine with great potential to age. An elegant and expressive Chambertin. (96)
1990  Dujac – Echezeaux Grand Cru
A delicate, gorgeous beauty that is just starting to open up. The scent of roses and dried violets and jasmine are incredibly enticing. Silky tannins along with firm acidity are the wine's backbone. Enjoy now – this wine will keep for at least a decade or longer. (96)
2011  Dujac – Clos Saint-Denis Grand Cru
 Deep, profound wine, surprising from this relatively light vintage. Dark berries, cinnamon and spices. Very intense flavours with amazing depth. Velvety tannins and long finish. Terroir driven wine – made from 20-60 year old vines. (94)
Recommended Wines
Chambertin Grand Cru
Bonnes Mares Grand Cru
Clos de la Roche Grand Cru
Clos Saint-Denis Grand Cru
Romanee Saint-Vivant Grand Cru
Vosne-Romanee 1er Cru Aux Malconsorts
Gevrey-Chambertin 1er Cru Aux Combottes