Domaine de la Romanee-Conti
---
---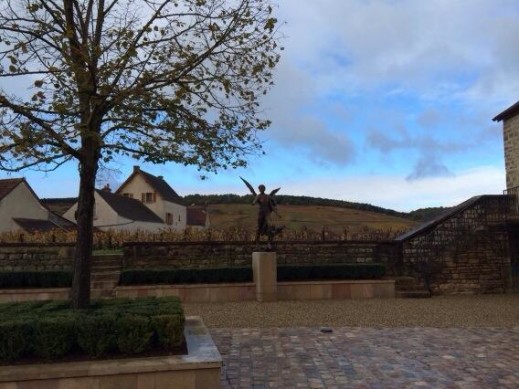 1 Place de l'Église
21700 Vosne-Romanée, France
Telephone: +33 3 80 62 48 80
Website: www.romanee-conti.fr

Overview
Area under vine: 28.59 hectares with average production of 80,000 bottles
Vineyards trace their roots back to the Abbey of Saint-Vivant who acquired it in 1232
Currently co-owned and managed by the de Villaine and Leroy/Roch families
Largest owner of Grand Crus vineyards in Vosne-Romanee with monopoles Romanee-Conti and La Tache
Unique Aspects
Vineyards are farmed biodynamically with ploughing done by horses
The only domaine to produce exclusively Grand Cru wines, except for occasional Vosne-Romanee 1er Cru produced in certain years
Whole clusters are favoured with long vatting time
Jeannie's Insights
Domaine de la Romanee-Conti (DRC) crafts some of the most legendary red Burgundies and its reputation and rarity makes it currently the most sought after wine in Asia. In wine auctions over the past few years (2012 and 2013), DRC prices have increased while many others, especially those from Bordeaux, have fallen. It is the most recognized top Burgundy domaine under the most capable hands – Aubert de Villaine, who is co-owner and director.
Aubert is very discrete, humble and thoughtful. He listens as much as he speaks and asks for opinions and poses interesting questions for people who visit. It is obvious he 'listens' even more closely to the vines and what he is able to coax from them are often masterpieces with amazing aging
potential. Corton is the newest Grand Cru addition to the portfolio and is among the earliest to approach. At the other end of the spectrum is the jewel of the crown, Romanee-Conti, a wine that leaves most people at a loss for words – mere descriptors are insufficient to describe an emotional, sometimes spiritual experience.
Visiting the domaine offers an insight into the estate's philosophy: discretion, humility and quality. Before the move to the spacious new stone building across the Vosne-Romanee church in 2011, tastings were held at a non-descript stone building behind a steel red door, with only a tiny name of the domaine written on the doorbell. The new building and cellar is understated and has a small, beautiful courtyard with a statue of a winged angel.
When I asked one Burgundian vigneron about Aubert de Villaine's role in the region, he replied, "He is not just a hero for us, he is like a God."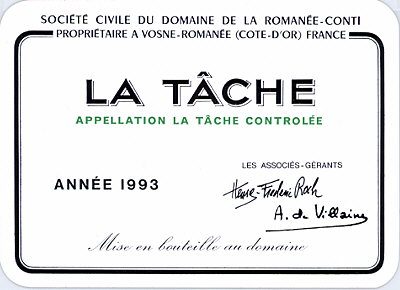 Jeannie's Tasting Notes
1990 Domaine de la Romanee-Conti – La Tache Grand Cru Monopole
Wine doesn't get better than this in my mind. A perfect, 100 point wine that leaves you at a loss for words. Complex, intense, ethereal/gorgeous perfume and flavours, long finish. Flavours lean toward exotic spices and floral notes without emphasizing just one. A perfect wine with flavours that linger for a long time on your palate. (100)
1999 Domaine de la Romanee-Conti – Grands-Echezeaux Grand Cru
This is a magical red Burgundy that is just starting to reach its peak. An amazing bouquet of mixed fresh red flowers, sweet spices, fresh herbs and sweet red berries. A wine that has a silky texture, fairly light body but defies logic by offering an intense mid palate and very long finish. (97)
2010 Domaine de la Romanee-Conti – Romanee-Conti Grand Cru
A very sensual wine that conjures up images of silk and lace. The nose is intensely perfumed, complex, and ethereal. On the palate the flavours unfold gently yet persistently right through to the finish. Layers of flavour include delicate red flowers, yang mei/waxberries, nutmeg and cloves. This wine brings to life the phrase, "iron fist in a silk glovecombining intensity and concentration with impressive grace and finesse. Very long length in the finish. This is a gorgeous wine with a long life ahead of it. (97)
1995 Domaine de la Romanee-Conti – Batard-Montrachet Grand Cru
I could have filled pages and pages recalling the fantastic DRC moments of 2010. About half of my greatest wine memories for this year is of DRC. For example, the incredible 1999 La Tache which I rated 99 points; the 1989 Romanee Conti which is just opening up (99 points); and the 1990 which was a perfect wine (100 points); the magical, ethereal 1978 Echezeaux which is another perfect 100 point wine. This 1995 Batard Montrachet is special because it was enjoyed at the cellar with owner Aubert de Villaine. This wine is not for sale and made only for the domaines internal use. It is one of the most concentrated, powerful Burgundian whites Ive ever tasted with an incredibly long finish. (96)
Recommended Wines
Domaine de la Romanee-Conti – La Tache Grand Cru Monopole
Domaine de la Romanee-Conti – Romanee-Conti
Domaine de la Romanee-Conti – La Tache
Domaine de la Romanee-Conti – Grand Echezeaux
Domaine de la Romanee-Conti – Richebourg
Domaine de la Romanee-Conti – Romanée-St-Vivant
Domaine de la Romanee-Conti – Batard-Montrachet Grand Cru
Domaine de la Romanee-Conti – Corton Grand Cru
Domaine de la Romanee-Conti – Vosne-Romanee 1er Cru Cuvee Duvault Blochet