Domaine Comte Georges de Vogue
---
---

7 Rue Sainte-Barbe
21220 Chambolle-Musigny, France
Phone: +33 3 80 62 86 25
Overview
Area under vine: 12.5 hectares producing about 32,000 bottles annually
The domaine traces its roots back to the 1400s when the it was built by Jean Moisson
20th generation family members heads the domaine – Claire de Causans and Marie de Ladoucette, the granddaughters of Comte Georges de Vogue
Talented trio manage the domaine: Francois Millet for winemaking, Eric Bourgogne for the vineyard and Jean-Luc Pepin for commercial activities
Unique Aspects
The domaine is not certified organic, but the vineyards are farmed organically; no herbicides or fertilisers are used and ploughing is done by horse or tractor
Little new oak is used during the maturation process; approximately 15% used for the village Chambolle and 35% for the Grand Crus
Jeannie's Insights
Tasting with Francois Millet is always a calm, spiritual exercise. He always offers the most visual descriptions about the vintage and of the different wines produced at Vogue. For the 2011s, he describes them as easy to enjoy afternoon jellies with the spirit of the late afternoon sun. The 2012s on the other hand are hard candies with a sweet, syrupy core embodying the spirit of 'the joy of living'. Francois is often poetic and describes wines like one would imagine images in a manga – visual, sharp and great at capturing the essence of the mood and environment.
Vogue is without doubt the epitome of Chambolle-Musigny, embodying the village's historical significance and uniqueness in the Cote de Nuits. All the wines have Chambolle's glorious perfume, filled with exotic wild flowers and sweet red berries; they also have the silkiest tannins and an elegance and delicacy that the other wines of Cote de Nuits hardly ever achieve.
Much of their success has to do with the impressive vineyards that they cultivate – Vogue is the largest holder of Musigny Grand Cru vineyards, with 7 hectares out of a total of 10. Their wines are so sought-after, at even the village level, that prices are often much above their neighbours. The vineyard is divided by older and younger vines, with only the older vines going into Musigny Grand Cru. The younger vines from Musigny goes into the Chambolle-Musigny 1er Cru.
For Francois, Musigny is the patriarch of the 'family' or portfolio of wines made at Vogue. "He [Musigny] is a noble gentleman," says Francois. "And of course he is married to the love of his life, Les Amoureuses." Both are unforgettable wines, always consistent, even in challenging vintages.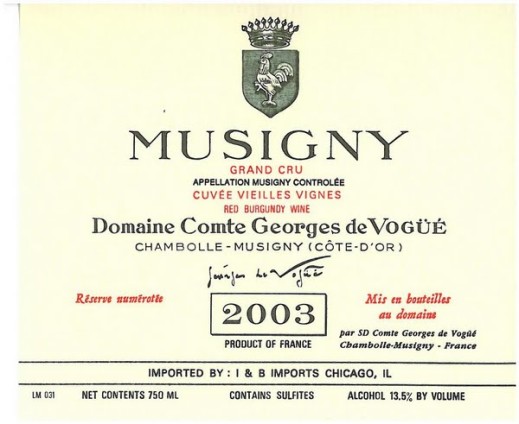 Jeannie's Tasting Notes
2010 Georges de Vogue – Musigny Grand Cru
This Musigny sang from the barrel. The nose was delicate with an array of floral notes, spices, pomegranate and lively minerality. The flavours are pure and precise with delicacy as well as persistence. The palate has layers of flavours that combine intensity with freshness and finesse. This is a complex wine with a very long finish and the potential to age for decades. (96)
2011 Georges de Vogue – Musigny Grand Cru Vieilles Vignes
Vogues Musigny is always ethereal – delicate yet persistent. An array of flavours that are lingering – roses, violets, herbs, spices, earth. Trademark silky texture with a delicate palate and very long finish. As Millet says, "This wine has purity and minerality. You can see the bottom of the lake. Crystalline pure and sensual. Gorgeous wine." (94)
2011 Georges de Vogue – Chambolle-Musigny 1er Cru Les Amoureuses
Gorgeous nose of minerals, delicate red flower petals and sweet spices. Lovely flavours that are delicate yet persistent. Texture is silky and the flavours are very long. Hint of minerals/limestone in the finish. Plenty of flavour despite moderate alcohol, just above 12%. (92)
Recommended Wines
Domaine Comte Georges de Vogue – Musigny Grand Cru Vieilles Vignes
Domaine Comte Georges de Vogue – Chambolle-Musigny 1er Cru Les Amoureuses
Domaine Comte Georges de Vogue – Bonnes Mares Grand Cru
Domaine Comte Georges de Vogue – Chambolle-Musigny 1er Cru
Domaine Comte Georges de Vogue – Chambolle-Musigny