Discovering Italian Wines
---
---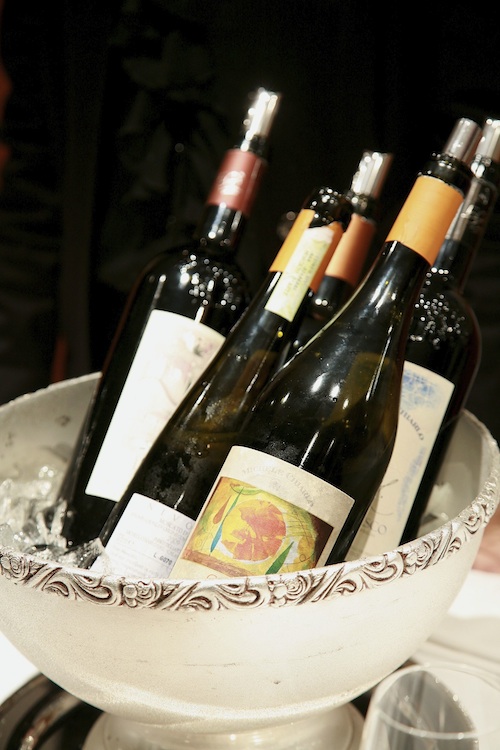 I was recently at Don Alfonso, one of the region's best Italian restaurants in Macau and chatted with the Sommelier, Roberto Gallotto. Don Alfonso undoubtedly has one of the most impressive wine lists in town and was recently awarded the highest accolade by Wine Spectator for its 322-page selection. It shares the list with all the food and beverage outlets run by Hotel Lisboa and the newer Grand Lisboa Hotel.
"With such a traditional Italian menu, your Italian wines must sell better than the French," I commented. Gallotto shook his head. "No, French wines sell much more than Italian wines here. For wines by the glass and lower price point wines, Italian wines do okay, but even then, French wines are more popular."
This is true for many other Italian restaurants such as Otto e Mezzo in Central, Hong Kong, where French wines are favoured over Italian in the fine wine category. It's not that Italian wines are not faring well — for year end 2010, its sales in Hong Kong and China is estimated to increase by more than 20% in volume from 2009. The point is that Italian wines can do so much better!
Practically speaking, Italian wines should be as popular as French: In most years, Italy produces more wine than France and it has been at it longer. The Romans spread viticulture throughout Europe and made wine an integral part of the dining cultures in the regions they conquered all across Europe. Italian wines could have ruled our culinary universe but instead, they struggle to keep pace with French wine's success in key export markets like Asia.
Around the region, Italian wines as a category is increasing steadily, keeping pace with the popularity and opening of Italian restaurants. However, this may partly account for its success as well as its main challenge: How to move beyond just Italian wine lists? How often does one come across Italian wines in a French restaurant or in an American grill? French wines have moved across culinary boundaries, finding its way in Japanese or Chinese restaurants but Italian wines remain entrenched in their familiar zone. This is despite the fact that the acidity and tannins in most Italian wines make them perfect food wines, whether it is for Italian, Korean or Chinese food.
Another challenge is the grey area of Italian wine regulations which sends confusing messages to consumers. Italy's controlled designation of origin, the DOC and DOCG [Denominazione di Origine Controllata e Garantita] indicates the place of origin for the wines that uses the name and dictates the style, grape varieties and other details, but does not offer a guidance on quality.
In contrast, France has a similar designation of origin structure, the Appellation d'Origine Controlee (AOC), but in addition, key regions have quality pyramids that offer broad quality distinctions. For example, in Bordeaux, the 1855 classification offers a guideline from first growth down to fifth; in Burgundy as well as in Alsace, vineyards are classified as Grand Cru and Premier Cru, offering guidance on the quality level of the wines.
Another challenge for Italian wines is the Italian producer's spirit for individual expression. Historically this has meant that many leading producers opted out of the DOC/DOCG system to go their own way. Examples include Gaja in Piedmont and Pieropan in Soave.
In Tuscany, entire groups of maverick producers turned their backs on the DOC system and began working with international varieties such as Cabernet Sauvignon and Merlot, which were considered unacceptable varieties under DOC and DOCG regulations. After years of these producers creating 'Super Tuscan' wines that fetched higher prices than the highest designated DOCG wines, in 1992 the government created another layer called the IGT (Indicazione Geografica Tipica). This brought back into the fold many of the maverick producers but the core issue still remained: The highly individualistic and fragmented nature of how Italian producers operate.
This fragmentation exists at every level of the Italian wine industry – Italian grape varieties used to make wine number in the thousands while the French number in the hundreds; while there are tens of thousands of producers, very few have achieved international brand recognition such as Mouton Cadet from France, Gallo from the United States, Penfolds from Australia.
Marketing together as a group was unusual but times are changing. More Italian wine producers are realizing that they are losing ground to the well-traveled and experienced French and the marketing savvy Australians and Californians. The Grandi Marchi tasting held in November 2010, was the first of its kind in Hong Kong, representing 17 top producers from all over Italy. Also in the same month, the three Tuscan consorzio – Chianti Classico, Vino Nobile di Montepulciano and Brunello di Montalcino – presented their wines together in key cities in Asia, displaying a cohesive force unusual for Italians.
Italian wines are not easy to understand, perhaps it is because they were simply meant to be drunk – copious amounts of it with plenty of good food. From the early drinking Valpolicellas from Veneto or the full bodied Agliancos from southern Italy, the diversity and range of Italian wines can occupy an entire wine lover's drinking life. With Italian wines, there is no polished marketing speak about yet another fantastic 'vintage of the century' or large volume brands featuring adorable animals. The vast majority of Italian wines are not about polished sophistication; it is about guts and passion, just like the people behind them. It is a journey for those who enjoy discovery and individualistic expressions.
Reprinted with permission from South China Morning Post