Cross Cultural Exchange
---
---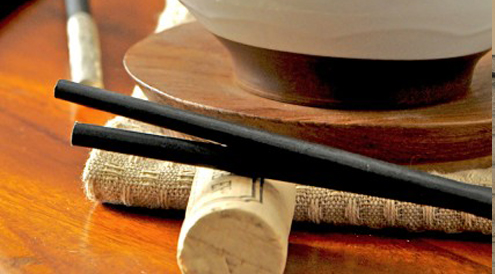 If wine has won over the palates and the hearts of Asian food lovers across the major cities in Asia, then it is Japanese food that has done the same in Europe. Just over the past 12 months, I have come across countless Japanese restaurants in Milan, Venice, Piedmont, Bordeaux, Burgundy, Oslo and Paris. Just off of Rue St Honore in Paris where all the chic designer and luxury brands call home, Japanese restaurants can be found in nearly every block.
I have been in Paris now for a few weeks and I am a regular at the area on the 1st arrondissement that is now dubbed as 'Little Tokyo'. When I have a hunger for a good bowl of ramen, I head over to Naritake Ramen on Rue des Petits Champs and around the corner is a wonderful udon restaurant called Kunitoraya. Then there are the delicious Japanese gyoza, dumplings, at Gyoza Bar on Passage des Panoramas. These are some of the most authentic Japanese dishes I have enjoyed outside of Japan.
Even in upscale restaurants, there is a preponderance of Japanese chefs who are in high demand. I am on a wait list to dine at Passage 53, a 2-Michelin star restaurant headed by Shinichi Sato. I loved the food at Aki, a tiny 16-seat restaurant headed by Akihiro Horikoshi. He cooks with precision and detail, very Japanese in style, but using local French ingredients and French cooking techniques.
It is not just Europe where Japanese restaurants have found a huge following — in Hong Kong, Seoul, Beijing and Shanghai, Japanese restaurants are abundant, offering sushi to yakitori and kaiseki. I am often asked what is the perfect wine to go with sushi or a kaiseki meal and often I find myself persuading people to try red wine, usually a Pinot Noir, with Japanese food, even sushi. I urge people to experiment with fatty fish like salmon sashimi with red Burgundy, using the traditional condiments of soy sauce and wasabi. It is 'safer' to pair sashimi with white wines like Chablis or a mature Puligny-Montrachet, but red wines go surprisingly well with fatty or meaty textured raw fish dipped in soy sauce.
But for those who want an ease of mind, a wine that pairs with just about any Japanese dish is Champagne. The sheer versatility, the freshness and subtle, nuanced flavours of Champagne is the perfect wine to pair with nearly any Japanese meal.
In my book, Asian Palate , I list wine styles that I find most versatile to pair with most Asian cuisines and at the top of my list is sparkling wine, especially Champagne. Versatility is extremely important in Asian cuisine where one wine must pair with a large combination and range of flavours. What makes a versatile wine? It must have vibrant acidity, possess silky or soft tannins (for reds) and be devoid of jarring characters such as tough tannins, obvious oaky or fruit-dominate flavours. Wines from warm climates with high alcohol, full body and tropical or jammy fruit laden with oak are the least versatile wines because their personalities are domineering. They only pair with a limited number of dishes that are strong and obvious in their personality.
Champagne is the opposite – it speaks in a soft voice, most often in whispers. With most non vintage Champagnes aged on its lees for nearly two years together with the art of blending, bringing all the components together, there is nothing jarring or domineering about Champagne. It is elegant, harmonious, subtle yet deep and complex. These same characters are echoed in great Japanese cuisine.
A key aspect of Japanese cuisine is that it is very specialized, with numerous restaurants that focus on one type of cooking or one ingredient and aim to prepare it well. For tempura lovers, there are numerous restaurants that serve nothing but tempura. In Tokyo, chef Nobuo Okuda at Tenmo tempura restaurant founded in 1885, has been cooking nothing but tempura all his life, as his father and ancestors before him. The same is true for soba or udon, sushi and sashimi or yakitori. Japanese food is about precision and specialization, elevating food to an art form.
If you have ever spent time with a top Champagne chef de cave in their dark, damp cellars understanding the laborious process from fermentation, stabilization, clarification, the art of blending, then aging on its lees for many years, it is clear that the making of Champagne has much in common with great Japanese cuisine.
For some of my favourties pairings between Japanese dishes and Champagne, please clickhere to read my tips on pairing Japanese food and Champagne.