Chile's Top Wine with Korean Food
---
---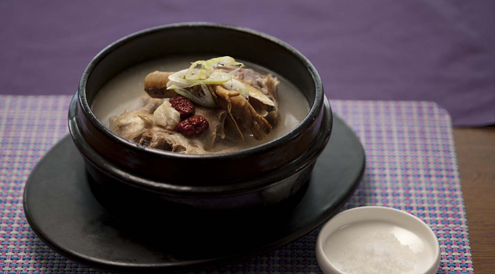 Last week I wrote about Chile's premium wines trying to shed its 'value for money' image . Below is a selection of some of my favourite wines that express unique Chilean character and distinctive terroir paired with some classic Korean dishes:
2011 Casa Marin – Cipreses Sauvignon Blanc Leyda – A fascinating nose. For many years, this Sauvignon Blanc was the reference point for cool climate high quality white wine. Tomato leaf and capsicum notes with firm acidity on the palate. Maria Marin makes this wine which goes beyond simply fruity and fresh – there is a creamy mid palate and the wine has a fairly long finish. Excellent Sauvignon Blanc – best I've tasted from Chile. (90) PAIRING: Spicy Korean dotorimuk (acorn starch made into jelly) in a spicy sauce with plenty of red chilli flakes, soy sauce and sesame oil. The lively Sauvignon Blanc will stand up to this light, deliciously spicy dish and add a bit of herbal freshness. The wine has enough depth to stand up to the soy sauce and sesame oil.
2008 Concha Y Toro – Carmin de Peumo Carmenere – This classic Carmenere is from Colchagua in a region called Peumo. Carmenere performs best in this region. Leather and sweet spices in the finish reveals classic Carmenere flavours. Polished tannins and no greenness. Beautifully composed, elegant with good length. (91) PAIRING: Try it with thinly sliced marinated beef, bulgogi. The sweet spices and the velvety tannins will work well with the thinly sliced beef that has a hint of sweetness from the marinade.
2010 Errazuriz – Kai Carmenere – Very intense leather and spice nose with warmer fruit notes and hints of chocolate and cocoa. Very ripe and generous. The vines here are about 20 years old. Tannins are very well managed and velvety. (90) PAIRING: This will be perfect with a classic Korean beef stew dish called kalibijim – beef short ribs, slowly simmered with garlic, soy sauce and brown sugar until the beef starts to fall off the bone. The soft juicy beef will work beautifully with this intensely flavoured Carmenere.
2009 Morande – Edicion Limitada Carignan – From the Maule region, this old vine Carignan is very unique – flavours range from red fruits to sweet spices and aromatic herbs such as rosemary. Very fresh on the palate for a warm year like 2009. Well made, very intense with a long finish. (90) PAIRING: This old vine Carignan calls out for one of Korean's favourite dishes – pork trotter which is steamed and enjoyed with a spicy soy sauce dip. The meaty characters of the Carignan will surface while the firm tannins from old vines provide a wonderful balance to the pork's fatty meat.
2010 Errazuriz – La Cumbre Syrah – Very generous, big Syrah with lovely black pepper flavours and sweet spice notes. Velvety tannins and fairly long finish. Polished, lifted and generous. (91) PAIRING: A spicy barbecue chicken with Korean chili paste marinade will bring out the spiciness in the La Cumbre Syrah. Be warned though that the combination will heighten the spices and heat – so this combination is only recommended for spice lovers.
2010 Sena – This is always a lovely wine and the 2010 vintage is outstanding. Elegant, polished, caressing on the palate and very long. Tasted several times over the course of a week, it is always impressive. (95) PAIRING: This wine will pair beautifully with Korean beef tartar that usually has more of a kick (chili flakes are added to the seasoning) than the western versions. Because Sena is powerful but incredibly elegant, the subtle flavours of the beef will complement each other beautifully.
2009 Altair – Owned by San Pedro from Cachagua; this site is located towards the Andes in a fairly cool region. Interesting region with good potential to make savoury multi-dimensional wines. Very ripe Cabernet with lots of new oak. Intense, fairly dense blackberries with cedar notes. Good intensity and depth for a warm year like 2009. (90) PAIRING: Try Altair with traditional bibimbap, stone pot rice with lots of vegetables as well as marinated beef. Don't add too much chili paste and enjoy the restrained character of the wine's cassis and blackberry flavours.
2009 Almaviva – Very elegant, Bordeaux-like grace and long length. For a hot year, they did very well with good intensity and layers of cassis, blackberry and cedar flavours. Keep for several years before enjoying – still very young. (92) PAIRING: Kalbi, the classic Korean barbecue short rib is wonderful with Almaviva. This wine is very popular in Korea and one can see why – the combination with Korean short rib is sensational.
2009 Concha Y Toro – Don Melchor – Balanced, elegant, with good depth of fruit. Harmonious components and well handled tannins. Beautiful composition and given the hot vintage, they have done a fantastic job. First produced in 1987. Many vines are over 30 years old. (94) PAIRING: Korean chicken stew is a wonderful match with Don Melchor. The soft texture of the slowly simmered chicken in sweet soy sauce broth works well with the beautifully composed Don Melchor.
2010 Santa Rita – Casa Real – Elegant, well composed, very poised Cabernet Sauvignon blend. Nice balance, soft, well managed tannins with hint of plums and cherries. Fairly long in the finish. (91) PAIRING: Try the Casa Real with bindaeddeok, which is made with ground mung beans, kimchi and pork. There isn't much spiciness in the dish, just a hint from the kimchi, but there is plenty of flavour. This elegant, silky textured Cabernet blend can complement the yellow bean flavours as well as the pork in this dish.