Château Cheval Blanc
---
---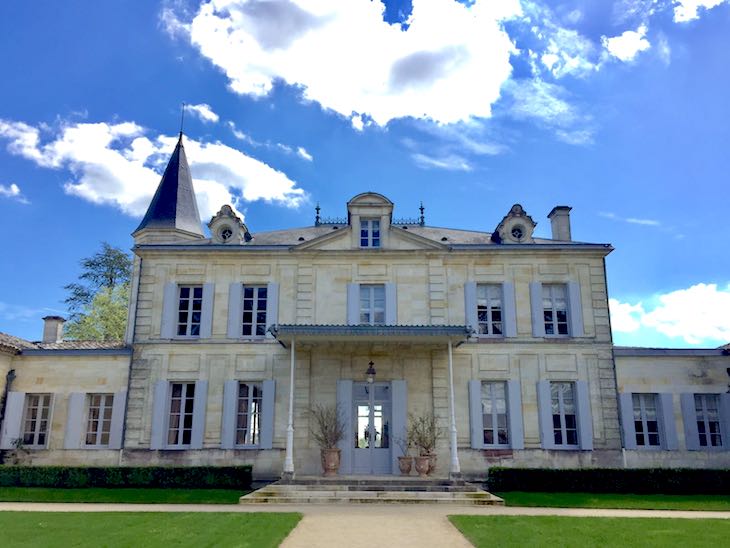 Address: Château Cheval Blanc 33330 Saint-Emilion 
 Phone: +33 557 555555 
 Website: www.chateau-cheval-blanc.com 
Recommendation: WAIT
 – Given the excellent quality of both the 2015 and 2016, I would wait to see how this pair tastes in bottle.
Overview
– Area under Vine: 39 hectares producing about 8,000 cases of Cheval Blanc and 4,000 cases of Le Petit Cheval.
– History: The property was created in1832 when Jean-Jacques Ducasse, President of the Libourne Trade Tribunal, purchased the core of the present-day estate, which at that time was part of the Figeac estate. In 1852, Mlle Henriette brought the property over with her as her dowry when she married Jean Laussac-Fourcaud. Cheval Blanc remained in the Laussac-Fourcaud family for more than 100 years.
– Current Owners: In 1998, Bernard Arnault and Baron Albert Frère, purchased Cheval Blanc and became the new owners. To manage the property, they placed the very capable Pierre Lurton at the helm and the young talented Pierre-Olivier Clouet in charge of winemaking.
Unique Aspects
– Cheval Blanc means 'white horse' and has been ranked at the highest of the Saint-Emilion classification, Premier Grand Cru Classe A, since the classification's inception in 1955. Currently it remains as one of the four estates to achieve this distinction among a ranking of 81 grand cru classe châteaux.
– The estate borders Pomerol and lies on a very complex terroir with very different soils, including the prized gravelly soils and blue clay. This is why Merlot, Cabernet Franc as well as Cabernet Sauvignon are planted on the property. 
– Old vines are the norm at Cheval Blanc, averaging around 45 years, with some Cabernet Franc vines being nearly 100 years old.
– Their new cellar, which was completely renovated in 2011, is a beautiful, modern winery equipped with 52 uniquely shaped cement vats. The cost of this new cellar is estimated to around US$19 million.
Jeannie' s Insights
Cheval Blanc is one of the most revered names in the wine firmament, and it is often considered to be the most consistent, collectible, age-worthy wine from Saint-Emilion. Set on the border between Saint-Émilion and Pomerol, some of its vineyards are planted on similar soils to those of Pétrus and Le Pin and this is reflected in Cheval Blanc's similar opulence and lush texture. Nowhere in the world does Cabernet Franc express the kind of richness, depth and complexity that it does at Cheval Blanc. This underrated variety, constantly in the shadow of Cabernet Sauvignon and used mainly as a blending grape, is the backbone of the wine here, adding dark earth and savory herb flavors while providing the structure for the wine to age gracefully for decades. In vintages such as 2014 and 2016, it was the Cabernet Franc that made the vintage. One needs patience to enjoy Cheval Blanc since its full expression does not reveal itself until at least a decade after bottling; but those who do wait, will be richly rewarded.
En Primeur Release Price Fluctuations
Prices below are for 12-bottle case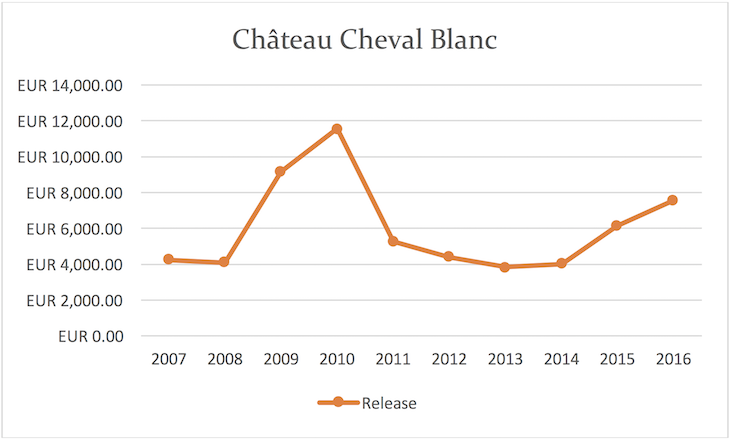 En Primeur Release Price Compared with Current Prices
Prices below are for 12-bottle case
 
Data Source: Liv-ex
Jeannie' s Tasting Notes of Cheval Blanc in the Past 6 Vintages
2016
An intensely aromatic Cheval Blanc with violets, blackcurrants and fresh herbs. There is wonderful freshness in this elegant red with layers of flavors that are persistent and lingering despite its lightness. The terroir of this wine comes through in its elegance, detail and subtle nuances of flavors. A gorgeous wine that is effortlessly classy.
97 points
2015
Exuberant and sexy nose with cedar, cassis and blackberry fruit. Very sweet, upfront and aromatic. Layers of floral, sweet spice and red and dark fruit flavors. Very long and fine grained tannins. The diversity built the complexity in this vintage according to Pierre Lurton. 10% was rejected as generic wine. There is no Petit Cheval in this vintage.
97 points
2014
Lifted flavors of violets, sweet spices and crunchy berries. The palate is elegant with good intensity – not a blockbuster but one that is balanced and fine with lovely precision. Cashmere-like tannins caress the palate in this vintage.
95 points
2013
Velvety textured Cheval Blanc with dark berry fruits and savoury flavours. On the palate there is earthy, spicy notes with black currant berries. A soft, delicate style that should unfold well over time. A classic Cheval Blanc that is not one of their most intense vintages, but balanced and medium bodied. 52% Cabernet Franc and the rest Merlot.
92 points
2012
Subtle nose of violets and cedar – this year the flavours are closed on the palate which is often the case for young Cheval Blanc. There is good density and velvety tannins with a texture that is pure cashmere. The harvest was completed by 13th October, before the very heavy rains. This Cheval Blanc is classic, not as intense as in previous years but balanced and fresh with very good length. The blend is 54% Merlot and the rest Cabernet Franc.
94 points
2011
This is a wine with grace and elegance. As expected, the tannins are refined and supple with a firmness that lifts the flavours of herbs and spices on the palate. There is great depth and finesse with a lingering finish that offers a whiff of violets. It is not a powerful Cheval Blanc but it will age well and reward those who will cellar it for at least a decade or more.
95 points
Jeannie' s Tasting Notes of Top Cheval Blanc Mature Vintages
1947
The wine sings in a glorious voice with a range in flavors that is just mind-boggling. It is sweet, supple and layered with great length. Pure sensuality in a glass.
100 points
1961
A wonderful bottle of 1961 that shows very little signs of evolution. At nearly 60 years old, the wine is just peaking, displaying an array of flavours that range from truffles, cedar, earth and pu'er tea. Wonderful concentration of flavours, excellent ripe tannins and silky texture of well-matured fine Bordeaux. It should keep for another decade or two in the right conditions.
97 points
1964
A perfect Cheval Blanc that is beyond words. Gorgeous, complex flavours with evolved, bottle aged flavours of black truffle, forest floor and leather. Supple, gorgeous with very long finish. Silky tannins with all the elements in balance. This bottle was not recorked.
100 points
1982
If a wine can be hedonistic and seductive at the same time, it would be the 1982 Cheval Blanc. I had the privilege of tasting this wine twice over the past 6 months and both times I fell in love with it from the first sip. It has the maturity and depth of a beautifully aged 30 year old while it maintains the freshness and structure of a wine at least 10 years younger. This is a perfect Cheval Blanc.
100 points
1998
A fabulous nose of exotic spices, cocoa, ripe violets and sweet dried dark berries. This is a gorgeous, seductive, silky Cheval Blanc with a long finish. In 1998, the Merlots were beautiful and here there is 60%. For Merlot, it was picked just before the rain. This is the first vintage when it was managed by the LVMH group.
98 points
For more tasting notes and reviews by Jeannie, please click here.
Wine Label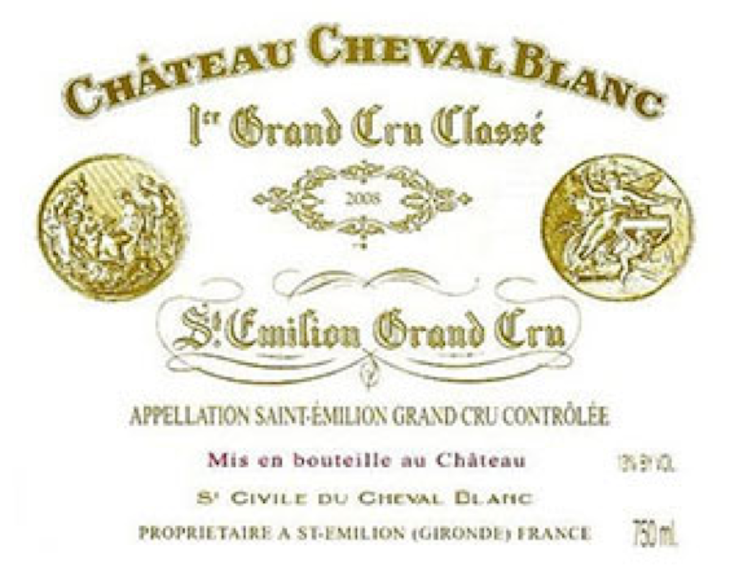 Photo Credit: Wine-Searcher