Challenges of Pairing Indian Food with Wine
---
---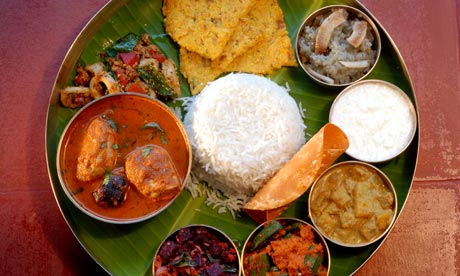 Cities around the coast of India have a strong emphasis on seafood. King crabs, jumbo prawns, lobsters and pomfret or king fish on the western coast of India are extremely fresh and can be prepared simply, with butter and garlic or with pepper or chilli. Much of south Indian food is characterised by strong, spicy and sour flavours mostly derived from tamarind interlaced with coconut. Banana leaf meals are sought after and the best snacks are often from the southern states. Dosas (large rice-flour crêpes) or idlis (fermented rice cakes), usually served with sambar (vegetable stew) and fresh chutneys, are among the famous south Indian snacks.
While south Indian food is considered 'comfort food' and enjoyed in casual settings and street-side stalls, north Indian food is found in all types of outlets and is most popular for fine dining. Many fine dining Indian restaurants serve or are influenced by Mughal food, considered a royal cuisine. Its diverse dishes are associated with popular Indian food like tandoori meats, kebabs and koftas (spiced meatballs).
Indian food has many vegetarian dishes, reflecting the preference of its population. Whether it is the entire meal or just a few dishes, vegetables and all of its wonderful array of flavours and textures are found in nearly every Indian menu.
The challenge of pairing wine with any regional Indian food goes well beyond just flavour compatibility issues. One cultural challenge is the tradition of eating with one's hands which can make handling a wine glass a sticky and messy affair. While utensils are sometimes available, this custom is an ingrained part of its eating culture. The ability to use the left hand for handling non-food related items like wine glasses is a necessary survival skill in India.
Often, a wide variety of very different dishes are all served at once. Condiments and relishes are equally diverse and can add an extra salty, spicy, sweet or refreshing element to the food. The flavours of most Indian meals are loud, very intense – if these are too muted, locals are not shy about adding pickles, fiery hot sliced chillies or other strongly flavoured condiments to each bite. Wine often serves as an accompaniment rather than a complementary beverage that enhances the food. The best meals are already in perfect, intensely flavoured harmony and wine often has little to add. However, progressive chefs are now introducing a 'plated Indian meal' where each individual has their own plate of rice, breads or other starches with individual sized-portions of curry, dahl and other small dishes. This trend encourages wine on the table as the number of dishes and flavours are often more limited.
For wine lovers, this does not mean that wine does not pair at all with Indian food, but expectations must be kept in check. There are surprisingly wonderful combinations and a wide variety of wines to make wine lovers happy, as long as there is an understanding that one wine will not go well with the entire meal, just portions of it. The solution may be to have more than one wine, which is a luxury, but often the best approach with Indian food. Another option is to drink the wine selectively between bites, noting that with a typical Indian meal, each bite rather than each course can be a very different flavour experience. This suggests that for most Indian meals, the most refined and delicate wines are best saved for other occasions.
Wines to consider for northern Indian food: Full bodied Syrah from northern Rhone or Grenache-based Chateauneuf-du-Pape; Cabernet from Western Australia with their vibrant profile and generous flavours; Merlot from Washington state USA.
Wines to consider for coastal Indian food: Sauvignon Blanc & Semillon blends with vibrancy and depth; Alsace Pinot Gris and Gewurztraminer; New Zealand Pinot Noir; SGM (Syrah, Grenache, Mourvedre blend) from Australia.
Reprinted with permission from Wine Press