California Swirls
---
---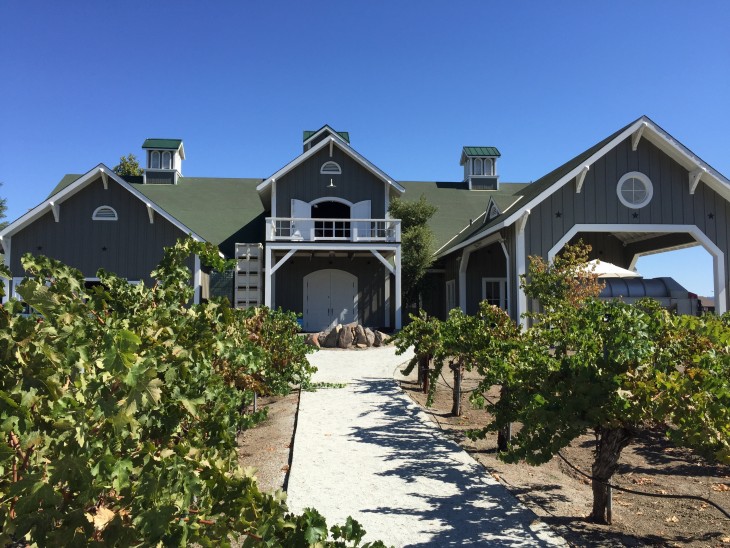 At the age of 22, Paul Draper bought a motorcycle. Fresh from graduating from Stanford University, he was determined to see the world. Draper didn't get far on his bike, but he did see the world. First, the United States Army took him to Italy, where he was stationed for three years as a private in the Counter Intelligence Unit. Thereafter, Draper went to Paris to study nutrition and French cuisine at the Sorbonne. Finally, South America and the Peace Corps beckoned. While there he set up a winery in Chile and learned winemaking. His talent was then spotted by the three Stanford scientists who owned Califiornia's Ridge Vineyards, and so it was that a philosophy graduate with no oenology degree went on to become one of the most admired winemakers in the United States. As chief winemaker and part owner since 1969, Draper is, in most wine lovers' minds, synonymous with Ridge. On March 10 next year, he will turn 80, but he has the vitality of someone at least a decade younger and continues to be involved at Ridge.  
It has been a long road for a farmer's son who grew up in Illinois. But, despite his worldliness, it is Draper's down-to-earth character that makes Ridge distinctive and consistently true to its identity. Ridge is one of only a handful of wineries that did not fall prey to the chase for higher points by creating extracted, ultra-ripe, opulent wines, and it has attracted a loyal fan base as a result. It hasn't always been easy, though. "The first 18 years [at Ridge] were a real struggle," explains Draper. "The first seven years, we were losing money – we used our houses as collateral for bank loans. Even during the next 10 years, we were barely breaking even." Yet it was during this period that the great Ridge wines were crafted. I was lucky enough to taste a selection, along with wines from fellow Santa Cruz pioneer Gemello, at a dinner earlier this year.  
THE TASTERS  
Jonathan Slone, the effervescent bon vivant with a love for mature Californian wines, gathered 10 friends together in Hong Kong. An eclectic group, we were bound by our enthusiasm for wine, and included Henry Tang, the former chief secretary of Hong Kong; Patricio de la Fuente, managing director of wine distributor Links Concepts; Paulo Pong, founder of wine merchant the Altaya Group; former auction adviser David Wainright; Swire Hotels' wine director Yvonne Cheung, and the chief restaurant critic of New York magazine, Adam Platt.  
It was a rare opportunity for us to taste nine wines from the 1970s – a mix of Cabernet Sauvignon, Zinfandel and Petite Sirah – plus two wines from the 1980s, one 1994 and an oddball Ridge Cabernet Franc from 2002.  
TABLE TALK  
Fuente was as enchanted as I was by the Ridge Chardonnay   1985 – this rose-gold colored wine has aged beautifully, like a fine Meursault. But like me, Fuente loved the Petite Sirahs, with their cocoa and spicy notes and firm, muscular tannins, even more. Their youthfulness after four decades in bottle was impressive, and the 1976 was among my top wines of the evening. I have long admired and enjoyed the Monte Bello Cabernets, but on this occasion the Petite Sirah and the Zinfandels were the standouts. The Monte Bello Zinfandel 1974 blew me away with its power and depth while the Petite Sirah 1976 was beautifully crafted, combining the structure of Cabernet with the sweetness of Zinfandel.  
"I was surprised by Gemello's expressive California fruit and lack of oxidation," enthused Slone. This little-known winery, founded in 1934 at the end of Prohibition, was a pioneer in the Santa Cruz Mountains. Alongside Ridge, its wines from the 1970s are considered benchmarks of the region, although its reputation goes back to the legendary 1959. Made with fruit from the Monte Bello vineyard, the vintage made Gemello an industry icon, its Zinfandels and Cabernets known, like Ridge, for their hallmark dark, earthy core of Santa Cruz fruit.  
Today, the wines are seldom seen even in auction, but their quirky labels alone are noteworthy. The winery peaked in the 1970s but lost its luster after being sold in 1982 to founder Mario Gemello's niece, who renamed the estate Obseter (now La Nebbia) and relocated to Half Moon Bay.  
Ridge's reputation, on the other hand, remains as high as ever, although its ownership was transferred to the discreet Japanese pharmaceutical magnate Akihiko Otsuka in 1986. The style remains true to its roots – restrained, earthy, balanced and distinctive – just like its winemaker.  
THE VERDICT  
I left with a renewed appreciation for Californian wines from the 1970s, a great decade filled with beautifully balanced wines. "The 1970s was an amazing decade for California," concurred Fuente. "It is a wine collector's best-kept secret." Like a proud father, Slone was happy with how his wines showed. "I am a big fan of Ridge and I love it that their Zinfandels are so 'un-Zinfandel-like', and that none of them were fruit bombs."  
THE RANKING  
97 Ridge Vineyards Monte Bello Cabernet Sauvignon 1994
This is the epitome of great Monte Bello – elegant, balanced, poised and focused. Flavors are fresh and lively, with notes of cassis, black currant and violets. Classic Monte Bello precision and balance without weight or heaviness. A beautiful wine – if only more Californian wines could have this grace and quiet confidence.  
97 Ridge Vineyards Monte Bello Zinfandel 1974
A sensational Zinfandel that is complex, fully mature and delicious. Sweet dried violets and jasmine mingle with meaty flavors and sweet spices. Layered, complex and very long, this wine still has decades of life in it.  
97 Ridge Vineyards York Creek Petite Sirah 1976
This Petite Sirah made me look at the variety anew. I could not have imagined the depth of flavors this variety could express after 39 years! Powerful and youthful, with sweet mocha flavors and dried blackberry notes peppered by sweet spices and cocoa on the finish. Complex, layered and incredibly long.  
95 Ridge Vineyards Monte Bello Cabernet Franc 2002
Beautifully composed with balance and velvety tannins. Attractive herbal and green-tea notes add extra dimension to its blackberry and cassis flavors. One of California's best Cabernet Francs.  
95 Ridge Vineyards Howell Mountain Zinfandel 1980
A muscular Zinfandel with the firm tannins of a Cabernet. Its mountain-fruit character is darker and more brooding. The palate displays a complex, layered array of flavors – from sweet, dried red currant and wolfberry to savory herbs and sweet spices, on a long, structured finish.  
95 Ridge Vineyards Monte Bello Cabernet Sauvignon 1974
A majestic Cabernet that is confident and assured, not giving too much but enough for one to appreciate both its restraint and depth. Impressively youthful; fresh with notes of leather, dried fruits and violets, it is the finish that grabs you – count the seconds as the wine lingers on your palate.  
94 Ridge Vineyards Monte Bello Chardonnay 1985
Amber color, like rose gold. An attractive bouquet of honeyed flavors and white flowers; impressive complexity and vitality, and no flabbiness. A beautiful wine with a lingering honeyed finish to enjoy now.  
94 Gemello Cabernet Sauvignon Santa Clara Valley 1975
Classic aged Cabernet nose of dried blackberry, sweet cedar box and violets. An extremely youthful wine. Its flavors are focused, layered and fine, the tannins are silky in texture. It has a long finish with lingering notes of dried black currant.  
92 Ridge Vineyards York Creek Cabernet Sauvignon 1974
A balanced, fully mature Cabernet that offers sweet cassis, tobacco and dried blackberry flavors. Less impressive than the Monte Bello from the same vintage, but a fairly youthful 41-year-old that should keep for five to seven more years.  
92 Ridge Vineyards Monte Bello Cabernet Sauvignon 1975
A delicious Monte Bello that is quite demure compared with the 1974. Lovely sweet black fruits with restraint and balance. Perfect to enjoy now.  
92 Gemello Shenandoah Valley Zinfandel NV
Appealing, sweet, dried fruit with notes of cinnamon and nutmeg. Elegant Zinfandel that tasted more like Pinot Noir. There was no vintage date but the label says Lot; most likely a blend of vintages from the early 1970s.  
89 Gemello 35th Anniversary Zinfandel 1970
Starting to show its age through notes of worn leather and dried fruits, but there is still plenty of firm tannin and freshness, wrapped around sweet roasted herbs and a hint of dried flowers. The finish is modest, with dry tannins rather than fruit.  
87 Ridge Vineyards York Creek Petite Sirah 1978
Unlike the 1976, this Petite Sirah is tannic, woody and quite closed. One gets a whiff of dark earth and black tea leaves but not much else. This is not a case of the wine needing more time – it is a dark, tannic red that refuses to give.