Bordeaux En Primeur 2014: Day 2 Sauternes Purity
---
---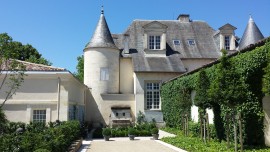 In Sauternes, Jeannie Cho Lee finds much to like about the Bordeaux 2014 sweet wines.
It was a waiting game in 2014. More so for sweet wine producers than red wine producers since botrytis, that desirable noble rot, did not appear until mid- to late- October. Dry whites were in the tank or barrel by mid-September followed quickly by Merlot then Cabernet parcels. For Bérénice Lurton at Château Climens and many other sweet wine producers, the waiting continued.
Finally, on October 20, Bérénice started to harvest in earnest, after botrytis arrived, shriveling the grapes and concentrating the sugars while imparting their delicate floral and spicy complexity to the wine. The result is a wine with fine acidity, from the cool growing season, combined with the freshness of the early picked parcels and the density and richness of the later picked grapes which had residual sugars of over 160 grams per liter (the norm is around 100 to 130 grams per liter).
Many great Sauternes
Climens is only one of the great Sauternes of 2014. The Château d'Yquem is fantastic – not rich and unctuous but pure and lively with a persistent finish. It is not concentrated in terms of sugars, and there is no fatness in this vintage. The palate is moderate in weight with a lovely acid line running through the wine. Château Haut-Peyraguey is also beautiful with focused intensity and excellent finish. Other successful producers included Château de Fargues, Château Raymond-Lafon, Château Coutet, Château de Rayne Vigneau and many others.
There was one descriptor I kept using over and over in my tasting notes for the 40 Sauternes as I tasted: purity. The 2014 has wonderful clarity in its flavor expression – floral notes are finely etched, the dried fruit notes lifted and detailed with a freshness on the palate with lingering finish. This is one of the best vintages over the past five years. It may not be as rich and generous as the 2009 but the structure behind the wine combined with the detailed flavor expression means it may age just as long.
Wonderful vintage for sweets
Is this a great vintage for Sauternes? In terms of concentration and depth, it comes close but doesn't quite get there. In terms of balance, purity and elegance, it is definitely one of the best over the past 10 years. The great news is, Sauternes is still inexpensive (except for Yquem) given the effort and time it takes to create a wonderful sweet wine. The yields are much lower, usually half, compared with the very best red wine producers. It is aged just as long as the top reds and costs just as much to produce but prices rarely ever get near the first or second growth price levels.
This is a wonderful vintage for sweet wine lovers who prefer the linear rather than fat, dense styles. I know I will be buying some for my cellar.