Bordeaux En Primeur 2011: Latour Leaves the Place de Bordeaux
---
---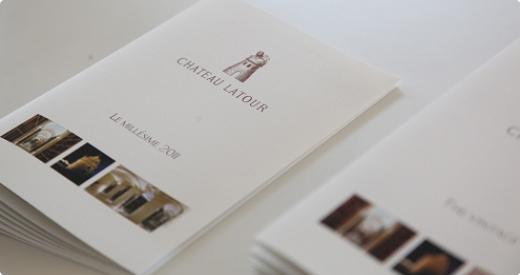 We've been expecting this for some time now. The negociants were grumbling for years saying that Latour must have something up its sleeve in keeping back so much stock over the past years, with less and less being released via en primeur. For the 2010 vintage, there was only a trickle available through the negociants with most being kept under guardianship of the expanding cellar of Chateau Latour. Everyone knows they can afford to keep the stock with no pressure to raise money or sell early.
This is the traditional reason why en primeurs worked so well for chateaux. If they sell most of their wines as futures, then they are able to get cash upfront, nearly two years before the wines are bottled. There are many financial incentives to participate in this system, but for the prestigious top 20-30 chateaux, they see how fat the margins are for negociants and traders while theirs are flat and based mostly on the release price (en primeur). It is common for the courtiers (brokers) to get 2% and the negociants anywhere between 10-20%; then the wine merchants can make another potentially fat margin depending on many factors such as demand, economic health in their respective markets, supply, etc.
For 'hot' vintages like 2000, 2005, 2009, the release price may have been, say 100 Euros, but the market then escalates the price to double, triple that amount or more with the chateaux pocketing the benefits. It is the traders, merchants and negociants who gain most from this increasing demand. Why not receive a much larger chunk of the gains from increasing demand and why not control distribution as well as supply? This is what all luxury companies do and if one has the financial means to do this, it makes sense. Thus the logic behind Latour opting out of the en primeur market and establishing their own distribution makes sense. Latour will still probably use the traditional channels, only if and when it makes sense.
When I contacted Frederic Engerer, he replied right away and shared this: "We will not sell our wines en primeurs from the 2012 vintage…The matter is really interesting and has an impact on many area of our activity. It deserves a bit more than just a few quotes in an email." I hope to meet him very soon to find out all the details and his plans for Latour's future.
This move will impact end consumers as well as negociants and wine merchants. My first question as a wine lover is, will I be able to buy Latour direct from the chateau? Simon Staples of BBR HK thought that it was a definite possibility. When I asked him about what the impact of Latour going direct was for BBR, he said, "As you know we have a very good relationship already and more things will emerge from Bordeaux like this over the next few weeks as you can imagine. I'm not sure how or when Latour will be sold in the future–hopefully through multinational merchants who represent their brands professionally like BBR but it might be delivered, by hand, in gift boxes, to the doors of the great and the good by a team of professional couriers."
Staples adds: "As much as I dislike the negociant full fat margin they take for literally a rugby pass broking manoeuvre selling wines like Latour. They often use this allocation to shoe horn into the negotiation other, less desirable wines as well. Both actions, which I think Monsieur Engerer agrees with me on I believe. I think it's a brave decision, and frankly has been on the cards for a while now, but ultimately I don't think it will help the value of Latour increase in the global market."
A fundamental shift has occurred and the Bordeaux system will never be the same again after one of the biggest, most successful and consistent chateaux opts out. En primeur creates a buzz around Bordeaux– first with the trade and press tasting in early April then again when prices are released from April to June. Being out of the buzz and system can be risky. How does Latour stack up in 2012 with the others? Will they continue to allow the press and trade to taste in barrel? If they are no longer selling en primeur, why would they bother? We will miss Latour next year, that is for sure.