Bordeaux 2018 Wines in Bottle
---
---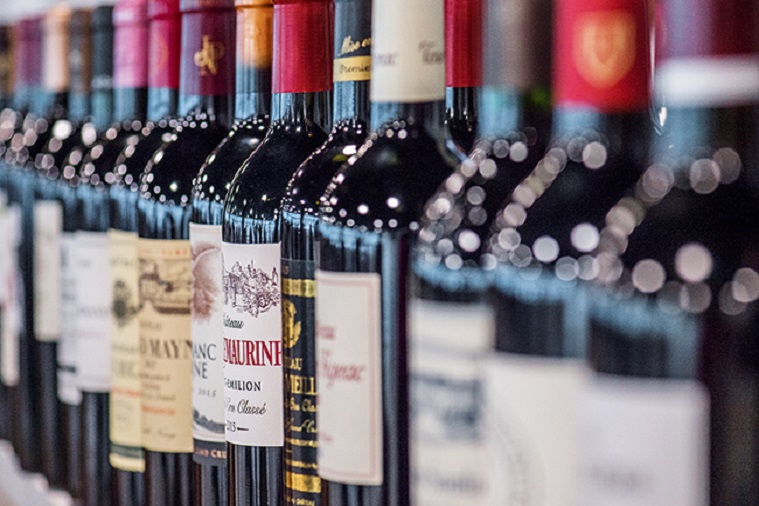 2018 was an excellent vintage but it also had its share of challenges: Mildew pressure was intense and lingering which forced many organic and biodynamic producers to consider going back to traditional chemical treatments. Both Chateau Palmer and Chateau Pontet Canet, kept to their biodynamic methods and harvested only a fraction of their normal crop. In fact Chateau Palmer lost two-thirds to mildew and decided that no Alter Ego (their second wine) will be made in 2018. Chateau Latour, using both organic and biodynamic methods, lost about a third of its crop and Chateau Smith Haut Lafitte lost half their crop.
Besides strong mildew pressure due to the wet and humid spring months, the vineyards became stressed in subsequent months because of severe drought conditions and elevated temperatures right up to harvest. The water stress was severe and the grapes that survived the mildew attack had thick skins and small berry size.
Overall, 2018 was a vintage of extremes and much depended on how these extreme conditions that left small berries with thick skins were handled, from the vineyard and harvest to extraction and maturation. What surprised me most about the vintage was how little it tasted of a warm weather vintage – not even close to the opulence and generosity of the 2009s and 2015s. The wines are tightly wound with a wall of massive tannins in many of the wines, especially those in the northern Medoc. For properties like Chateau Ducru Beaucaillou, Haut-Bailly, Palmer and many others, 2018 represents the most tannic wines they ever made.
Now that the wines are in bottle, the wines have definitely softened; the tannic wall becoming integrated into the wine's core structure rather than a barrier to the wine's flavors. I am quite impressed with the best wines from many reputable chateaux in 2018 – the first growth and the estates with great terroir made exceptional wines. For them, this vintage will stand out as one of their top wines of the decade. The extreme weather conditions created extreme wines that needed careful handling. It is an intriguing vintage that needs time and should be followed. At the moment, these newly bottled wines (infant wines) do offer a glimpse into the delicious, often delightful surprises ahead.
The en primeur campaign for 2018 was not that successful, even though it followed an extremely challenging 2017, a vintage that suffered from severe frost, low yields and less than ideal harvest conditions. There is plentiful supply of recent vintages sitting in importers' warehouses such as the unloved 2011, 2012, 2013, 2014 and 2017s so prices are coming down. The 2018 vintage is definitely better than the vintages just mentioned, but the consistency is not the same as 2015, 2010 or 2005. Having tasted close to 130 Bordeaux wines from the recently bottled 2018 vintage, below are a list of my favorite picks from different appellations.
Browse over 200 tasting notes on the 2018 Bordeaux wines here. 
White Grave/Bordeaux
1. Château Bouscaut Blanc
2. Domaine de Chevalier Blanc
3. Château Larrivet Haut-Brion Blanc
4. Château Latour-Martillac Blanc
5. Château La Louvière Blanc
6. Château Malartic-Lagravière Blanc 
Red Grave/Bordeaux
1. Domaine de Chevalier
2. Château Larrivet Haut – Brion
3. Château Latour – Martillac
4. Château La Louvière
5. Château Malartic – Lagravière
6. Château Pape Clément
St-Emilion
1. Château Beau – Séjour Bécot
2. Château Canon
3. Clos Fourtet
4. Château La Gaffelière
5. Château La Tour Figeac
6. Château TrotteVieille
7. Château Valandraud
Pomerol
1. Château Beauregard
2. Château Le Bon Pasteur
3. Château Clinet
4. Château La Croix de Gay
5. Château Gazin
6. Château Petit – Village
Good Value Medoc
1. Château Fourcas Hosten
2. Château Chasse – Spleen
3. Château Poujeaux
4. Château Belgrave
5. Château Cantemerle
6. Château de Lamarque
Margaux
1. Château Brane – Cantenac
2. Château Cantenac Brown
3. Château Giscours
4. Château Lascombes
5. Château Malescot Saint – Exupéry
6. Château Marquis de Terme
7. Château Rauzan – Gassies
8. Château Rauzan – Ségla
St-Julien
1. Château Beychevelle
2. Château Branaire – Ducru
3. Château Gruaud Larose
4. Château Léoville Barton
5. Château Léoville Poyferré
6. Château Talbot
Pauillac & St Estephe
1. Château d' Armailhac
2. Château Batailley
3. Château Clerc Milon
4. Château Grand – Puy Ducasse
5. Château Grand – Puy – Lacoste
6. Château Lynch – Bages
7. Château Lafon – Rochet
8. Château Phélan Ségur
Sauternes
1. Château Coutet
2. Château Doisy Daëne
3. Château de Fargues
4. Château Lafaurie – Peyraguey
5. Château de Rayne Vigneau
6. Château Sigalas Rabaud