Barry Burton & The Hong Kong Wine Society
---
---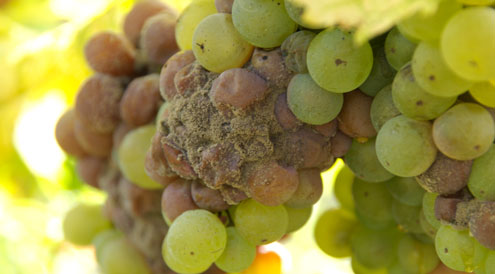 My first two great bottles of Sauternes were with Barry Burton. I was a new arrival in Hong Kong in early 1994 and my wine savvy girlfriend, Rita Lim, introduced me to her circle of wine friends and private wine tasting groups. This included the Hong Kong Wine Society (HKWS), which was, and still remains, the most active blind tasting wine group in Hong Kong. Barry was the Chair of this society since 1983 as well as being a Regent of the Hong Kong chapter of the Commanderie de Bordeaux since 1989. He knew everyone there was to know in the world of wine and everyone knew him. On June 2000, Decanter wrote a story about ten people who spearheaded the dramatic Asian wine boom and Barry Burton was on the top of their list.
Barry was interested in anyone (but especially women) who showed a real enthusiasm in wine. Not long after I met him, Barry invited me to a lunch with his 'wine mates'. Among the four of us, we drank three bottles over lunch: 1984 Guigal La Landonne, 1988 Rayas and the 1990 Rayas. It was a lunch of many firsts – my first Rayas with two great vintages that left me in awe though both were incredibly young; my first La Landonne, which blew me away from the first sip.
By the time dessert came around, Barry was in the mood for sweet wine and he opened the gorgeous 1983 Rieussec. "Pure crème caramel on the palate, sweet honey notes but not heavy," I scribbled furiously in my wine notebook. "An amazing sweet wine!" I concluded.
"If you think that's good," said Barry, "then try this!" He opened the 1980 Yquem.
This was my very first taste of Yquem and this bottle for me was sheer poetry. I had never tasted a sweet wine with such complexity, elegance and depth. I learned later that it was not a great year for Sauternes and not one of the best for Yquem, but I found magic in that bottle.
Barry was often testing me and would shove wines under my nose and say, "What do you think that is? Come on, it's obvious!" As I learned to broaden my wine horizons and build a solid palate memory for wines, Barry was often around to encourage, challenge or just to share my discoveries. My very first Vinexpo was with Barry Burton and the members of the HKWS and the Hong Kong Commanderie de Bordeaux in 1995. I remember a lunch at Chateau Palmer where Barry turned and said to me, "Once you know what a great Margaux wine smells like, you never forget it." To this day the perfume of the red wines from Margaux are imbedded in my mind, as are his words.
Over the next 18 years as my career began to shift from business writing to wine writing, it was with the Hong Kong Wine Society that I trained my palate. It was widely known that this small group of 30 die-hard wine lovers were devoted to discovering wines from around the world, with biweekly blind tastings followed by a relaxed meal where everyone relished in the drinking as much as the tasting.
The evolution of HKWS is a direct reflection of the changes in Hong Kong's wine industry: When HKWS officially came into existence on 3 September 1981 with twelve members, the wine drinking community and the society consisted mainly of expatriates. Barry was a founding member as well as Vernon Moore, CITIC Pacific's Group Finance Director, and Patrick Paul, partner of Price Waterhouse Coopers. According to Vernon Moore, who is the current Chair of HKWS, "In the early days, the number of members was limited to 30. It was fixed so that there was a good chance of being able to assemble the 24 people for a two bottle tasting, and it meant everyone could get to know each other. There was always a long list of 'potential members' who would be invited to tastings."
HKWS has changed with the times and the membership limit has increased to 65 with 33 (52%) of the members being Asian. Moore explains that the lifestyle of its members has changed given travel schedules and thus gathering a group of 24 requires more members. He adds, "To be elected a [HKWS] member, the person has to attend tastings and demonstrate to the committee a keen interest in discussing and learning about wine." Back in the mid 1990s it took me several years to be granted membership and these days, I am sure the waiting list is even longer.
HKWS tastings have adapted to the changes in the wine market and Moore says, "Most tastings now have a theme that is a passion of one member who will work a long time to assemble an interesting dozen wines of a particular vintage, producer, district, or grape. Comparisons of different parts of the world occur. The result is a HKWS that has never had such frequency or diversity of high interest tastings."
This is the group that Barry Burton help found and steer through the changing times in Hong Kong for three decades. Barry passed away suddenly last month on April 6th 2012. He will always be remembered for his generosity and his passion for this remarkable beverage. His spirit remains with all of us who truly love wine.
Reprinted with permission from South China Morning Post