Bargain Hunting
---
---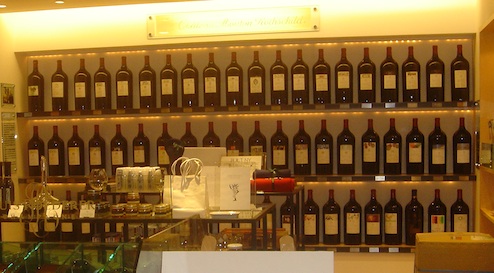 Last week, I stood in front of the expansive wine section of the Lotte department store in Busan and wanted to scream. My third day in Korea and my palate was craving wine. Despite scouring the shelves, there were very few wines under US$100! Price sensitivity is of course relative to how much you have, but knowing the international market price only too well as well as having a sense of their quality to value ratio, I could only utter one word: Ouch!
Just to give a few examples, Talbot 2007 was US$130 and Moet & Chandon non vintage champagne was US$100! In Hong Kong, Talbot 2007 can be purchased from Altaya for HK$360 (US$46) and Moet & Chandon at Watson's Wine Cellar for HK$358 (US$46). Surely part of what contributed to these high prices in Korea were the bevy of young, uniformed sales ladies and the beautiful glass displays that encased the over-priced wines. This is the painful switch coming from a wine duty free city like Hong Kong to a country that administers close to 100% total taxes on imported wines.
During my stay in Korea, I took on the challenge of becoming a bargain wine shopper. I found much better wine prices at Home Plus, a discount retail chain that is jointly owned by Samsung and UK's Tesco. Here, there were a flood of wines that I had never heard of for under US$25 from Bordeaux, Chile, South Africa, among others. I found some fantastic wines at under US$20, which means their ex-cellar price was most likely around US$5 to US$8 per bottle. Department stores went on sale just after Christmas and wine bargains appeared even in high-end department stores like Shinsegae.
2007 was a very good year for Cabernet Sauvignon in Chile and so I gravitated toward the young but affordable 2007 reds from producers like Montes Alpha, Santa Rita and Concha y Toro. In recent years, mid range Chilean reds have moved away from its telltale combination of ripe fruits married with green vegetal undertones towards a more harmonious style. The wines are generally less coarse and rough in the finish compared to three or four years ago; even wines at US$15 a bottle are fairly polished with ripe tannins.
One of the best Chilean wines was the 2007 Santa Rita Medalla Real Cabernet Sauvignon. It wraps around you like a friendly uncle, exuding Cabernet's manly flavours – cedar, spice and cassis. The tannins are velvety and ripe and there is sufficient depth to keep you coming back for another sip, and then another. No cheap wooden chips or staves here, aging was in French barrels for over a year and it shows in the sleekness of tannins and hint of cedar. The Santa Rita Cabernet is an 88 point wine in my book and offers great value at under US$20. If anyone is looking for a party wine at a great price, this is definitely a winner.
I found a Chardonnay bargain from Australia from one of the most unexpected regions — Coonawarra. This region is Australia's answer to Napa Valley for Cabernet Sauvignon based wines. With its special deep red terra rossa soil and relatively coolish climate (compared to the rest of South Australia), this region produces some of the most long-lived Cabernet Sauvignon wines from Australia. Examples would include Balnaves, Brand's, Majella and Wynns.
I recently spent some time with Sue Hodder, chief winemaker at Wynns, and I knew that her whites were as meticulously made as her award-winning reds. So when I saw the 2007 Wynns Chardonnay for only US$15, I was thrilled. Like most Australian wines, it radiates warmth. But this wine was friendly without being too familiar, and its nectarine and peach filled flavours were held back by a firm backbone of acidity. This is a classy chardonnay that gets 87 points from me.
I refused to pay over US$100 for mediocre non vintage champagne so instead, I chose Moscato d'Asti to herald in 2011. The 2008 Castello del Poggio Moscato d'Asti was a gorgeous, lightly sweet sparkling wine with exotic floral, honeysuckle and apricot notes. With only 5.5% alcohol, it is a joy to drink – light, refreshing and filled with springtime aromatics. This is an under-appreciated wine that has been cast in the 'dessert wine' category, but it is really a perfect aperitif wine. With 87 points and priced at US$14, it is a real bargain.
Reprinted with permission from South China Morning Post