Baijiu Tasting
---
---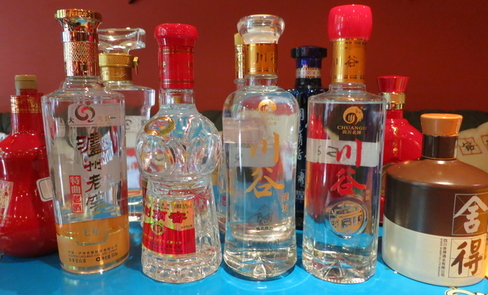 June 28th 2013 was an educational day for me in Shanghai. Immersed in baijiu, not wine this time, I methodically tasted through over 80 baijius taking notes in the same way I do for wine. What surprised me about the baijius were how similar the flavours are to Chinese ingredients. The rice based baijius, not surprisingly had aromas linked to different type of rice dishes from steamed rice to burnt rice and toasted rice.
The light flavoured baijius ranged from beansprout, root vegetable aromas to rice and floral notes. The strong and sauce flavoured baijius had intense fermented flavours that had me scribbling 'stinky tofu' (chou tofu) or 'soy bean paste' over and over again. Mixed aroma baijiu have intense singular ingredient flavours like pork fat, sesame or Chinese herbs. What impressed me was the diversity of baijiu flavours, their quality and the ability for these spirits to echo Chinese food flavours.
There were baijius where the flavours were so intense, it would be an acquired taste for those who wrinkle their noses at stinky tofu or durian. And there were baijius whose alcohol levels at over 60% made me cough just smelling the fumes. But the majority offered an interesting array of new flavours that could be appreciated with the right dishes.
I would not recommend thimble-size shot glasses that are most commonly used for the best baijius but rather the small dessert glasses used for Port or Sherry to enjoy these baijius. Baijiu is not cheap. The mid tier premium baijius cost a few hundred Reminbi (over US$25 per bottle) and the top end are just as expensive as fine wine at over US$300 per bottle.
1. Luzhou Laojiao 泸州老窖 – Guojiao 1573 Baijiu 国窖1573, Luzhou, Sichuan, China
Refined, strong aroma baijiu with intense Thai jasmine and fermented bean flavours. This is one of their top end baijius priced at 800 RMB or more at retail. Refined with gentle, long finish. This is a strong aroma baijiu. (91)
2. Guilin Sanhua 桂林三花 – Lao Guilin 8 Year Baijiu 老桂林8年, Guilin, Guangxi, China 
Distilled rice wine that is clear and high in alcohol. Aroma is gentle and very similar to sake with whiff of cooked rice. On the palate the flavours are strong yet goes down smoothly. This is a rice based baijiu. (91)
3. Shuijingfang 水井坊 – Jingcui Baijiu 菁翠, Chengdu, Sichuan, China
This top end Diageo brand is very well made with strong aroma of fermented beans and floral notes. The alcohol is well integrated into the baijiu with a lingering finish of toasted rice. This is a strong aroma baijiu. (91)
4. Xifengjiu 西凤酒 – Fengxiang Jingdian Baijiu 凤香经典, Baoji, Shaanxi, China 
Nutty flavours with sesame, gingko nuts with balanced alcohol that is well integrated into the baijiu. Very well made with smooth, fairly long finish. (90)
5. Liuyang He 浏阳河 – 50 Year Baijiu 50年, Changsha, Hunan, China
This distilled rice baijiu is incredibly fragrant with steamed white rice and white floral character on the nose but the palate is incredibly strong with fermented bean notes and stinky chou tofu flavours. Long finish. Well made baijiu that is an acquired taste. Label says '50 year aged' and there could be a blend of old and young baijiu but labels are not strictly regulated. This is a rice based baijiu. (90)
6. Xinghuacun 杏花村 – Zishaci Fenjiu Baijiu 紫砂瓷汾酒, Xinghuacun, Shanxi, China 
Fragrant palate with a complex flavour profile with plenty of depth. Palate offers layers of toasty, herbal and toasted rice flavours. Long finish. Impressive baijiu. This is a light aroma baijiu. (90)
7. Jiannanchun 剑南春 – Dongfanghong Baijiu 东方红, Mianzhu, Sichuan, China
A gentle version of the Jiannanchun Jiu (its other brand) but less explosive on the palate with layered flavours that have more finesse. The alcohol is well integrated into the baijiu and the finish is fairly long. This is their premium baijiu in a red ceramic container. This is a strong aroma baijiu. (89)
8. Kweichow Moutai 贵州茅台 – Yingbin Baijiu 迎宾, Maotai Zhen, Guizhou, China
Intense baked flavours of wild herbs and root vegetables. Hint of toasted ginko nuts and burnt rice. Palate and nose offers intense flavours that are well integrated with the high alcohol. Does not finish hot. Fairly long finish with toasty characters. This is a sauce aroma baijiu. (89)
9. Yuquan 玉泉 – 50 Year Baijiu 玉泉酒, Yuquan, Heilongjiang, China
Strong, aggressively flavoured baijiu with fermented stinky/chou tofu aromatics. This is an acquired flavour but well made for this style. This is a mixed aroma baijiu. (88)
10. Site 四特 – Dongfang Yun Baijing 东方韵, Zhangshu, Jiangzi, China
Intense baijiu with attractive nutty and floral flavours. Not very strong, mellow on the palate and finish with well integrated alcohol. This is a rice based baijiu. (88)