An Afternoon with Madame Lalou Bize-Leroy
---
---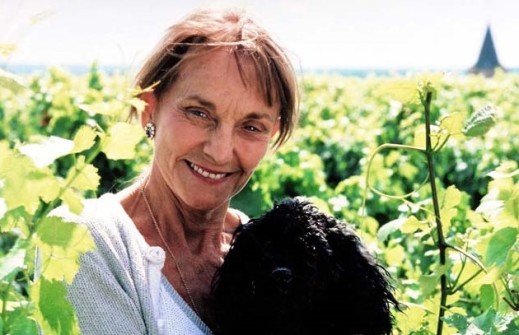 In early November 2013, I visited Domaine Leroy and was fortunate enough to spend several hours with Madame Lalou Bize-Leroy. As many wine writers know, it is very difficult to book an appointment with her and she is referred to as the elusive Queen of Burgundy. She greeted me with her grey hair tied back in a simple ponytail, wearing a pale blue and white cashmere sweater set and black high-heeled boots that made me do a double-take. We would be standing around tasting nearly 30 wines from barrel for a few hours so comfortable shoes (i.e. flats) were essential in my mind. She looked chic, making me feel unkempt and slightly under-dressed.
Madame Bize-Leroy has more style in her 80s than most women half her age. She may be petite in size but her intensity and charisma make most people feel small in her presence. She comes alive and the intensity in her eyes sharpen when she speaks about her vineyards or her wines. When I ask her how she manages to get so much intensity and energy in her wines, she replies, "It is simple, I love my vines more than most people."
Madame Bize-Leroy is a trailblazer who has been involved in the wine business since 1955. She joined her father in the negociant business when her father was running Domaine de la Romanee-Conti (DRC). She was co-manager of DRC until 1992, and since then she has focused on her family's negociant business, becoming President of Maison Leroy since 1971. But clearly, her heart is with Domaine Leroy where no expenses have been spared to craft some of the most brilliant, age-worthy Burgundy reds.
Domaine Leroy was founded by Bize-Leroy in 1988 by purchasing the estates of Charles Noellat at Vosne-Romanée and Philippe-Rémy at Gevrey-Chambertin. The domaine has 22 hectares under vine producing between 35,000 to 45,000 bottles of 9 Grand Crus, 8 Premier Crus and 9 Village wines annually.
Bize-Leroy is a pioneer in many aspects: embracing biodynamic viticulture since 1988 before it became trendy in Burgundy, adhering to very low yields, unique training and pruning policy and individual replantings. Yields of 15 hectolitres per hectare is common with some vintages like 2012 at a mere 9 hectolitres per hectare. The average yield for the vineyards in Cote de Nuits is more than double this number.
No winemaker or oenologist has been employed since the 1993 and Madame Bize-Leroy relies more on intuition and listening to the land. She says, "If every year, we are attentive to the life of each vine and the soil – to better understand their lives – we can understand what they need and their reactions following the care that we provide. Every year I research passionately how my wine can reflect more and more faithfully its land."
At harvest, the grapes go through a rigorous selection in the vineyard by the pickers as well as on two different sorting tables. Thus even in challenging vintages such as 2012, the wines are concentrated, intense and among the best made in Burgundy. 100% whole bunch clusters are fermented in wooden vats that are dramatically painted black on the outside, then matured in new barrels. The berries and juice are handled gently with no pumps or harsh movements.
Like many pioneering women, Bize-Leroy does not feel that being a woman makes any difference in what she does. She says, "One must love the vines, to be near them, think about them, communicate with them, that may perhaps result in becoming a better woman? It is these grapes, deconstructed during the fermentation by yeasts contained in the bloom of their skin that give wines that image of their land, and carries in them, etched in their flesh the essential characteristics of their deep earth."
Like the vines that she loves so much, she cannot imagine making wine or growing grapes anywhere other than Burgundy. Her wines reflect both the place, the unique terroir as well as the intensity, focus and devotion of Madame herself. The wines are alive and each seem to have its own unique personality, energy and vivacity that is hard to describe in words. As a writer I struggle to express what is really an emotional reaction to her wines.
When the wines are young, Domaine Leroy's wines can have a burly, wildly exotic, intense character. There is incredible energy, power and expression in the wines. A taste of Leroy's Chambertin or Romanee-Saint-Vivant is a spiritual experience – one that needs to be experienced at least once in a lifetime.
Republished with permission from Wine Press