2010 Burgundy
---
---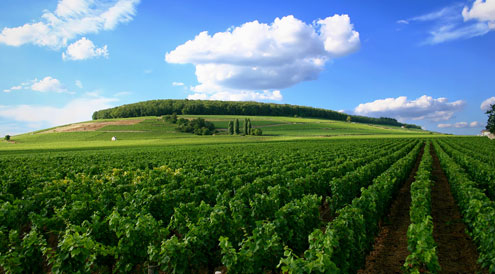 I have written many articles since my trip to Burgundy in November 2011 and expressed how much I liked this vintage. Both the reds and the whites from 2010 have wonderful clarity of flavour and definition—it is a Burgundy lovers' vintage. The best 2010s have wonderful acid tension with nuanced and detailed flavour profiles. This vintage displays lacy detail and exquisite precision.
For wine students, this is the textbook classic Burgundy vintage to discover. Find out the flavour differences between a Chambolle-Musigny versus a Gevrey-Chambertin or a Nuits-Saint-Georges. Even within more specific areas, this vintage clearly details differences between a Batard-Montrachet and a Chevalier-Montrachet or the difference between a Bonnes Mares and a Musigny.
These wines speak in a clear voice, revealing strong personality and core strength backed by firm acidity. The 2010 Burgundies are certainly destined for my cellar.
Recommended 2010 reds:
1. Domaine de la Romanee-Conti – Romanee-Conti Grand Cru, Burgundy, France
A very sensual wine that conjures up images of silk and lace. The nose is intensely perfumed, complex, and ethereal. On the palate the flavours unfold gently yet persistently right through to the finish. Layers of flavour include delicate red flowers, yang mei/waxberries, nutmeg and cloves. This wine brings to life the phrase, "iron fist in a silk glove"—combining intensity and concentration with impressive grace and finesse. Very long length in the finish. This is a gorgeous wine with a long life ahead of it. (97)
2. Domaine Liger-Belair – La Romanee Grand Cru, Burgundy, France 
Lovely, delicate, and gentle flavours that combine floral notes, mixed spices, and strawberries. This wine is harmonious with all of its components in balance. The silky texture of the tannins is supported by firm acidity layered with sweet red berry fruits and subtle spices. Good length and seductive flavours. (94)
3. Domaine Meo-Camuzet – Vosne-Romanee Cros Parantoux 1er Cru, Burgundy, France
A wine with lovely complex aromatics of spices and herbs with a very long finish. There is so much intensity and intriguing flavours here that range from thyme, lavender to dried wolfberries. The layers unfold on the palate with delicacy and finesse while the velvety tannins caress the tongue. Excellent wine with very long length. (95)
4. Maison Benjamin Leroux – Clos de la Roche Grand Cru, Burgundy, France
Silky textured fruit with precise flavours from de-stemmed berries. This Clos de la Roche is crafted in a way that emphasizes its linearity, depth and clarity of flavours. Very precise, linear but with nice depth and breadth. Benjamin Leroux only started his own label wine in 2007 but is doing a fantastic job sourcing fruit from some of the best growers in Burgundy and crafting wines with great detail and focus. (94)
5. Domaine Hubert Lignier – Morey-St-Denis 1er Cru Vieilles Vignes, Burgundy, France
This is Lignier's signature blend of two 1er Crus from 60 year old vines made from 15 rows of Les Faconnieres and Les Chenevery. The nose is explosive with aromas ranging from sweet spices, violets, lavender to mixed red berries. On the palate, the complex layers are persistent yet delicate with a long finish. (94)
6. Domaine Armand Rousseau – Gevrey-Chambertin 1er cru Clos St Jacques, Burgundy, France
Tasted from a new barrel sample, this wine is perfumed with hints of roses, raspberries, sweet spices and herbs. The intense flavours are supported by firm tannins and substantial depth on the palate. The vines from this vineyard is between 50 to 90 years old. Rousseau owns one-third of the area with 2.2 hectares. (95)
7. Domaine Dujac – Chambertin Grand Cru, Burgundy, France
Chambertin is always powerful but at Dujac, the delicacy of the grapes from this vineyard site is allowed to emerge. The floral and sweet spice flavours are alluring on the nose and the palate reveals great intensity and depth with velvety tannins and firm acidity. This is an intense wine with great potential to age. An elegant and expressive Chambertin. (96)
8. Domaine Arlaud – Clos de la Roche Grand Cru, Burgundy, France
This domaine is making wonderful detailed wines that adhere to precision and finesse. Flavours in the Clos de la Roche range from lavender, raspberry to peony flowers. The wine is energetic and lively on the palate and even during the five minutes I had it in my glass, it changed and evolved, offering different facets of its personality. Long finish. (94)
9. Domaine Taupenot-Merme – Mazoyeres-Chambertin Grand Cru, Burgundy, France
Romain Taupenot makes intense wines that may not have the delicacy of some of his neighbours but the wines entice with their great depth and complex layers of fruit. The Mazoyeres-Chambertin offers hint of tobacco, cedar and cherries with mixed spices such as anise and nutmeg. This wine offers seductive flavours, with excellent length. (94)
10. Domaine d'Eugenie – Grand Echezeaux Grand Cru, Burgundy, France
The Grand Echezeaux offers more intense floral and spicy flavours and greater depth compared with the Echezeaux. The gorgeous perfume is followed by a refined palate of silky tannins and wonderful minerality. This is a profound wine that possesses both finesse and delicacy. 75% new oak adds another dimension to the wine and it is beautifully integrated into the flavours. Long length. (94)
11. Domaine Ponsot – Chambertin-Clos de Beze Grand Cru, Burgundy, France
Unlike other domaines, Laurent Ponsot says 2010 was not an unusually small yield. 25 hectolitres per hectare is an average yield at Ponsot and 2010 fell right within this range. The Chambertin-Clos de Beze offers delicate floral and ripe mixed berries on the nose but the palate offers much greater depth and intensity with spices and savoury notes coming through. This is a gorgeous, elegant wine with amazing finesse and great concentration. (95)
12. Domaine Comte Georges de Vogue – Musigny Grand Cru, Burgundy, France
This Musigny sang from the barrel. The nose was delicate with an array of floral notes, spices, pomegranate and lively minerality. The flavours are pure and precise with delicacy as well as persistence. The palate has layers of flavours that combine intensity with freshness and finesse. This is a complex wine with a very long finish and the potential to age for decades. (96)
Recommended 2010 whites:
1. Domaine de Montille – Puligny-Montrachet 1er Cru Le Cailleret, Burgundy, France
This is a lean, focused, tightly wound Puligny-Montrachet with graphite, mineral notes in the finish. Hints of nectarines and apricots appear on the palate but they are subtle, dominated by the savoury, mineral flavours that carry through in the finish. A sophisticated, detailed wine with long length. (94)
2. Domaine Bonneau du Martray – Corton-Charlemagne Grand Cru, Burgundy, France
This Corton-Charlemagne is focused and intense. Flavours of nectarines and pomelo intermingle with spicy and savoury elements in the finish. The palate texture is fleshy and round while the flavours are linear and intense – a wonderful combination. 2010 is more layered and minerally with greater freshness than the 2009 which is rounder and fatter. Long finish. (95)
3. Domaine Arnaud Ente – Meursault La Seve du Clos, Burgundy, France
This Meursault comes from 120-year-old vines and only 600 litres are made every year. The vines were planted just before phylloxera. The aromatics are complex and seductive with floral, jasmine and toasted nut flavours. The expression is gentle yet persistent and the subtle flavours change every minute in the glass. Very long finish. (95)
4. Domaine Roulot – Meursault les Tillets, Burgundy, France
I love this intense, concentrated Meursault from vines planted in 1973. The nose offers toasted hazelnuts, hints of butter and sweet egg tart notes. The palate is equally enticing with crisp acidity providing the backbone and lift. Very long finish. This vineyard has thinner soils and lots of chalk, which provides good reflection and heat from the sun. Amazing complexity and depth in this wine. (95)
5. Pierre-Yves Colin-Morey – Meursault 1er Cru Perrieres, Burgundy, France
Very ripe, complex expression in this wine with hints of baked egg tart and toasted sesame seeds. The flavours are intense but it is the lively acidity and minerally finish that charms the palate. This is a detailed, elegant Perrieres. (94)
6. Domaine Leflaive – Chevalier-Montrachet Grand Cru, Burgundy, France
Leflaive made gorgeous wines in 2010 and Anne Claude Leflaive's ability to combine the energy from this vintage with lifted flavours resulted in incredible wines. The Chevalier-Montrachet has a glorious perfume of honeysuckle, ripe nectarines and mangosteens. The intensity carries through on the palate with layers that change and unfold softly on the palate. This wine is captivating, with seemingly endless facets that keep you going back and finding something more in the wine. (98)