20 June 2011: Day Two of Vinexpo Bordeaux
---
---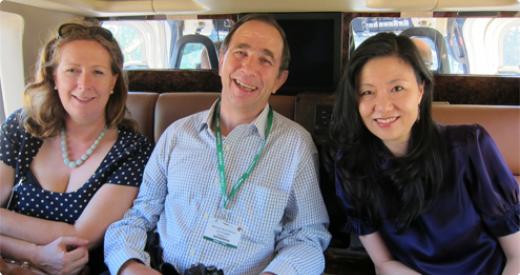 Day two of Vinexpo was another action-filled day. Jeannie was picked up from Vinexpo by helicopter in James Bond-like style to attend a vertical tasting and lunch at Chateau du Tertre. An enlightening vertical tasting of Chateau Giscours and Chateau de Tetre showed how well both these wines can age.
Vintages of Giscours included: 1970, 1975, 1985, 1989, 1990, 1995, 1998, 2000, 2001, 2004, 2005, 2009, 2010. Among Jeannie's favourites were the 1979, 1986, 1989, 1990, 2000, 2005, 2009 & 2010. The vintage of du Tertre tasted were: 1979, 1982, 1988, 1990, 1998, 2000, 2001, 2003, 2005, 2009, 2010. Jeannie's favourites included 1979, 1990, 2000, 2001, 2005, 2009 & 2010.
Returning from a decadent lunch at Chateau du Tertre, Jeannie joined champagne producer Bruno Paillard for a brief catch up with Joel Robuchon. She dedicated a copy of her second book, Mastering Wine for the Asian Palate, to this 26-Michelin-starred culinary legend who wrote a beautiful foreword for her new book.
'Through her unique Asian-palate tinted perspective, Jeannie creates windows where walls once stood, making wine appreciation more accessible by providing a range of new descriptors which have relevance, meaning and memories for a worldwide culinary audience accustomed to Asian cuisines and ingredients… Jeannie has taken her subject and seasoned it with her inimitable style, creating an invigorating and informative experience that everyone, from wine and food enthusiasts to professionals, will find invaluable.'
The day ended with the Asian Palate team taking away a wealth of pairing insights from diverse events such as the Daishichi Sake Tasting introducing the pairing of Japanese sake with French cuisine. At the close of day, the "Voyage of the Senses with the Wines of Alsace" tasting paired the best of Alsace with fusion-inspired gourmet food and timeless classical music and opera arias.