1982 Horizontal Tasting of the Top Wines of Bordeaux including the Five First Growths
---
---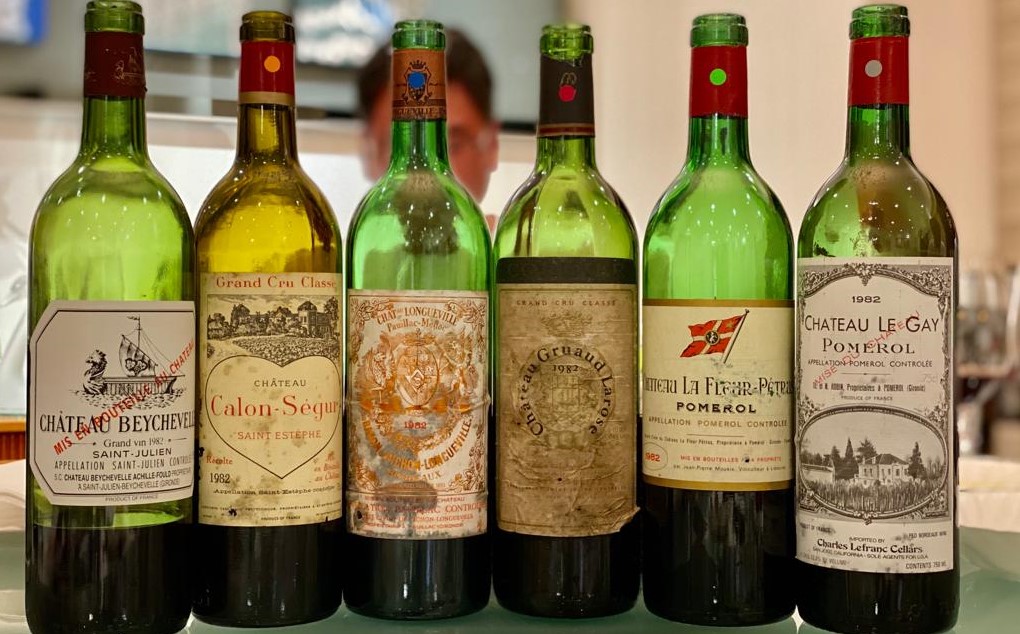 1982 is an iconic vintage for Bordeaux, and for many wine lovers, it's a reference point as a modern, ripe year that was delicious from the onset. A group of eight wine lovers in Hong Kong decided to see how well these 1982 Bordeaux were aging and drinking; so we gathered three times over the course of 18 months. Our first tasting consisted of 1982 'super seconds' from both the left and right bank and the lineup included: Beychevelle, Calon-Segur, Pichon Baron, Gruaud Larose, La Fleur Petrus, Le Gay, Canon and Latour a Pomerol.
Out of the eight wines, the most impressive wine, punching way above its weight was Beychevelle. A gorgeous, complex nose was followed by lovely dried tea leaf notes and savory spices, complete with a persistent, lingering finish. From the left bank, the Calon-Segur was a wonderful bottle with firm structure and excellent depth. Both Pichon Baron and Gruaud Larose were solid, still holding up well but not that impressive. The right bank was easily the better group and nearly all the wines showed how the heat of the vintage brought out the sexy, opulent side of Merlot. Latour a Pomerol was stunning – complex and deep with a long finish; La Fleur Petrus was beautifully balanced and oh so delicious; Canon was soft, round and seductive while Le Gay was delicious, but the lightest weight in this flight of right bank wines.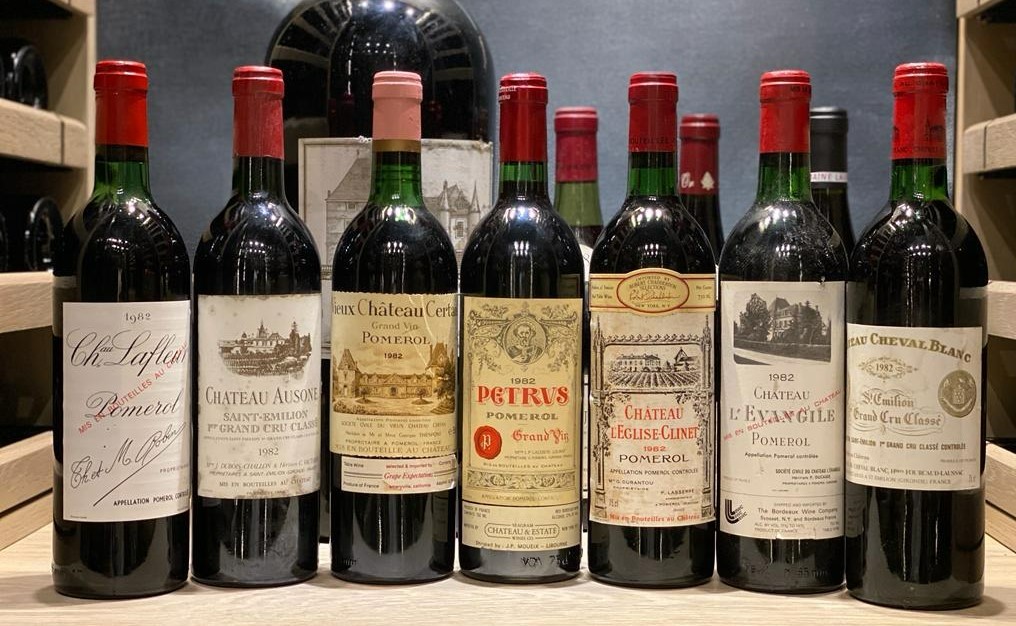 The second gathering of 1982 Bordeaux focused solely on right bank wines and the lineup was truly impressive and included: Lafleur, Cheval Blanc, Ausone, Petrus, L'Eglise Clinet, Vieux Chateau Certain, L'Evangile. For me, the best performance was between Lafleur and Petrus, both trying to out-do the other during the evening. Lafleur was more elegant and linear but alluring in its intense, quiet power while Petrus was powerful, explosive and simply gorgeous. Cheval Blanc was a contender too for the wine of the night – showing great depth and structure. Close runner ups were Ausone and Vieux Chateau Certan, although it was really not fair since each wine was spectacular on their own. There were no oxidized bottles and no wines that we thought were starting to decline. These 1982 right bank wines were still clearly at their peak.
The third gathering of the 1982 tasting occurred a year later (due to social distancing rules and COVID-19) and we focused on the first growths and top left bank wines. The lineup included: Mouton, Haut-Brion, Margaux, Lafite, Latour, Leoville Las Cases, Pichon Lalande and La Mission Haut-Brion. We expected the first growths to show well and they did not disappoint, except for Margaux which was surprisingly quiet and light. The most impressive first growth was Latour with its structured intensity, depth and powerful finish. Mouton was impressive with its sweetness and generosity; Haut-Brion was classic, balanced and majestic; Lafite was closed despite being opened and decanted for nearly 5 hours and started to show its magic only towards the end of the night. Among the non-first growths, Pichon Lalande was by far the favorite and most impressive with explosive flavors and lingering finish. Leovillve Las Cases was still extremely youthful and gorgeous while the La Mission Haut-Brion was beautifully layered and aromatic. 
The best part of this three-part tasting held over 18 months is that not only were we tasting the wines seriously, but drinking and enjoying them over a long dinner. Great friends, laughter and wonderful food accompanied all the wines. I love and prefer this type of tasting because I can write my conclusions about the wines over dinner, slowly, allowing the wine plenty of time to show its true colors. My overall conclusion after a deep dive into the Bordeaux 1982 vintage is that Robert Parker made the right call when he pronounced it a great vintage. The top wines are still holding up well and show no signs of fading. However, some of the lesser wines are starting to show its age. This ripe vintage has given us a wide drinking window, regardless of the specific appellation and terroir. For those that still have some top 1982 Bordeaux in your cellar, there is no rush to pull the cork. A long life ahead awaits these beauties.
To see tasting notes and ratings for the 1982 Bordeaux wines, click here.