Vertical Tastings of Latour & Gruaud Larose
---
---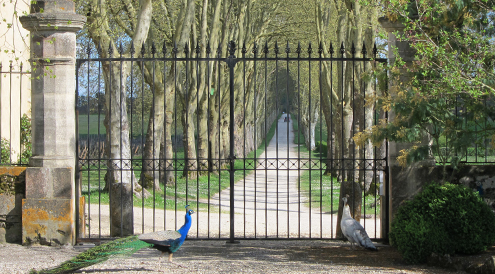 Vertical tastings offer a wonderful glimpse into the many facets of a wine's personality and its expressions over different weather conditions. For great wines, it is also a glimpse into the quality of the terroir, the site from which the grapes originate. Recently, while in Bordeaux for the 2010 en primeurs, I had the privilege of tasting verticals of Chateau Latour, one of the longest lived wines from Bordeaux and Chateau Gruaud Larose, a wine that will surprise many with its aging potential.
Both tastings were at their respective chateaux with the wines being carefully handled and decanted by the cellar master. Part of these wines' longevity has to do with the fact that they have not travelled and crossed vast oceans. These wines that have slumbered for decades and some, even over a century, awoke surprisingly fresh and had something to say. I can only wish that I will age as gracefully as many of these century-old wines.
At Latour, each of the 12 guests were invited to draw a vintage out of a box so no two same vintages could be chosen. I was lucky enough to select the oldest vintage in Latour's cellar: a pre-phylloxera 1863. There were only 7 bottles of this vintage in the cellar and I inspected two then chose one with the higher level. Each of the guests knew only his/her own vintage and all 12 wines were then poured blind over dinner.
It was an incredible experience to discover the longevity and the amazing clarity of expression in 60 to 130-year-old wines! The youthfulness of Latour had everyone guessing at least several decades too young. The 1863 vintage had such amazing colour and aromatics that everyone guessed it was 1960s rather than 1860s!
At Gruaud Larose, the theme was vintages that end in one. We tasted 1831, 1841, 1851, 1871, 1881, 1891, 1921, 1961, 1971, 1981, 1991 and 2001. Since 2010, Gruaud Larose has hosted a vertical tasting for a small group of wine writers. In 2010, the theme was wines from vintages that end in zero. We tasted 1840, 1870, 1880, 1890, 1900, 1920, 1950, 1960, 1970, 1980, 1990, 2000. The wines that most impressed me were the wines from the 20th century. Last year, my favourites were 1900, 1990 and 2000. This year, my favourites are 1921, 1961 and 1971. This is a wonderful tasting that shows how well a second-growth Bordeaux can age.
Below are the twelve vintages of Chateau Latour:
1. 1863 Château Latour, Pauillac, France – The wine started out with mushroom and tobacco notes but soon expressed more and more musty, leather, aged character. Not a surprise given its age. This wine was paired blind with the 1971 and everyone thought the vintages were close in age! Amazing concentration and youthfulness given the vintage. Not a great bottle though, because of a mustiness that only started to surface after the glass warmed up. When I first tasted the wine, it was fresh and lively and although it was only decanted just before serving, much of the freshness had disappeared quickly. (92)
2. 1893 Château Latour, Pauillac, France – Pale ruby, like a rose from the Rhone Valley. Very aromatic wine with light colour. By sight alone, one would guess Burgundy. Even on the palate, the tannins have softened into a silky texture with only pure fruit and acidity remaining. Light bodied, soft, delicate, Burgundian – a lovely drink but fading in the glass after about an hour. To be enjoyed as soon as it is opened. (91)
3. 1897 Château Latour, Pauillac, France – Restrained nose of herbs, green beans and hint of dried flowers. An evolved, tired wine that has seen better days. The tannins are modest and much of the fruit has already vanished. Not a surprise given its age. It's remarkable that it had held up even this well. (87)
4. 1909 Château Latour, Pauillac, France – A medium-bodied aromatic wine that is so seductive on the nose. The lovely perfume leads to a sweet mid-palate filled with dried floral notes and subtle herbal flavours. There is incredible grace, elegance and real depth. Layers of flavours keep unfolding gently, one after another. A very impressive wine – especially at 112 years old! (97)
5. 1919 Château Latour, Pauillac, France – A stylish medium bodied Latour with classic cedar and leather notes. This is traditional style winemaking – a light touch, very little extraction and moderate ripeness. It has evolved into a lovely wine with nice intensity and amazing life, considering its age. Soft, velvety in texture with a jasmine tealeaf finish. Enjoy now. (94)
6. 1945 Château Latour, Pauillac, France – The 1945 tasted nearly 8 years ago at the chateau was memorable, but not as intense and complex as this bottle. This is an incredible wine with still lively fruit characters and a depth that comes from great structure, freshness and intense flavours. The long bottle aging has added depth and nuances that add to the complexity. The 1945 and the 1947 Latour are two of the best older Bordeaux that I have ever tasted. A glorious wine! (99)
7. 1947 Château Latour, Pauillac, France – A Latour that I can inhale throughout the evening and be absolutely content. The nose is seductive and spicy. The wonderful bouquet of flavours carries through on the palate with amazing depth and the finish is very long. The wine beguiles by evolving and changing by the minute in the glass. A multi-dimensional beauty, one with charm as well as grace. A perfect wine. (100)
8. 1961 Château Latour, Pauillac, France – I've had the privilege of tasting the 1961 three times in the past 12 months, twice at the chateau. I am always underwhelmed. The colour is rich and deep but the flavours are closed and not expressive. The tannins and flavours are chunky and sit on your palate rather than caress it. Many have commented that this wine is young and not open, but after 50 years, shouldn't the wine be coming around now? This is a dense Latour but without the generosity of flavours found in other 1961s. It is an excellent Latour but not among the finest as the vintage might lead you to expect. Also tasted six months ago, and this was the better bottle. Enjoy now. (96)
9. 1970 Château Latour, Pauillac, France – This is a dark tannic linear style of Latour, with amazing precision. The flavours are focused, vibrant and the tannins are firm, velvety and ripe. The fresh acidity has enabled this wine to age gracefully. This wine is restrained but on the palate there are plenty of dark berry flavours. Enjoy now. (94)
10. 1971 Château Latour, Pauillac, France – A vibrant Latour with lively blackberry fruit and fresh acidity. A very impressive wine given the vintage – this is one of the most successful wines from 1971. Still young and very densely packed. Tasted blind, it showed so well that everyone guessed it was from a much grander year. Wait at least another 3-5 years before enjoying it. Will keep for another decade or more. (96)
11. 1983 Château Latour, Pauillac, France – The nose has roasted characters and a hint of cocoa. On the palate, the flavours are slightly disjointed. The tannins have a sharp edge and are far from supple. The flavours lack a bit of freshness and tannins stick out with the wine appearing dense, chunky and unrefined. Drink now, as on this showing the wine won't improve. (89)
12. 1985 Château Latour, Pauillac, France – This is a fresh vibrant Latour with great focus and weight. While the wine has very good depth and intensity, it falls short when compared to some of Latour's more powerful and expressive vintages. The flavours are balanced, gentle and delicate. This wine is just reaching its prime – enjoy soon or lay it down in your cellar for another few decades. (94)
Below are my top five wines from Chateau Gruaud Larose tasting:
1. 1921 Château Gruaud Larose, St Julien, France – Medium garnet brown with a fading rim, the 1921 offers a seductive perfume of sweet aromatic spices, pot pourri, and dried flowers that carries through in the finish with amazing intensity and length. A delicious wine that is simply astonishing in its evolution and delicacy of layered flavours. (94)
2. 1961 Château Gruaud Larose, St Julien, France – Medium garnet ruby in colour, the 1961 smells of sweet dried berries, pot pourri, and dried prunes, and has acquired a delicious evolved flavour with sweet mid palate fruit. This is not a dense, full bodied or powerful 1961, but on the nose and palate there is incredible depth and a very long finish. Very light, probably only about 10% alcohol, this is a remarkable 1961! (93)
3. 1971 Château Gruaud Larose, St Julien, France – Fairly deep garnet in colour, the 1971 gives off notes of sweet dried berries, pot pourri, tobacco and fresh mushrooms. This is a delicious wine that has plenty of depth and sweet mid palate fruit. Though still amazingly fresh and lively with silky tannins and a gentle evolved flavour, the wine that may be just starting to fade, so enjoy it soon.(92)
4. 1981 Château Gruaud Larose, St Julien, France – The 1981 is a gentle delicate wine that surprisingly has more depth than the 1991. Medium garnet ruby in colour, it has notes of pot pourri, cassis, cedar, and tobacco. I love the gentle grace of this wine and its subtle soft tealeaf finish. This won't impress or win blind competitions but here you have the delicious drinkability of a mature wine at its peak.(91)
5. 2001 Château Gruaud Larose, St Julien, France – This is a wonderful, elegant Gruaud Larose that gets high marks for sheer drinkability. Fairly deep ruby with a touch of garnet, the 2001 is very aromatic, with notes of plums, dried flowers, cedar, and spices. There is a freshness of fruit, with tertiary flavours like chanterelle mushrooms and leather notes just beginning to creep in. The wine is just reaching its peak though it can still keep for at least a decade. (91)