Top 5 Rising Stars of Italy
---
---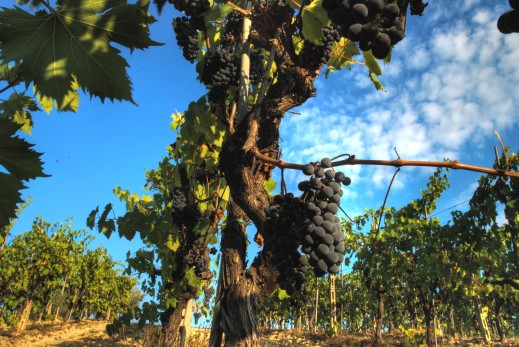 China and Italy have ties that go back many centuries. The height of the Roman Empire coincides with the height of the Han dynasty when great advances were made in China in the area of mathematics, philosophy and the arts. It was Marco Polo, an Italian, not a Frenchman, who documented his experience traveling and living in China during the 13th century, which is now among the most widely quoted historical documents about the period. Even now, it is Italian restaurants opening at a much faster rate than French restaurants in most major Asian cities, yet the wine lists in China firmly remains predominantly French.
If it is diversity that Asians seek, there are very few countries that can rival the number of different grape varieties and styles produced throughout the 20 wine regions of Italy. In fact, there is wine produced in nearly every region, city and town in Italy. In the past, locals would just get their large jugs refilled at a nearby winery, in the same way that one would go out to the well for a bucket of water. Indigenous grape varieties used to make wine number in the thousands, while in France, they number in the hundreds.
As a long, boot-shaped peninsula, Italy has wines that range from continental climate-influenced crisp whites to sultry, full-bodied reds found in the south. It is true that Italian wineries as a group do not work in unison as well as the French who promote their wines under regional and group umbrellas such as the Union des Grands Crus de Bordeaux and appellation banners such as Alsace, Chablis or Burgundy.
Italian wine regulations are also a relatively modern phenomenon, urged more by the need to catch up with the French than by growers' desires to be part of a regional community. Even now, many renegade quality producers opt not to fall under Italy's DOC or DOCG system, relishing their freedom for individual expression. The result is that the marketing message, even for well known regions like Tuscany, is muddled and people have trouble distinguishing between a Brunello di Montalcino versus a Vino Nobile di Montepulciano, both of which are premium Tuscan wines.
Amidst this semi-organized chaos, there are hidden gems, unsung heros and under-rated wines. Italian wineries are rarely large in size, most are closer to Burgundy or Northern Rhone properties in size, producing a thousands of cases rather then tens of thousands.
At the end of 2012, Italian wines ranked fifth in both volume and value of bottled imported wine into China. The figures are a fraction of French wines and much less in volume than Australian wines. Italy's biggest competitor, Spain, was far behind Italy in 2009 in both quantity and value. However by 2010, Spain overtook Italy in number of bottles exported into China and by 2011, Spain was ahead of Italy in value.
For a country that is nearly always ranked number 1 or 2 in the world for wine production, this is not a good track record for exporting into the fastest growing and arguably, the most important wine market in the future. For consumers, this offers opportunity since Italian wines are lesser known and not as popular compared to their European neighbours. The current market, tired of the same old Bordeaux labels, shows great potential for Italian wines to showcase their diversity, distinctiveness and great value. Below are my top 5 rising stars of Italy that combine the best features of their distinctive Italian heritage and represent wonderful value for money:
1. Tenute Cisa Asinari Dei Marchesi di Gresy, Barbaresco, Piedmont
The vineyards are part of a historic property owned by the di Gresy family since 1797. Although the property and vineyards are ancient, the brand is relatively new. The charismatic Alberto di Gresy decided in 1973 to produce and bottle their own wines under the family label rather than selling the grapes to other producers. Espousing traditional vinification methods, di Gresy wines are always silky and gorgeously layered, especially their Barbarescos divided into three distinct cuvees – Camp Gros Martinenga, Gaiun Martinenga and Martinenga. Di Gresy has four estates in the Langhe and Monferrato areas where a wide range of wines are produced ranging from Moscato d'Asti to Chardonnay and Cabernet Sauvignon. I highly recommend their elegant, aromatic Barbarescos with supple tannins.
2. Isole e Olena, Chianti Classico, Tuscany
Currently run by Paolo De Marchi since 1976, this is a family estate that was established in the 1960s. The wonderful Sanviovese-based wines made here by De Marchi, are becoming better known around the world for their finesse, balance and purity of expression. The 45 hectares of vineyards, situated between 350-450 metres above sea level, produce hauntingly elegant Chiantis. Their top wine, the Cepparello is a pure Sangiovese-based wine, which was launched in 1980. Paolo De Marchi is doing a fabulous job with other varieties too at this high altitude – their Syrah, one of the first planted in the region, is terrific as well as their Chardonnay and Cabernet Sauvignon.
3. Bisol, Upper Maremma, Bolgheri, Tuscany
The founder of this young winery, Lodovico Antinori, is a living legend as a pioneer in the Bolgheri region. This 90-hectare vineyard is a collaboration between himself and his brother Piero Antinori who is at the helm of the Antinori empire. Lodovico founded Ornellaia in the 1980s inspired by the success of Sassicaia, founded by his cousin Nicolo Incisa, and Solaia, founded by his brother Piero. The gamble on this special site is based on the right bank Bordeaux model with Merlot and Cabernet Franc playing major roles while Cabernet Sauvignon and Petit Verdot are minor players in the blend. This modern Tuscan wine with a nod to Cheval Blanc is incredibly intense even with the debut release vintage, the 2006. I highly recommend the Il Pino di Biserno, which has the concentration and depth of Biserno, but is much more approachable when young.
4. Bisol, Valdobbiadene, Veneto
The Bisol family has been making wine for about 500 years and control 177 hectares of vineyards spread out in the steep hills of Valdobbiadene. In recent years, Prosecco has become the sparkling wine of choice in many markets around the world. Refreshing, light and easy to enjoy, Bisol Proseccos offer a wonderful alternative to more expensive Champagnes. Although they have yet to become trendy in China, when people discover the value of well made Prosecco, it will only be a matter of time for Prosecco to catch on. Try one of the 'Cru' Proseccos by Bisol which represents the different sites or the traditional, Champagne method Proseccos. The best Bisol sparkling wines have wonderful, refreshing flavours and subtle, layered depth.
5. Planeta, Sicily
This is one of the most successful, quality-focused wineries in Sicily. Founded by three cousins, Alessio, Francesca and Santi Planeta, they only started their winemaking venture in the mid-1980s. Now, their operations are spread out throughout Sicily including a site on Mount Etna, 870 meters above sea level, where the soil is rich in black lava sand and minerals. Their Nero d'Avola, Cabernet blend and Syrah are worth seeking out. Their whites also represent wonderful value – try the Cometa, made from the Fiano variety or the vibrant Chardonnay. From their new vineyard in Mount Etna, the largest active volcano in Europe, try the minerally Carricante, a wonderful indigenous variety that is herbal, citrusy and linear.
Reprinted with permission from Noblesse China.