Top 5 Rising Stars of Burgundy
---
---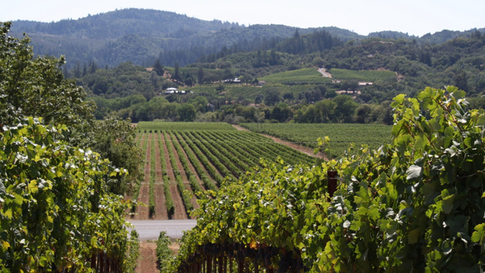 As many wine lovers turn towards Burgundy, the most common complaint I receive is, "Burgundy is so expensive." When you try to buy some of the best Grand Crus from top Burgundy domaines from the best vintages like the 2009 and the 2010, their prices make Bordeaux cru classe look cheap. That is, if one can even find them in the market.
At the Hospice de Beaune auction in November 2012, now in its 152nd year, the average price per bottle increased more than 50 per cent per bottle. The latest figures on Burgundy exports defy the slow-moving market trend: they rose by more than 10% in most of their major markets, with the value of Hong Kong and China sales increasing more than 40%.    
Burgundy produces only about 200 million bottles  each year (not including Beaujolais, which is technically part of Burgundy); that is a mere 5 per cent of total French wine production. No wonder wine prices creep up each year and no wonder per-bottle prices rise regardless of the plight of the stock market and other fine wine regions.    
I spent nearly three weeks in Burgundy looking for some affordable producers who can bring the same kind of pleasure that the highly sought-after producers can offer and I was pleasantly surprised to find many. Below are my top five rising stars of Burgundy. I suggest buying them now when you can since in 5-8 years, I suspect these wines will likely increase in both reputation and price. 
1. Domaine de l'Arlot
Despite that fact this domaine was established in 1892, it has been relatively unknown among serious Burgundy collectors. This small 14 hectare organic estate makes excellent Nuits-Saint-Georges 1er Cru that is still affordable at under US$100 retail in Hong Kong.  
The estate originally belonged to the Vienot family and the name "Arlot" refers to the stream that runs through the estate. Near the end of the 19th century Vienots sold to Jules Belin, a negociant company, where the wine and the winery remained relatively obscure. Then in 1986, the domaine was acquired by the insurance company AXA Millésimes. The estate is now managed by Christian Seely, director of the AXA group of wines including Domaine Pichon-Longueville Baron who took over as managing director of Arlot in 2007. The current winemaker Jacques Devauges is young and very experienced. He has an Oenology degree from Burgundy University and worked in wineries such as Château Potelle Winery in the Napa Valley, Domaine de la Vougeraie, Maison Frédéric Magnien and Domaine Michel Magnien in Morey Saint-Denis.
The wines are elegant and subtle with beautifully handled tannins and although their Grand Cru Romanee-Saint-Vivant is expensive as befitting a wine of this status, their 1er Crus are still reasonably priced. Look out for their unusual Nuits-Saint-Georges 1er Cru Clos de l'Arlot Monopole Blanc, a white wine with the seriousness and weight of a red. Also look for Nuits-Saint-Georges 1er Cru Clos de l'Arlot and Nuits-Saint-Georges 1er Cru Clos-de-Forets-Saint-Georges. 
2. Domaine Fourrier
Domaine Fourrier has been around for over 70 years but quality only started improving significantly over the past 20 years when Jean-Marie Fourrier took over from his father Jean-Claude. Jean-Marie started to work with his father in 1989 after doing six month internships with Henry Jayer and Domaine Drouhin in Oregon. He took over in 1994 and started to make dramatic changes in viticulture and winemaking that improved quality. These included reducing yields, introducing small parcel fermentations and bottling earlier than his father. There are numerous little details too such as gentle extraction and minimal handling which have all contributed to the wonderful wines that Fourrier now crafts.
People are beginning to recognise the improvements and prices are creeping up but his village level Gevrey Chambertins are good value. Fourrier's Gevrey Chambertin Vieilles Vignes made from very old vines are excellent and offer great value for money. Other wines that I would highly recommend are: Vougeot 1er Cru Les Petits Vougeots, Gevrey Chambertin 1er Cru Combe Aux Moines, Gevrey Chambertin 1er Cru Les Champeaux and Gevrey Chambertin 1er Cru Clos Saint Jacques.
3. Domaine d'Eugenie
This is a very young winery established only in 2006 when billionaire Francois Pinault (owner of Christie's auction house and Chateau Latour) purchased the estate from Rene Engel. Located in Vosne-Romanee, this small domaine of 6.5 hectares has a small number of wines including a handful of Grand Crus in their portfolio. Among the best values are their Vosne-Romanee village and Vosne-Romanee Village Clos d'Eugenie. Their 1er cru, Vosne-Romanee 1er Cru Aux Brulees, is also wonderful in years like 2008 and 2010 – offering generous reds with depth and precision.
Considerable investment has gone into both the vineyard and winery – a new cellar was built with wooden vats and all the latest equipment to make detailed wines. The investment and construction was overseen by Frederic Engerer, who as manager of the domaine shuttles back and forth from Bordeaux to Burgundy since he also manages Chateau Latour. For winemaking, they have Michel Mallard who has the sensitivity to make balanced, intense reds that make the most of their vineyard. Their Grand Crus are expensive, but their Grands-Echezeaux Grand Cru and Clos-Vougeot Grand Cru are worth it. These wines are for laying down in your cellar for 10 years or more.
4. Benjamin Leroux
This is a small negociant business that talented winemaker Benjamin Leroux established in 2007. Leroux' intent is to keep the company as a small, niche player, producing fine wines from the best parcels in Burgundy. He only buys grapes and not juice, and has great relationships with some of the best growers in the region. Leroux' huge portfolio can be confusing but nearly all the wines are of high quality so in vintages like 2009 or 2010, it is hard to go wrong. The portfolio is big not because of volume but because of small diverse parcels of some of the best grapes from different appellations. Sometimes, he may be making just one barrel of one wine.
Value in Leroux wines exist at the village level such as the Auxey-Duresses Blanc, Puligny-Montrachet, Meursault Vireuls, Nuits-Saint-Georges Les Allots and Gevrey-Chambertin. These village wines, though they have a humble label have remarkable intensity and depth on the palate. Leroux also makes a range of Grand Cru wines such as Batard-Montrachet and Bonnes-Mares but these are very expensive. His wines have already been 'discovered' by the British merchants and a small group of fine wine collectors who are willing to pay those prices, but his village wines still continue to offer value.
5. Domaine Jacques Carillon
The Carillons have been grape growers in Burgundy for over 400 years. Domaine Louis Carillon has been synonymous with top quality white Burgundy for decades. However, this family-owned 11-hectare estate was divided among the next generation and what used to be Domaine Louis Carillon is now Domaine Jacques Carillon and Domaine François Carillon since 2010.
In 2009, there are two labels for the 2009s since the brothers divided the finished wine and bottled it under their separate labels, but they are the same wine. However, starting with the 2010 vintage, the wines are distinctive and different. There is no denying the prime land that both the sons inherited as well as the winemaking skills. As these two domaines establish their reputation in the market, look out for their village level Chassagne- Montrachet and Puligny-Montrachet. Jacques Carillon is making excellent whites and his 1er Cru Puligny-Montrachets such as Les Combettes, Les Perrières and Les Referts are exceptional wines.
Reprinted with permission from Noblesse China