Tips on Pairing Japanese Food with Champagne
---
---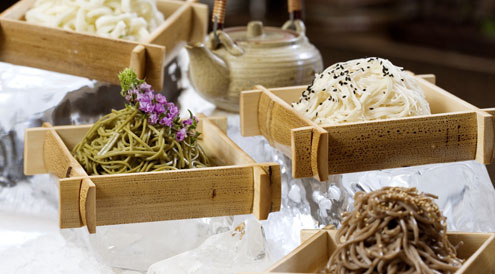 While Non Vintage Champagne can work very well with most Japanese meals, to be more precise and considerate of the specialized nature of Japanese cuisine, I have divided the different types of Champagnes with the types of Japanese food that would work best:
Full bodied Non Vintage Champagne – Surprisingly the fuller bodied Champagne style such as Bollinger or Pol Roger are better with Japanese food versus the lighter bodied Champagnes like Lanson or Moet & Chandon. The wines with a greater proportion of Pinot Noir in the blend adds greater richness in the mid palate and holds up better against soy sauce and flavours such as vinegar in many Japanese dishes. For a sashimi platter, it isn't just the fish that we are pairing with the wine, it is also the freshly grated wasabi and the soy sauce, which adds richness and flavours that is well paired with a full-bodied Champagne. Other good pairings are crisp, freshly fried tempura fish or shrimp and cold soba noodles.
Blanc de Blancs Champagne – With 100% Chardonnay giving way to precise, floral and very delicate, gentle flavours, I love Blanc de Blancs even on its own. With Japanese food, the best pairings are soft textured dishes such as tofu without any strong sauces. I highly recommend white fish sashimi with salt (no soy sauce) with a vintage Blanc de Blancs. During the spring season when ingredients are fresh and light, try a vintage Blanc de Blancs such as Salon 1996 or Taittinger 1998 Comte de Champagne with kaiseki. It is a glorious pairing. These vintage Blanc de Blancs are very expensive but other more affordable Blanc de Blancs include Ruinart and Deutz.
Blanc de Noirs Champagne – While Blanc de Blancs can be found on many retailers lists, a Blanc de Noirs made up of mostly Pinot Noir (though Pinot Meunier can be used) is rare. This is a fuller, richer, rounder version with the Pinot Noir adding more phenolic elements and generosity in the mid palate. Its rarity commands a high price and at the top of the pyramid is Krug's Clos d'Ambonnay which is priced at over US$2,000 per bottle, if you can find it. Other excellent Blanc de Noirs include Bollinger's Ay Vieilles Vingnes Francaises, Egly-Ouriet Les Crayeres Vielles Vignes and Jacques Selosse Contraste. With these beautiful generous Champagnes, opt for umami-laden dishes such as nimono, simmered dishes, or a kaiseki meal during the winter and fall with heartier flavours than in the spring.
Rose Champagne – This is a great choice for more meat-based Japanese meals such as beef teppanyaki or chicken yakitori. Typically, red wine is blended into the still based white wine to give these wines their pink hue. A small handful of Champagne houses choose to saignee, or have the wines come into contact with the skins during the beginning of fermentation, but this does not allow for strict control over the colour. The red wine influence is more obvious here and thus pairing with either red or white meats works very well. Rose Champagne is very trendy at the moment and not just a 'woman's drink'. Some producers who make excellent Rose Champagne include: Billecart Salmon, Roederer, Charles Heidseick and Laurent Perrier.
Reprinted with permission from Wine Press