Reviving Winemaking Tradition in Venice
---
---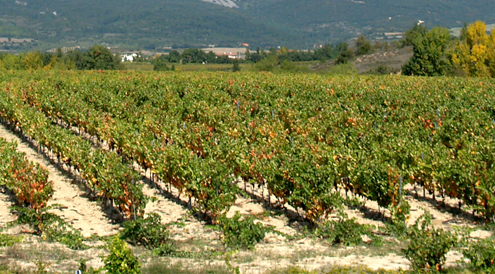 From Canaletto to Turner and Claude Monet, artists have captured the sea-faring lifestyle and skyline of Venice for centuries. Those who have visited know that little of the skyline has changed in the city of islands, numbering more than 100, which are linked by a series of over 400 bridges and canals. Sure, the buildings are now frayed, some dilapidated and crying out for restoration and many others donning a soft pastel shade from its original bright hue. But Venice is Venice and the beauty of this 1,500-year old city still takes my breath away, even if I am jostling amongst 50,000 other tourists at peak summer season in August.
For seafood lovers, Venetian food is heaven. I enjoyed plates of squid cooked in their own black ink with polenta or spaghetti. The dark sauce is so dense and concentrated that it takes hours for the black stains to be completely removed from between my teeth and gums. Then there is the spaghetti vongole, perfectly cooked with tons of small tasty clams and garlic. The small fried fish in fritto misto, are gorgeous too – they are bigger in size than Cantonese silver fish or white bait. And what to drink with all this seafood?
There is hardly any 'local' wine produced in this lagoon by the Adriatic Sea. The humidity is high and there is always the fear of high tides, which can easily flood the vineyards. Venice is part of the Veneto wine region and here, the dark coloured Corvina, Rondinella and Molinara grapes dominate. A mix of local red varieties combine to create cherry-scented Valpolicella to the heavier Amarone exuding hints of chocolate and prunes. Options for whites include the almond and dill scented Soave white made from Garganega grapes from Veneto, as well as refreshing whites from neighbouring regions of Friuli and Trentino-Alto Adige.
Pieropan's intense Soaves are a great match with the black squid ink dish and the fried seafood marries well with the lemony, citrus notes of Friulano from Collio. One of the best fish dishes I have ever had is the local sole from the Adriatic Sea, which is only the size of my palm and cooked simply with salt and olive oil. At the original Harry's Bar in Venice, this dish was the highlight of my trip – a single portion consisted of three soles cooked whole then filleted in front of me just before serving. The texture is soft and flaky but much more flavourful than any sole I ever had before and the crispy skin was just divine. I enjoyed a Pinot Grigio from Friuli which worked perfectly with this dish.
The real Venice is not in the familiar sights of Basilica San Marco or the Doge's Palace, but in the outlying islands, away from all the tourists and souvenir peddlers. I ventured out to Burano and Mazzorbo islands, not just to discover the 'real Venice' but to meet and spend time with a winemaker producing a white wine from an ancient variety called Dorona. Given the difficulty of growing grapes in this region, I was surprised by the determination and vision of Gianluca Bisol who found records of Venetian royalty enjoying wines made from this ancient variety and believed it should be revived.
Bisol planted one hectare of Dorona on the island of Mazzorbo four years ago, with the remaining land devoted to vegetables farmed by retired elderly people of the island. On the property, he built a six-room boutique hotel and a restaurant called Venissa, which utilises only the freshest local ingredients from the region. The food at Venissa crafted by chef Paola Budel is in itself worth the 30-minute boat ride out to this island from Venice.
These cluster of islands whose buildings are built upon a precarious foundation of oak and pine posts does not seem like the most ideal setting for vineyards. However, Bisol says that there were plenty of vineyards on these islands centuries ago and his research has shown that among the many grape varieties that were planted, the Dorona variety is one that is often mentioned among the aristocracy as producing wine of high quality. As the 21st generation Prosecco producer, Bisol has a deep respect for tradition and says, "1,000 years ago, the Dorona variety was highly regarded and by the 12th century, Dorona was considered a variety for the nobles with its deep golden colour."
2010 was Bisol's first vintage and it will be released this year in uniquely shaped 50cl bottles. The wine, which saw no wood, and was produced in the old fashioned way of glass bottle aging, was surprisingly deep in colour – a deep, rich golden-orange hue. On the nose, there were hints of dried chrysanthemum leaves, dill and Chinese light green chives and on the palate, the same flavours continued finishing with a phenolic note. It was oddly enjoyable, with savoury flavours that coat the tongue. It is a direct contrast to the springy vibrant Proseccos that Bisol produces and perhaps that is his aim, to create something entirely new and different.
"Next year you must return", says Bisol. "Hopefully by then my other hotel in Burano will be complete and I will have more Dorona for you to try." He hopes to expand the Dorona plantings to 60 hectares in the future as well as opening a few more boutique hotels on the outlying islands. The colourful picturesque village of Burano is worth the journey but so is the visit to this little vineyard oasis just outside of Venice.