Reflections on Sauternes and Spices
---
---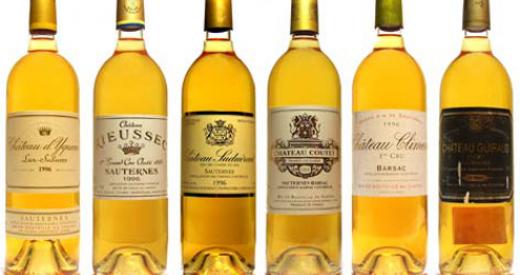 During Vinexpo, Jeannie and the Asian Palate team attended the Sauternes and Chinese food pairing masterclass. Seven producers from Premier Grand Cru Classe Sauternes estates hosted a packed audience for a "West meets East" gastronomic experiment. Tommy Shah, owner and chef of the Le Bonheur Palais, prepared a 7-course tasting menu featuring Sichuanese spices and savory seasonings. Six out of seven wines came from relatively young vintages with an average age of no more than 5 years.
This lunchtime pairing exercise placed the well-conceived notion – "Sauternes/sweet wines with spices" to the test. One of the participants, a Chinese lady, spoke about how the tingling sweet spices in Sauternes accentuate the punch and intensity of spices instead of offering balance on the palate. There were many opinions and an open, honest exchange of opinions. One gentleman from the audience commented: "Spiciness is exaggerated because we drink after we eat – if we are to reverse the order, the pairing might work better."
This topic brought forth an energetic discussion among the producers and participants. The producers diplomatically refrained from commenting on the Asian palate, and Jeannie offered some insights on the history and habits of the Asian dining culture. She commented that in Asia, focus is given to the holistic integration of all dishes and flavours instead of a linear serving order of individual dishes except in formal banquet situations.
For pairings, it is important to take into consideration the meal as a whole and find harmony between the diversity of dishes and the versatility of chosen wines. The point is to move away from the traditional concept of finding the perfect match of one wine for every dish, but to take a holistic approach. Jeannie's first book Asian Palate prompts one to have a balanced consideration of the following (Extracts taken from the Introduction chapter of Jeannie Cho Lee MW's award-winning first book Asian Palate):
 
1. Consider quality, refined, high quality food will be enhanced by fine wines.
2. Ambience and setting set the tone for wine and food appreciation; for outdoor casual environments, everyday wines are best while fine dining venues deserve the appropriate selection to fit the mood.
3. Refreshing wines with lively acidity are desirable in nearly any type of Asian cuisine; choose wines from cool climates or sites.
4. Strong umami (meat stock) flavors present in the majority of Asian meals are lifted and complemented by evolved, mature red wine.
5. Food and wine temperature is key; hot soups and dishes and spicy food require wines chilled slightly below optimal drinking temperature; the cooler the wine's serving temperature, the greater their refreshment value.
 
Ultimately, Asian food and wine pairing requires one to ponder on the role of wine on the Asian dining table with an open mind. Bon appetit!
Photo credit:The University of Bath Students' Union Wine Society