Recently Tasted Unique Wines
---
---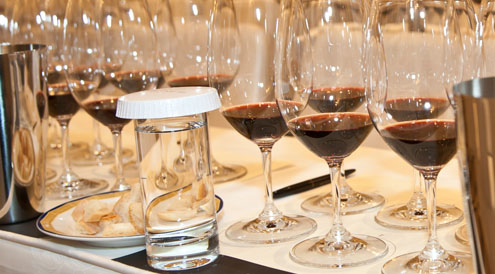 Wine is about discovery and the wines that impress me are not always from the classic regions and familiar producers. Wine keeps you on your toes, surprising you at odd times and bringing a big smile to your face when you least expect it. That is what keeps me coming back for more.
Below are some distinctive, unique wines I tasted recently:
1. 2002 Weinlaubenhof Kracher – Grande Cuv¨¦e "Nouvelle Vague" TBA No.7, Burgenland, Austria
Deep orange-gold hue with an incredible array of flavours ranging from cr¨¨me caramel to butterscotch and honey. Linear despite its unctuous palate. The finish is fantastic – the acidity comes through and lifts the flavours, supporting a long finish. Delicious wine. (94)
2. 2007 Bodegas Mustiguillo, Utiel, Valencia, Spain Deep garnet.
Full bodied, dense, layered wine, with dark berry and savoury herbs. Layered, subtle Bobal with finesse – does not taste like a wine from the Mediterranean. Lovely freshness and good finish. Very impressive wine. (94)
3. 2005 Bodegas Gramona – III Lustros, Penedes, Barcelona, Spain
Vintage Champagne in style and quality with 7 years of aging on lees. Biscuity, full bodied with toasty notes and long finish. Great depth and fine mousse in this top sparkling wine from Spain. (93)
4. 2006 Bastianich Winery – Vespa Bianco, Colli Orientali del Friuli DOC, Friuli-Venezia Giulia, Italy
Blend of 45% Chardonnay, 45% Sauvignon Blanc and 10% Picolit. Vibrant fruit flavours of apricots and yellow plums. Concentrated with focused flavours and fairly long length. Creamy, textured mid palate. Gorgeous white wine. (91)
5. NV Bodega Valdespino – Inocente, Jerez de la Frontera, Andalusia, Spain
Well made Fino with both intensity and detail. Dry, intense flor/yeast notes with a grip in the mid palate. Wonderful nutty finish. (90)
6. 2006 Chateau Ksara, Bekaa Valley, Lebanon
A complex array of flavours that range from spices to red berry/cherry fruits. Harvested end of September and it is one of Elie Asmar, the winemaker's favourite vintages and tasting it, I can see why. This wine has a beautiful bouquet of violets and pot pourri flavours. Tannins are velvety and ripe and the finish is fairly long. (89)
7. 2011 Vina Errazuriz ¨C The White Blend Collection, Aconcagua Valley, Chile
First vintage of a fantastic blend including of Marsanne, Rousanne & Viognier. Lovely wine and one of my favourites from the Errazuriz white wine portfolio. Savoury, herbal notes open up to sweet apricot and floral flavours in the mid palate. Lifted acidity supports this pretty wine that makes me think of eating Vietnamese rice rolls stuffed with herbs and vegetables along side it. (87)
8. 2010 Red Mountain Estate – Sauvignon Blanc, Taung Che, Southern Shan State, Myanmar
Aromatic and zingy with vibrant herbal and lemongrass notes. This is their 3rd vintage from grapes planted in high altitude – 1000 metres above sea level. Balanced, easy to enjoy with 12.5% alcohol level. Good length. (83)