Penglai, the Bordeaux of China
---
---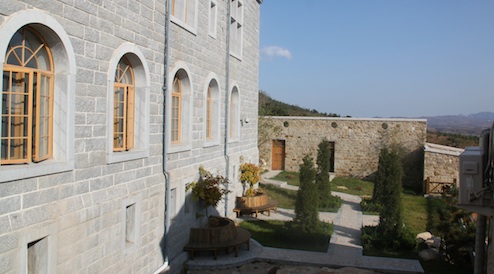 Shandong province has a special place in my heart. When you walk through the busiest streets of its key cities like Qingdao and Yantai, Chinese characters make room for the more geometrically shaped Korean letters. Around every street corner, there is a Korean restaurant and inside every major hotel, Korean food is available. For breakfast at the Crowne Plaza Yantai, I enjoyed dim sum and congee accompanied by the pungent, classically Korean dish, kimchi (fermented chili cabbage). It is estimated that about 100,000 Koreans live in the province, which is shaped like a flying goose with most of its borders jutting out to the Yellow Sea. Given it's proximity, it's not surprising that Koreans have made this province their adopted Chinese city; From Seoul, it is possible to reach Weihai or Yantai in just 40 minutes by plane, about the same time that it takes from Seoul to Korea's second largest city in the south, Busan.
Driving from the city of Yantai northwest to Penglai, I was amused by the castle-like buildings that were being built or just completed. There were at least three that stood out because of their Medieval style turrets which from a distance looked very much like Disneyland's Sleeping Beauty's castle. Wineries are sprouting up throughout this region, an area that is devoting most of its agricultural land to grape vines. Rather than finding inspiration from the modern wineries built along Highway 29 in Napa Valley or grand Bordeaux chateaux, these newly created wineries are clearly looking at amusement parks for inspiration.
I visited one newly built 'castle' winery, not because of its eccentric design but because of its location – they are neighbours to the vineyard site currently leased by Domaines Barons de Rothschild (DBR), owners of Chateau Lafite. Treaty Port Vineyards (see photo) is a recently completed Scottish castle-inspired winery designed by a Scotsman named Ian Begg. From the tapestry to the dark antique European furniture, the ambiance inside the 'castle' is very gloomy and Medieval. Its owners are a Scottish businessman and his Taiwanese wife, both based in Shanghai, who are hoping to attract the growing number of tourists to this uniquely-themed winery. With six guestrooms and a large banquet hall, domestic visitors can get a flavour of Scotland without having to make the trip.
I tasted their 2009 Marselan and Merlot blend and found it woody and devoid of fruit. This light bodied wine would have benefited from gentle handling and little new oak barrels but 100% new barrels were purchased to mature their inaugural vintage. Much to my surprise, Judy Wang, the Taiwanese Vice Chairman of Treaty Port told me that in 2010 no wine was produced. The winery planted vineyards in 2005 and hired consulting winemaker Mark Davidson, owner of Tamburlaine Wines in Hunter Valley Australia. When I queried why there were no 2010 wines, Wang replied that the summer and fall brought so much rain and humidity that the grapes were infected with rot and suffered from other fungal diseases. This news is not encouraging to its neighbour, DBR, who will be planting their vineyards in less than six months time in the spring of 2011.
It is no secret that DBR spent many years trying to identify the right site for their venture but Gerard Colin, the General Manager of the DBR project, said the weather has been challenging in recent years. I walked around the 25 hectare site and found incredible differences in the soil. Each key plot has been dug up to about 60 cm for analysis and the plots are multi-coloured, ranging from dark red clay to grey slate. On this site, mostly Cabernet Sauvignon will be planted, but also Merlot, Cabernet Franc, Petit Verdot and Syrah. Because Colin believes about 20% of Chinese vineyards are already infected with phylloxera, the vine-destroying pest, all of DBR's vines will be grafted onto phylloxera-resistant rootstock.
We will have to wait at least three years after the vines have been planted to taste the first vintage from Lafite's Chinese sister property, which will be 2014. There's no doubt that these wines will command a premium and hopefully they will set a new benchmark for quality wine from Penglai. After visiting and tasting a handful of wines from this promising region, I was disappointed in the current overall quality level of the wines. There were a few exceptions such as Chateau Junding's 2005 Premium blend of Cabernet Sauvignon and Syrah; however at RMB 1,420, there is little price-quality value to be found here. We must continue to applaud the efforts made by the investors, supportive government and the growing wine trade in Yantai and Penglai in particular. Making wine requires substantial capital, a long-term vision, persistence and most of all patience, especially in China.
Reprinted with permission from the South China Morning Post