Pairing Wine with Cheese
---
---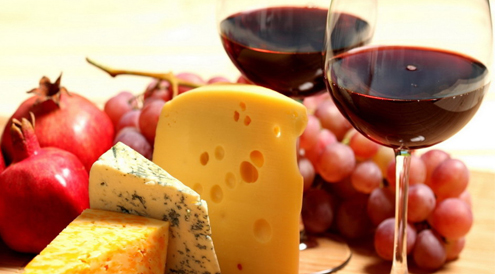 I have always felt that pairing great cheese with wine was particularly challenging and I was relieved to find that Jean Francois Antony, the purveyor of cheese to Michelin star chefs around the world, agrees with me. Jean Francois is the son of Bernard Antony, a highly regarded cheese specialist providing artisanal, 'real' cheeses to Alain Ducasse in Paris, Daniel Boulud in New York and to properties like the Four Seasons Hotel and Shangri-la Hotel in Hong Kong.
What makes Antony's cheeses so special is that the family not only selects quality cheese but also ages them (éléveur & affineur) in their own cave in southern Alsace. When I ask Jean Francois Antony how this aging process for cheese affects the flavour, especially those aged in their cellar versus others, Antony explains, " It makes a huge difference. Imagine wine being aged in different conditions in different cellars." The final flavour of the cheese is derived from the atmosphere of the cellar as well as the microorganisms in the environment which give the cheese a 'signature'.
Antony also explains that the entire environment affects final cheese flavours. "For example, even within France, conditions in Paris are very different from the south of France. A friend of mine who moved to the south tried to mature cheese but he could not. I think it is the atmospheric pressure difference and the climate. Ideally, there shouldn't be too much wind, there must be some humidity and the outdoor climate must not be too hot."
Working exclusively with raw-milk types, Jean Francois Antony is very particular about selecting and buying only the best. He says, "A cheese maker is ideally just a couple, one or two people. After that it is too big. It is important that one person makes the cheese and sees it through the entire process. We believe great cheese can not be made by a large team of people." Only seven people work for Antony and they have no thoughts of expanding their business despite international demand for their hand-selected and matured cheeses. "We like to be small and we want to remain this size," adds Antony.
We share our experiences about pairing wine and cheese together and we agree on quite a few. Blue cheeses and Sauternes pair beautifully together. So does goat cheese with Pinot Gris. Being from Alsace, Antony suggests that next time I try goat cheese with Domaine Weinbach's Pinot Gris Reserve. Despite popular belief that goat cheese should be paired with Sancerre or other Sauvignon Blanc wines from Loire Valley, Antony says he has not been very impressed with this experience. He adds, "I still haven't found a perfect pairing between goat cheese and wines from the Loire."
To learn the basics about cheese, Antony suggests getting familiar with five basic cheeses:
Comte – Antony suggests starting out with Comte that is not too old, just one or two years old; older ones are better appreciated by connoisseurs. Vin Jaune, yellow wine made from late harvest Savagnin grapes, is a classic pairing recommendation. Antony also says mature Sauternes work as well as Riesling.
Camembert comparison – Antony suggests buying two Camemberts, one that is AOC (superior) and one that is not AOC (inferior). With Camembert, he suggests serving it with no wine. He strongly believes that Camembert and red wine is a terrible pairing. Reds get a metallic taste with Camembert and can make the tannins taste very hard. He says unoaked whites are best, but it can work with Beaujolais or Alsace Pinot Noir. The best option? No wine with Camembert, suggests Antony.
Rocquefort – Best pairings are with Sauternes or late harvest sweet wines from Alsace. The strong salty flavours are complemented by the sweet honey flavours of late harvest wines.
Charoleis goat cheese – The best wines are white; try white Alsace or white Burgundy. Because of its fat and creamy style, it pairs well with Chassagne Montrachet.
Roblochon – This is one of the easier cheeses to pair with wine. It works with white Burgundy and can pair equally well with lighter red wines like Pinot Noir. When selecting red Burgundy, try a Cote de Beaune or Volnay. If the Roblochon is older then the wine should be stronger in flavour too.
Final thoughts and tips on buying cheese:
When buying the best cheese, make sure it looks mature but not too mature.
When cheese starts to be cut, it needs to be consumed within 2 weeks. Never keep cheese for more than two weeks in the fridge.
The moment to buy cheese is in summer or early fall. Try to buy cheese made in the summer months.
Serve cheese at room temperature, around 20*C for most cheese, except for a few like Rocquefort which should be cooler.
Like wine, only very good cheese can be matured, which is a tiny percentage of total cheese production.
Other places for great cheese besides France is Switzerland for hard cheese, Italy, UK and Spain.
To buy quality cheese, buy from a cheese professional says Antony. But when I remind him that cheese professionals are rare in Asia, he replies, "Try to buy from gourmet grocers or shops that import the best cheese."
Remember that supermarket cheese is good for one main purpose: Sandwiches.