Knowing Nobu
---
---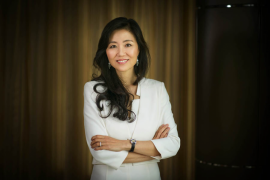 Nobuyuki Matsuhisa's time is precious. He travels 10 months a year to visit his 36 restaurants around the world, spending a maximum of three days in each one. On this trip he's already visited Los Angeles, Melbourne, Kuala Lumpur, Manila and now Hong Kong, and tomorrow he'll jet off to Beijing and then back to Tokyo.
Nobu, as the Japanese chef is universally known, spends so much time traveling, in fact, that he rarely ventures for meals outside his own restaurants. So it's something of a coup to lure him away from Nobu at the InterContinental Hong Kong for a five-course Cantonese lunch at Yan Toh Heen, albeit in the same hotel. The deal is that he will choose the wines, and I will match them with dishes on the menu. It's an equitable reversal of roles, blighted only by my late arrival caused by Hong Kong's lunchtime traffic snarl, and Nobu, a precise man I'm told, doesn't like to be kept waiting.
The Japanese chef is renowned for his use of regional ingredients and inventive style, partly as a result of his early years as a sushi-bar owner in Peru, where he first made his name. Nobu's link with South America began in the early 1970s when a regular customer at the Tokyo restaurant where he worked persuaded him to open his own place in Lima. He later found success in the United States, and eventually around the world, including Hong Kong, where today he greets me with energetic enthusiasm and, reassuringly, not the slightest hint of impatience.
He's impeccably dressed in bright white chef's garb, which turns a few heads as we finally sit down to eat. Yan Toh Heen, ever a popular spot on Saturday lunchtime, is packed; we had been scheduled to occupy the cheery private room overlooking the magnificent Hong Kong harbor, but a walk-in group of 13 guests at the hotel (unlucky for us) sees our party of two moved to a thankfully quiet alcove near the restaurant entrance.
We begin by tasting Nobu's first wine choice, a Domaine Marc Morey et Fils Chassagne- Montrachet Premier Cru Les Chenevottes 2009. "I like Chardonnays," he says. "I use a lot of fish raw, some with spices or I use citrus, and it pairs well with a Chardonnay like this. It's oaky and has a caramel smell. It's fruity, like a young gooseberry."
Our dish of wok-fried white asparagus with bamboo piths and mixed mushrooms arrives, and I note the wine has begun to open up; its light buttery notes, ripe peach and fresh herbal flavors go well with the vegetables. "I like bamboo piths, but most Japanese don't know about this ingredient," says my informed guest. He appreciates Yan Toh Heen's use of local ingredients; his own restaurants offer signature dishes that also incorporate locally sourced products into each menu.
One of his current favored ingredients is dry miso, his own concoction. "It gives my food layers of flavor. Try sashimi with dry miso – use a bit of extra virgin olive oil, yuzu sauce and then finish it with some dry miso." Another creation he's excited about is his own line of salt, flavoured with the likes of miso and soy sauce. "How does he make it?" I enquire. "It's a secret," he replies with a mischievous grin.
Nobu loves this particular Chardonnay with the mushrooms in our dish, and welcomes the umami quality the Cantonese chef has instilled. I love this wine's minerally finish and fresh acidity even in a ripe vintage like 2009 – that is often the charm of great whites from Chassagne-Montrachet.
Buoyed by the mutual success of our first pairing, we discuss how he introduced Americans to Japanese cuisine in the 1980s. "I opened my first [US] restaurant in 1987 and people didn't know my food at the time. They didn't really know Japanese food. Once I remember that I presented a plate of thinly sliced sashimi to a customer and she said, 'I do not eat raw fish', without even trying it. So I took back the plate, went into the kitchen, heated up a pan of olive oil and poured the hot oil on the sashimi so it wasn't raw any more," he relates in characteristic animated fashion.
"She took one bite, then two bites. It wasn't fishy smelling any more and she ate all of it with ponzu sauce, garnished with ginger and chives. She loved it. The truth is, this was still raw fish – I did not cook it – I just poured hot oil on top and seasoned it. A lot of people didn't know how to eat raw fish at the time."
From such delicious tidbits, an empire was born. Nobu, who already spends so much time in hotels – where his restaurants outside of the US are commonly located – now has a hotel chain of his own. The first Nobu hotel opened in Caesar's Palace, Las Vegas, followed by Manila in February this year; properties in Riyadh, Miami, London and Chicago are in the works. The idea for the hotel chain was Robert De Niro's, Nobu's business partner for two decades, but it is the chef's hard work and inventive cuisine that has seen his name spread across the world. How does he blend the various ingredients of his success? "There is no secret," he says. "I started working at the age of 18 and have been cooking all my life. I like to make food and talk to people. I don't make excuses – I just try my hardest – in cooking, business, friendships and partnerships. If I make a mistake, I try to fix it quickly, but I always try to give my best."
Next to arrive on our table is braised garoupa fillet with ginger and spring onion in bean paste, presented in mini clay pots. I ask if he thinks the Chassagne-Montrachet will be able to stand up to the stronger flavored sauce in this second dish. He takes a bite, swirls his glass and sips. "The wine went well with the mushrooms and asparagus, but with this dish it is a step up," he says approvingly.
As I expected, the wine shows more of its fresh, citrus side with the stronger flavours of the garoupa dish. The black-bean paste sauce has tamed this white, and it has become a charming mix of fresh herbs and lemon.
Enjoying a fish dish seems the ideal moment to bring up the development of Japanese cuisine. Nobu says the Japanese today like to experience international flavors. "The younger generation are more global foodies; they like innovation." I use this opening to ask a possibly impertinent question of the non-traditional Japanese chef sitting beside me: "Do the Japanese regard your cuisine as being Japanese?" He pauses for a moment, no hint of impatience. "Yes, they see my food as being Japanese," he replies amiably, feathers unruffled.
We move smoothly onto Nobu's next wine choice, the Jim Barry The McRae Wood Shiraz 2010 from Clare Valley, Australia. "I like Shiraz because it's fruity and spicy," enthuses Nobu. "This one has the taste of raisins and dried fruits." To complement the wine I've ordered a Cantonese classic: barbecued pork with honey (char siu). A good combination, he comments, suggesting the Shiraz would go well with his signature black cod with miso, as well as grilled Chilean sea bass with French black truffles.
Nobu is also enthusiastic about another new venture, a television show called Nobu's Japan he's been filming for the Discovery Asia channel. In each episode, he takes a top chef to a different part of Japan to try the local specialties and produce, before they collaborate on an East-meet-West feast. His culinary partners so far have included Daniel Boulud, Thomas Keller and Jean-Georges Vongerichten. "Each episode takes about five days to shoot. We don't have any scripts, but I tell the chef they can choose which ingredients they want to use first. Then I use the rest because I am the host," he says, with a grin.
As we enjoy the char siu with the Shiraz, Nobu tells me more about his restaurant empire. "I have at least 2,000 people working for me. Each restaurant has more than three chefs because we have the sushi bar, kitchen and pastry. I don't do the actual managing – the executive chefs in each restaurant do that. When I visit them, I like to see what they are cooking and I show them new dishes. I'm like a father talking to my kids. We're like a big family."
Our final savory dish of wok-fried Wagyu beef with green peppers is presented in a delicate edible shell. "Mmmm," utters Nobu immediately, nodding his head in approval. "Is this Japanese beef?" Yan Toh Heen's efficient waiting staff is summoned to find out. It turns out to be M9 grade Wagyu from Australia, which makes Nobu laugh. "In Japan A5 is the top, but this is M9 – that is confusing." The dish is a good match with the Shiraz, which Nobu proclaims as sweet and spicy; he finds the wine's texture velvety in the mouth.
As our lunch comes to a close with a Chinese sweet soup presented spectacularly on a bed of dry ice, I ask my tireless table companion if he can ever escape from his kitchens. "Last August was the last time I had a holiday," he muses. "I built a house in Hakone, outside of Tokyo, which is known for its natural hot springs. If I have time I go there; I don't see anyone and it's very peaceful. I don't drink alcohol, just Japanese tea, I relax and my wife cooks for me."
THE MENU
Lunch at Yan Toh Heen, InterContinental
Hong Kong
The First Wine:
Domaine Marc Morey et Fils Chassagne-Montrachet Premier Cru Les Chenevottes 2009, Burgundy, France
Paired with:
Wok-fried white asparagus with bamboo piths and mixed mushrooms
Braised garoupa fillet with ginger and spring onion in bean paste
The Second Wine:
Jim Barry The McRae Wood Shiraz 2010, Clare Valley, Australia
Paired with:
Barbecued pork with honey Wok-fried Wagyu beef with green peppers, mushrooms and garlic
Dessert:
Chilled mango cream with sago and pomelo