Hong Kong Auctions Slowing Down
---
---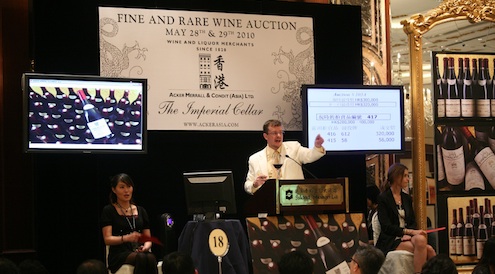 Even in these unsettling economic times, when I speak with the heads of various wine auction houses, the message is always upbeat and positive, even when they are no longer achieving 100% sales. Since Hong Kong's elimination of wine duties in February 2008, the growth of the auction market in Hong Kong has been phenomenal. Hong Kong now accounts for more than two-thirds of total auction revenue for most major auction houses. The markets in London and New York not only look small, but the future looks dismal. No wonder that more and more senior wine auction professionals are dispatched into Hong Kong and calling this city their home.
Looking back over the past three and a half very exciting years in the wine auction market, the peak has to be the Sotheby's sale of Chateau Lafite Rothschild in October 2010. Nearly 2000 bottles direct from Chateau Lafite's cellar went under the hammer in Hong Kong to a frenzied bidding audience. Estimates for the 1869 Lafite was between the range of US$5,000 to 8,000 but the final sale price was US$230,000 per bottle! Needless to say, nearly every Lafite bottle was sold at above the high estimates and all bottles found buyers.
As we, in the local wine commentator's seat, watched with our jaws open and wondered whether we should be selling the few bottles of Lafite stashed in our own cellars, more and more Lafite bottles appeared on the market in a seemingly never-ending supply. Lafite's status is confirmed even in less ebullient times and as recently as September 2011 at the Christie's auction, a 300-lot collection of Lafite sold for US$539,250, breaking the world record for the highest amount paid for a single lot.
However, there are signs that both the Lafite madness as well as the overall wine auction market is softening. Sotheby's, which has enjoyed a reputation for selling 100% of its lots, failed to sell all the wines on auction in its recent October 2011 sale including Chateau Lafite from various vintages. Hundreds of bottles of Lafite went unsold. What Sotheby's did sell was mainly at the low estimates. A Hong Kong collector who put his Lafite wines up for auction with Acker Merrall recently said he felt the market was softening – most of his wines were sold at the lower estimates, far below the prices achieved a year ago.
With the financial markets on a roller coaster ride recently, the auction market is showing signs of slowing down. Given the spiraling effect of wine prices that has seen top Bordeaux reds not just double, but triple in price within a short span of time, this is a welcome move for most consumers. Speaking with both wine enthusiasts as well as the wine trade in China over the past month, it is clear that the days of the Bordeaux madness may finally be over. Even in the recent 2010 en primeur campaign when young Bordeaux was sold as futures, the demand was far lower than for the 2009 vintage sold last year. The golden halo surrounding the top 15 to 20 chateaux still exist, but many buyers are tiring of the constant increase in prices and hype surrounding each vintage.
Savvy buyers in Hong Kong are turning to Burgundy and this is reflected in the lots being offered at auction. Recently on September 17th 2011, a case of 1990 Domaine de la Romanee-Conti's Romanee-Conti sold for nearly US$300,000 at Acker Merrall's auction. Spectrum, a new player in the wine auction market, realized nearly US$6 million at their September sale with the leader of the two-day auction being Domaine de la Romanee-Conti. A total of 80 lots of Domaine de la Romanee-Conti estimated at US$830,000 sold for over US$1 million.
The trend toward Burgundy is undeniable over this past year. John Kapon, CEO of Acker Merrall & Condit says, "Our Asian customers are very knowledgeable and sophisticated. Their passion for the great wines of Bordeaux has grabbed numerous headlines over the years and this fall, it is going to be all about Burgundy. The passion and interest in Burgundy is growing rapidly in every new sale, and the mainland is just starting to discover the greatness of the region." All eyes will be on Acker's upcoming November 4th and 5th sale which focuses on the collection from Don Stott, one of the largest collectors of Burgundy. Prices and the market may be softening, but auction activities continue unabated. This year, in September alone, Hong Kong held five major auctions by Christie's, Sotheby's, Acker, Spectrum and Zachys. The rest of the fall calendar looks equally busy. All are still betting on Asia and Chinese buyers to sustain the auction enthusiasm.
We are due for a price correction and the auction market is the best barometer for fine wine buyer's sentiments. It is also a relief that buyers are going beyond Bordeaux and discovering that wonderful collectibles exist everywhere in the world. After taking a break in attending wine auctions, I will be participating in some this fall in the hopes of picking up a few bargains.
Reprinted with permission from South China Morning Post