Hearing Music in Wine
---
---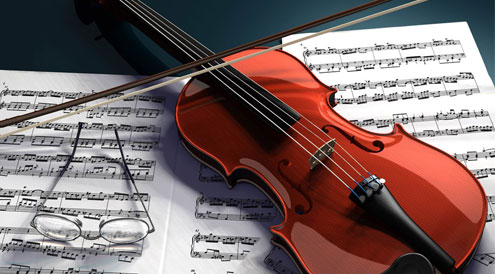 When I first met Lu Siqing, the celebrated Chinese violinist, I was surprised by his affable, laid back persona. With a thick mane of dark, wavy hair and a warm smile, Lu is unassuming and attentive. It is when he starts to talk about the loves in his life – music and more recently wine – that you sense the fire and intensity within. 
"Wine is like classical European music," explains Lu. "We do not have a tradition of classical music so we need the right opportunity to understand and appreciate it. Similarly with wine, we need the right opportunity and setting to appreciate it. And it's also important to have the right people to lead you." 
For Lu, it was a friend from Qingdao, his hometown, who piqued his interest in wine. "My friend and I were in a private wine club after one of my concerts. He had accomplished many things in his life and had many choices but he decided to go into the wine business because he loved wine. That night was the first time I heard someone talk so passionately about wine. I began to think that wine was really interesting. It has tradition, depth, variety and passionate people who embrace it…the way people embrace music when they fall in love with it."
For Lu, his love for music came at the tender age of four. "I loved the violin," Lu recalls. "No one told me to play or practice, which is unusual in China." When he was 8, Lu was accepted into China's Central Conservatory of Music as a special student – the youngest student ever accepted into this prestigious institution. His talent was identified by prominent music teachers on both sides of the Atlantic and Lu studied with Lord Yehudi Menuhin in London when he was only 11 years old, then went on to the US to study at the Juilliard School with Dorothy DeLay and Hyo Kang.
The same fire and energy that Lu has for music is present when he talks about wine. "I love to feel the palate layers change and evolve…I like to hear the music in the wine. Classical music develops, there are layers and depth and stories to tell – it is the same with a great bottle of wine. Like any great masterpiece, the wine has to have an amazing finish. If the wine is complex and deep, the finish lingers for a long time." 
Lu talks about wine with a sensitivity and passion that is unusual. Conversations I have had with Asian wine lovers often drift to prices, reputation, ageability and quality. But my conversation with Lu was on a philosophical and emotional level. Lu describes the parallels between music and wine and how it moves people in different ways. "Western classical music is very complex; you can have two or more complex themes going on at the same time. Chinese music is fundamentally different. It has a single melody and the movement is horizontal and the structure is fairly simple. European classical music is layered with different lines and layers and many more instruments. It moves horizontally as well as vertically." 
With the confidence of a musician that has given hundreds of memorable performances to political and business leaders of the world, Lu proclaims, "Great wine is art. That is why I can relate to wine like I relate to music. There is an element of enjoyment and pleasure in music as in great food and wine as well as in fine arts – these are all related."
Contrary to most people who enjoy wine, Lu wants to understand and discover a wine even when it isn't showing well. He is not that keen on decanting since he wants to allow the wine to express itself and evolve inside his glass. "I like to follow how the wine change in the glass. I am not sure if wine would be interesting if it was perfect each time. It sounds odd but I feel it is important to feel and experience the changes in wine and notice it – on the first sip, then after 10 minutes, 30 minutes and at the end of the evening."
What is refreshing about Lu's attitude toward both music and wine is his humility and practicality: "You can be the most famous musician but what is most important is your performance on that day." A wine can have a fantastic reputation but still disappoint – the bottle's performance at a moment in time is vital. Lu says, "I never liked Mouton until I tasted their 1982 vintage which is incredible. Afterwards, I looked at Mouton differently." 
Like a great bottle of wine, Lu describes a piece of music and his performance as being different each time. "Even with the same piece, when different people play or even if the same person plays at different times in their lives, the piece is different. There is a different feeling and message and inspiration each time." Similarly in wine, there are no great wines, just great bottles. 
He agrees with my observation that musicians may have a natural sensitivity and pay greater attention to detail and nuances in wine. Lu laughs and adds, "We might be too emotional in fact and sometimes we get personally too attached to a certain wine, region or style, so it is not always a good thing to be more emotional about wine."
Lu's eyes light up and he becomes more animated when he describes his recent encounter with a 1990 Romanee-Conti. "It was so delicate and so long," gushes Lu. "I didn't want to brush my teeth before going to bed that night – that is how good the finish was." 
After spending a few hours talking about wine with Lu, it occurs to me that Lu may be China's best wine ambassador. He is filled with enthusiasm and genuine respect and love for the beverage. Lu reveals, "The secret to success is to do things you love. Put in 100% of yourself and your emotion to the task at hand." He does this with music and now, we are fortunate that wine has also captured his heart.
Reprinted with permission from South China Morning Post