German Wine & Asian Cuisine
---
---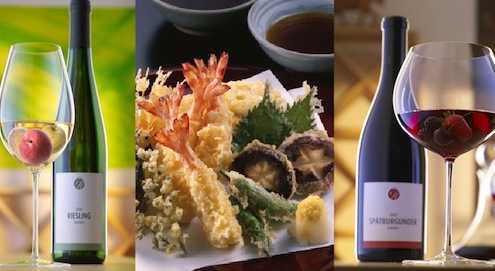 When the German Wine Institute approached me about a year ago to ask me if I was interested in writing a book pairing German wine with different Asian cuisines, I was hesitant at first. It is Riesling that first comes to mind when one thinks about German wines and although the styles of Riesling vary widely – from dry to very sweet – the options could potentially be narrow. But thinking through the potential pairings between Asian flavours and German wines, I began to get excited and agreed to write the book. 
When I am thinking about pairing any Asian cuisine, whether it is Cantonese, Japanese, Korean or Thai, I am looking for wines with versatility and sufficient acid backbone. These characteristics are especially important in wine given the diversity of flavours and the family style of dining in many Asian meals. Being one of the northern most wine regions in Europe and one of the coolest, nearly all German wines may be considered versatile due to their firm acidity, elegance and refreshing characters. 
Firm acidity has other benefits too – it adds refreshment value to the meal and is able to stand up to strong, pungent and even fermented flavours much better than wines that are flabby and fat. Whether we choose a dry Riesling or a perfumed Pinot Noir, the beauty of German wines are in their ability to pair with a wide range of ingredients and intense Asian spices. 
Versatile white wine options that complement a seafood-based Cantonese meal include dry Riesling, Pinot Blanc or Pinot Gris from Pfalz or Silvaner from Franken. For meals where pronounced seasonings like black bean sauce come into play, light to medium-bodied German reds can pair beautifully. 
Over the past several years, German Pinot Noirs have won numerous awards in major international wine competitions like Decanter as well as in blind tastings attended by top wine writers. In a recent blind tasting of Pinot Noirs from around the world held in London on October 2011, attended by Jancis Robinson, Tim Atkins, Stephen Brook and Anthony Rose, seven out of the top ten Pinot Noirs were from Germany. Forty Pinot Noirs from around the world were judged blind by these experienced tasters.
For a typical Chinese banquet meal, the safest bet is to open both a German Pinot Noir and a dry Riesling from the beginning of the meal. I would recommend a Pinot Noir from Ahr which is a more delicate style than those found in the Pfalz or Baden. As for the Riesling, an aromatic dry Riesling from Nahe or Reingau with sufficient body and weight to balance the flavours and even pair with the white meat dishes would work well in this context. Offering both wines at the table from the beginning will suit different people's preferences and most importantly, the red will pair well with the strong flavours and heavier dishes such as roast suckling pig or Peking duck, which are served in the beginning. 
For meals where steamed seafood dishes are the focus, consider their light body and delicate, umami-laden flavours. Germany's elegant, traditionally-made sparkling wines, Deutscher Sekt from Rheingau or Rheinhessen, can work beautifully with delicate seafood dishes. These quality sparkling wines are often made from Riesling, Silvaner or Pinot Blanc and are a great backdrop to preserve the integrity of these gentle flavours. Other good wine options include Silvaner from Nahe or Franken which ranges from lean, Chablis-like in flavour to powerful earthy styles. The Pinot Gris from Nahe or the Weissburgunder from Sachsen are good accompaniments because of their lean focused flavours and minerality.
Cantonese cuisine isn't always about gentle, delicate flavours. Consider the popularity of XO sauce, chili sauce and black bean sauce. The perfect wine for these strong flavours is Pinot Noir, preferably from a ripe vintage with intense, ripe, red berry fruit notes. Many credible Pinot Noir can be found throughout Germany's thirteen wine regions including Nahe, Franken, Pfalz, Rheingau and especially Baden. White wines can be an option, but go for fuller-bodied whites like dry Riesling, Silvaner or Pinot Gris from warmer regions such as Pfalz, Baden or Rheinhessen.
For popular Cantonese roast meat dishes, such as roast duck, roast goose, barbecued pork or barbecued spare ribs, venture beyond Pinot Noir and try one of Germany's fuller bodied reds like Dornfelder or Portugieser.  These meat dishes with a slightly sweet soy sauce marinade calls out for a medium to full-bodied red with a good concentration of juicy core fruit and firm tannins. 
To explore regions that are as fascinating as Germany, try the incredible wines from Austria, Slovenia or Hungary. There is a whole new wine world waiting to be discovered in Eastern Europe. One of the best places to explore this region is to head to the newly opened restaurant, The Principal, on Star Street in Wanchai. They have a great wine list with two pages dedicated Eastern European wines on the menu including a dry Furmint from Hungary offered by the glass.  
Reprinted with permission from South China Morning Post