Free-market vs Government-controlled
---
---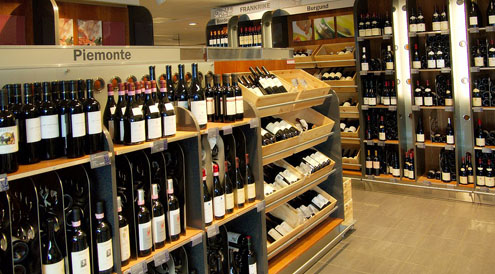 If you can imagine a wine market at the opposite end of the spectrum from Hong Kong, it would be Norway, where I spent the past week. Norway goes beyond just regulating and taxing the wine industry, the government owns and/or controls nearly every aspect of alcohol sales. The government used to import all wine but since it was liberalised in 1996, importers have taken over the role and supply the monopoly's shops or sell direct to restaurants. Norway is one of a handful of wine monopolies in the world; others include Sweden, Finland and most of Canada. 
Even in some states in America wine is controlled by the government monopoly. In Pennsylvania, its Liquor Control Board buys and sells wine, operating 610 wine stores throughout the state. All profits go straight into the State Treasury after deducting all operating expenses. According to PLCB's official website, they are the largest purchaser of wine and spirits in the US and through its numerous wine shops and warehousing distribution business, it contributes US$78 million to the Pennsylvanian economy – not an insignificant amount. 
In Norway, with less than five million people, there are about 270 wine monopoly shops with 12,000 wine labels imported. Not all the wines are available in the shops but the larger Vinmonopolet shops with fine wine sections have an enormous selection that makes Watson's Wine Cellar or Ponti's look tiny in comparison. I visited Vinmonopolet's Vika in Oslo and the range in older vintages extended far beyond Bordeaux, though there was plenty of choice from this well-loved and well-marketed region; the selection included a mouth-watering list of Vouvrays from top producers like Huet, vintage Champagne from the 70s and 80s, Burgundy from the 80s and 90s, mature Barolos at reasonable prices and a wide range of Sauternes. 
Vinmonopolet has economies of scale going for it, so when they make a purchase, it is in huge amounts. They can squeeze the producers on margins and pass that along to customers while still contributing a solid amount to the government coffers. The monopoly has little profit interest, thus tax is based on a complicated calculation based on per litre and degree of alcohol plus a flat rate markup that favours expensive wines. 
Getting an order from Vinmonopolet is an entry into the entire country. When I was there last week, Vinmonpolet was organising their upcoming monthly regional promotion, which will be Burgundy. To prepare for this promotion, which involves selling many boutique producers and rare wines in addition to their normal selection, I saw cases of wines from Domaine Leflaive stacked up high in their storage room. Ken Engebretsen, President of the Norwegian Sommelier Association, confided that during one of Vinmonopolet's former Burgundy promotional months, they sold Domaine de Romanee Conti direct from the producer! Not surprisingly, there was a long queue that formed for the limited number of wines which were sold on a first come first served basis. 
The shops are not all about fine wines. As much as bottled wine, there were nearly as many rows filled with bag in the box (BIB) wines. Not all the wines sold in these boxes with plastic spouts are cheap wines – I saw BIB from high quality producers like Luca Roagna selling their Barbera in 3-litre boxes. However, wines for long term aging would not be sold in BIB due to their limited shelf life and their sell by date is always written on the box. In Norway, as well as in the other Scandinavian countries, BIBs are very much appreciated for their convenience when going skiing, hiking in the mountains or sailing/boating.
Thirty years ago, Norway was consuming about as much as Hong Kong is consuming now – about 4 to 5 litres per capita. Over the past thirty years, however, the consumption rate has been growing steadily, more than tripling in three decades. Changes started occurring when Norway signed the European Economic Agreement in 1994 and when Vinmonopolet began to dramatically change the way wine was sold. Only ten years ago, wine retail purchases involved customers ordering from a list with wines that were kept behind the counter. Opening the wine shops to allow wine buyers to browse the shelves and interact with the wines increased wine sales.
Similar to Hong Kong, the market prefers European wines with France and Italy leading for reds and France and Germany in the lead for white wines, according to Engebretsen. Unlike their Scandinavian neighbours like Sweden, wines from South Africa or Chile are not very popular. Though I spoke to many wine professionals while I was there, from sommeliers to wine writers to importers, no one could give me a convincing reason why Norwegians have such a strong preference for European wines.
I visited the Vinmonopolet offices to give a seminar to the team responsible for teaching and communicating about food and wine pairing. Over the past several years, Vinmonopolet has produced an abundant amount of free literature (available only in Norwegian) about how to enjoy wine with food. Part of the reason, according to Tom Tyrihjell, Vinmonopolit's Team Leader for food pairing communication, is that the organisation has a social obligation to promote responsible drinking and one way is to promote wine's consumption with food.
Frightening as it may seem for us free-market adoring wine lovers, the reality of a government controlled wine industry is much more palatable than it sounds. While the system may be more restrictive, an enlightened monopoly can provide a wide range of choice, competitive prices, especially for fine wines, free food and wine pairing advice and a knowledgeable sales force (all Vinmonopolet sales people are provided with wine education). I would certainly not trade our open market structure with Norway, but the local industry seems fairly happy with what they have. At least a dozen people I asked during my visit unanimously said, "A wine monopoly is the best choice for Norway and it works well."
Reprinted with permission from South China Morning Post