Enjoying Food & Wine in Hainan Island
---
---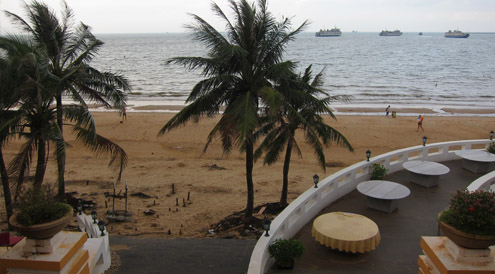 My hosts at Haikou in Hainan island, knowing how much I enjoy local food, were eager to take me to a typical Hainanese restaurant. The parking lot of the restaurant was like a giant hypermarket replete with a huge set of buildings. We entered an area that looked like something in between a large Malaysian hawker stall centre and a giant wet market. I was told it was a very popular restaurant with the locals called Qiong Cai Wang.
Concerned about my comfort, my kind hosts had booked one of the numerous private rooms which had air-conditioning but the main dining areas were divided into giant indoor halls and outdoor seating areas. There was no menu, just rows and rows of food stalls where you ordered vegetables in one row, then moved down to the noodle row, then poultry, other meats, fish, crabs and just about everything under the sun. Live turtles, frogs and other amphibians and reptiles as edible delicacies are a common sight in Asia, but this was the first time I saw a farmed crocodile being cut into pieces for consumption.
We passed on the crocodile meat and ordered local clams, fish, scallops, chicken and a plate of Hainan fen, a noodle dish with a distinctive stinky odour akin to chou tofu that I have come to adore. Each dish we ordered was at the specialised station and we were able to pick out not only the ingredients we wanted, available to view in a basket, but also how it was cooked. For each dish, we were asked a set of questions: "How much garlic would you like in the clams? Would you like spring onions? A little or a lot?"
One expects Hainan to have some wonderful seafood being surrounded by water, but the meat dishes were equally good. I was very impressed with the Ding'an black pig barbecue meat. The fatty part of the pork meat was fried crispy like the texture of thickly sliced fresh bacon and the meat had a slightly sweet and spicy soy sauce marinade that was very similar to the flavours of Korean beef short rib seasoning.
As I spoke more and more to the local foodies, it was extraordinary how they described their favourite foods and ingredients in terroir, or place specific ways. It isn't just black pig from Hainan, but the black pig that comes specifically from Ding'an county within Hainan. We all call it Hainan chicken but for locals, it is Wenchang chicken, referring specifically to Wenchang city within Hainan where the special breed of free range chicken with yellow skin and juicy meat is prized. Even the popular boiled duck dish is referred to by the town within Qionghai that made the dish famous – Jiaji. The list of local dishes attributed to a certain towns or specific regions in Hainan goes on and on: Wenquan goose, Lingao suckling pork, Wanquan carp, etc. The succulent meat dish, called 'Dongshan lamb', is a tender goat that is cooked in coconut milk and originates from the Dongshan mountain region in Hainan. Even the crabs are given regional names such as Hele crab near Wanning county. While the French have legalised the appellation system which regulates and grants the designation of origin for their agricultural goods including cheeses, butters and of course wines, perhaps it was the Chinese that had this concept much earlier for food; Hainan is just one obvious example. This is a topic worthy of a PhD thesis.
I had the fortune of meeting over 70 wine lovers from Hainan who came to my book launch dinner in Haikou and I was fascinated with their questions about place and region of each wine that was served at the dinner. The questions were not just about where each of the wines was from or what the common traits were of wines from a specific region. These were deeper questions like, "Is Bordeaux really the best place in the world to grow Cabernet Sauvignon and Merlot?", "Does Chile have good land and climate for making the top red wines of the world?", "Why does Sauvignon Blanc do so well in New Zealand?", "Where in China do you think has the potential to make world-class Cabernet Sauvignon?"
Perhaps it is because the locals are so used to the concept of quality being related to a specific place that their questions were so probing and serious. When I asked about why the Wenquan goose was better than from other regions, I was provided with some very passionate explanations. "Of course the Wenquan goose cannot be replicated anywhere else! In the villages near the Wanquan river, the people have spent hundreds of years raising a local hybrid species of goose that one cannot find elsewhere. The types of grass grown there that the free range geese eat are special and the locals know exactly how to fatten them up."
The similarities between passionate food lovers and wine lovers are not that different. We discuss what seems like minutiae to outsiders not interested in the topic: what are the unique and special climatic conditions both in the region and underneath the vine; how is the vine cultivated and trellised to obtain maximum benefit from the sun to ripen the grapes under the best possible conditions; how is the soil treated throughout the year so that the vine struggles and at the same time finds enough nutrition; how do you define optimal ripeness and then select the best harvest date every year; how much does vine age affect wine quality; how do you continually improve given different weather conditions which change year after year.
Savouring my crisp tasty piece of Ding'an pork, I wrote in my food and wine journal that never leaves my side: "Quality is achieved when we ask the right questions, even when we don't have the answers."
Reprinted with permission from South China Morning Post