Domaine Leroy
---
---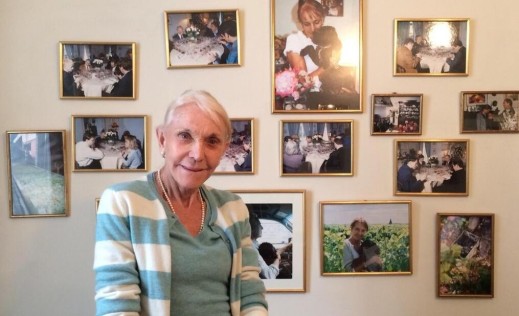 Rue du Pont Boillot
21190 Meursault, France
Telephone: +33 3 80 21 21 10
Fax: +33 3 80 21 63 81
Overview
Area under vine: 22 hectares producing between 35,000 to 45,000 bottles
9 Grand Crus, 8 Premier Crus and 9 Village wines
The domaine was founded by Laiou Bize-Leroy in 1988 by purchasing the estates of Charles Noellat at Vosne-Romanée and Philippe-Rémy at Gevrey-Chambertin
Madame Lalou first worked for her family's Maison Leroy which was founded by her father Henri Leroy in 1868 then she became President in 1971
From 1974 to 1992, Lalou was Co-Gerante of Domaine de la Romanee-Conti where she remains as shareholder and co-owner
Besides Domaine Leroy, other holdings include the negociant business Maison Leroy and Domaine d'Auvenay in Auxey-Duresses
Unique Aspects
The domaine has been farmed biodynamically from the start in 1988 and is certified by Ecocert
Very low yields of 15 hectolitres per hectare with some vintages like 2012 at a mere 9 hl/ha
No pumps are used, only gravity
No winemaker nor oenologist has been employed since the 1993
At harvest, the grapes go through a rigorous selection in the vineyard by the pickers as well as on two different sorting tables
100% whole bunch clusters are fermented in wooden vats that are dramatically painted black on the outside, then matured in new barrels
Jeannie's Insights
Domaine Leroy's wines evoke emotion – one sommelier in a three-Michelin star restaurant told me that many customers not familiar with the wines who try it for the first time either love it or hate it. Many Leroy wines when they are young can have a burly, wild, exotically intense character. After being lovingly cared for in a vineyard that is thriving with life – with no pesticides, herbicides or chemicals used for over two decades – the wines, understandably so, go into bottle shock. It takes at least five or more years for the wines to settle in the bottle and even after this time, they may not be ready to express themselves fully.
There is power and intensity in Leroy wines can partly be attributed to the biodynamic vineyard with yields that are minute – at around 15 hecolitres per hectare and sometimes dipping below 10 hecolitres per hectare. This is about one-third of many people's average yields in the Cote de Nuits. Another factor is the extreme selection and gentle methods used in the cellar. The bunches are kept whole with no de-stemming, and the berries and juice are handled gently with no pump or harsh movements.
The wines are alive and have incredibly energy and vivacity that is hard to describe in words. The same energy can be felt when spending time with Madame Lalou Bize-Leroy. She is one of the few women in the world that always makes me feel unkempt and slightly under-dressed. On a recent visit in November 2013, while I am clad in casual black walking shoes and jeans, she is wearing a pale blue and white cashmere sweater and cardigan set with 3-inch high heel boots. She has more style in her 80s than most women half her age.
Madame, as most people refer to her, is petite in size but her intensity and charisma make most people feel small in her presence. Her grey hair is often pulled back in a pony tail and she speaks rapidly and passionately about how she tends her vines. When I ask here how she manages to get so much intensity and energy in her wines, she replies, "It is simple, I love my vines more than most people."
Jeannie's Tasting Notes             
                  
2007 Leroy – Chambertin Grand Cru
A gorgeous, lovely bottle with expressive flavours; great density and depth with a very long length. Meat/game, herbs, savoury spices – aromatic, complex and very long on the palate. (96)
2008 Leroy – Romanee-Saint-Vivant Grand Cru
Gorgeous wine with lovely flavours with amazing layers on the palate. Yield was very low – only 13 hl/ha in 2008; in 2010 it was only 10 hl/ha; avg yield is 16-25 hl/ha, so this was a small vintage. (95) 
1966 Leroy – Romanee-Saint-Vivant Grand Cru
A silky smooth, mature Burgundy that will divide people as to its drinking state – I find it beautiful to drink now but some may find it too evolved. There is so much sweetness here – a mouthful of sweet pot pourri. Finish is long but the wine does fade after an hour in the glass. (93)
Recommended Wines
Leroy – Chambertin Grand Cru
Leroy  – Richebourg Grand Cru
Leroy  – Clos de la Roche Grand Cru
Leroy  – Nuits-Saint-Georges Aux Boudots 1er Cru
Leroy  – Vosne-Romanee Aux Brulees 1er Cru