Discovering Tea Flavours in Piedmont Wines
---
---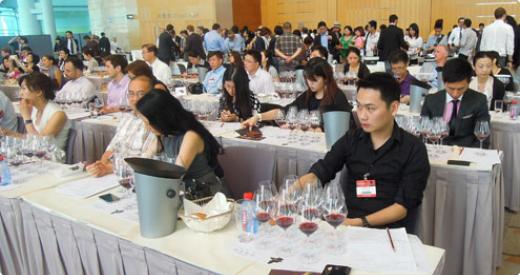 At this year's Vinexpo Asia-Pacific Hong Kong, Jeannie Cho Lee led an innovative seminar for Piemonte Land of Perfection. This umbrella association which includes four main consorzios of Piedmont, brought together 37 wineries showcasing more than 50 wines from the region. Jeannie led the discussion showcasing 10 representative Piedmont wines and described them using tea flavours and descriptors. Jeannie invited Tea Master, Vesper Chan, one of Hong Kong's most highly regarded and experienced tea educators, to share his knowledge about the ancient art of Chinese tea.
Read below for Jeannie's wine reviews incorporating tea flavours as reference points.
2007 Malvirá Roero Riserva Trinità DOCG
This 100% Nebbiolo from calcareous clay and sandy soil exhibits hints of white tea. On the palate the flavours are more earthy and closer to pu'er tea leaves but the aromatics are delicate and savoury. The Nebbiolo flavours here are austere and the tannins quite dry on the palate with moderate length.
Tea Flavours:White tea
2008 Paitin Sorì Paitin Barbaresco DOCG
This is a very aromatic Barbaresco with hints of longjing green tea and jasmine infused oolong tea. Lovely floral notes with firm tannins and silky textured flavours. Elegant Barbaresco with good length.
Tea Flavours:Longjing green tea, Jasmine tea
2008 Bruno Rocca Rabajà Barbaresco DOCG
Full bodied modern style Barbaresco with sweet plum and blackberry expression. On the palate, this wine exhibits a combination of jasmine and pu'er tea notes. There are darker flavours here than with traditional Barolo along with very firm tannins. Fruit expression is young and closed.
Tea Flavours:Jasmine tea, Pu'er tea
2007 Fontanafredda La Rosa Barolo DOCG
Combination of pu'er and white peony flowers on the nose with a rounded fleshy palate. This is a full generous wine with tannins that rise in the middle and finish. Very young with good potential to age/evolve beautifully.
Tea Flavours:White Peony tea, Pu'er tea
2007 Fratelli Pecchenino Le Coste Barolo DOCG
Hints of jasmine and white peony on the nose with firm tannins on the palate. Lovely flavours with firm tannins and grippy finish. The wine shows the ability to age but for at the moment the flavours are closed.
Tea Flavours:White Peony tea, Pu'er tea
2007 Icardi Parej Barolo DOCG
White tea aromatics on the nose along with dried prunes and cooked fruits in the background. The flavours are quite straight forward and not that complex. Palate lacks freshness and lift. Fairly short finish.
Tea Flavour:White tea
2008 Renato Ratti Marcenasco Barolo DOCG
Wonderful nose reminiscent of jasmine tea and osmanthus oolong. Very fresh, still youthful with velvety tannins and a long finish. Well made Barolo with supple texture and lively aromatics.
Tea Flavours:Jasmine tea, Oolong tea with Osmanthus
2011 Ca'dei Mandorli Asti DOCG
Light lemon colour with hints of white tea. Flavours include layers of osmanthus with fresh, crisp, lightly sweet flavours in the finish. Well-made, refreshing, lightly sweet sparkling wine.
Tea Flavours:White tea, Osmanthus tea
2011 Bera Moscato d'Asti DOCG
Very elegant refined Moscato flavours with delicate sweetness. The flavours range from sweet osmanthus to sweet mangosteen and longan. Fresh acidity and floral notes make this a wonderful lightly sparkling wine that is under-appreciated in HK/China.
Tea Flavours:Osmanthus tea