Chablis Anyone?
---
---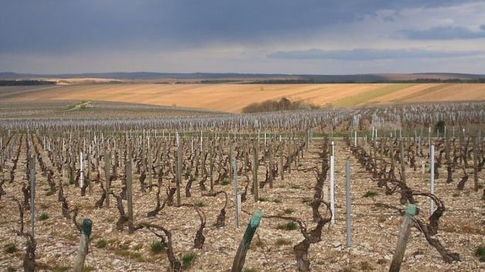 The first time I had Chablis, about 25 years ago, I distinctly remember thinking that this was a high acid, bland wine. Where were the flavours? What was so great about Chablis that it had become synonymous with French white wine? I knew there were many wineries in California and throughout Australia that used 'Chablis' on their labels to mean generic white wine at that time, often not even made with Chardonnay as it is Chablis. The region is now protected and such generic use of the name is prohibited. However, back in the 1980s, 'Chablis' was a popular name for everyday white wine.
In Hong Kong in the 1960s through to the 1980s, Chablis was a popular white wine among the British expatriate community who regularly enjoyed wine. At that time, white wine was more popular than red wine in Hong Kong. In many restaurants in the United States in the 1980s, Chablis was a popular white wine to have for those who enjoyed affordable, uncomplicated French white wine that is very different from the Chardonnays from California.
The rise in popularity of Chablis since World War II until the 1980s was probably a surprise to those in Chablis as well as many outside of it. Just after the Second World War, the region of Chablis was so depressed that the total area under vines was less than 500 hectares. Compare that with the current figure of 4,400 hectares! 1945 was the low point for Chablis where severe frost destroyed the vines to such an extent that there was no Chablis made during this vintage.
Thanks to growing demand from Europe as well as the United States, Chablis quickly recovered. Production rose from an average of 23,600 hectoliters per year in the 1960s to over 100,000 hectoliters by the late 1980s. This rise in both vineyards and yield came at a price. There were many young vines making tart, dilute Chablis that for those who first tried it, like I did in the 1980s, start to question, "What is so great about Chablis?"
Chablis is the coolest region of Burgundy, lying very close to Paris and 150 kilometres north of the famous Cote d'Or region where much of Burgundy's most sought-after reds and whites hail. The grand cru vineyards lie in a continuous line along the best situated south-west facing slopes north of the town of Chablis. The very best soils are made up of Kimmeridgian limestone, which is often pale grey or even white coloured, crumbly soil. This chalky soil dotted with fossil shells and vestiges of the sea crop up in parts of northern and central France. Loire Valley is another region that has a bed of Kimmeridgian soil in places like Pouilly Fume and Sancerre.
Historically, vineyards in Chablis date back to the Roman period and the tradition of winemaking, has been rooted in the regional culture for 1,000 years. After the fall of the Roman empire, it was the Catholic Church that was among its greatest supporters. Chardonnay is believed to have been planted in the region at around this time by the Cistercian monks. Similar to the rest of Burgundy, Chablis was strongly dependent on the Church and its members who tended and continued the winemaking tradition. It is easy to see how important the role of the church was by the sheer number of buildings built by the Church in Chablis –the hospital St Pierre, the Hotel Dieu, the Priory of the St Cosme as well as the Church of Saint Martin. Because of Chablis' proximity to Paris and the Yonne river which connects to the Seine, Chablis enjoyed popularity for centuries until the end of the 19th century when phylloxera arrived followed by the two World Wars. In 1850, the winegrowing region of Chablis was nearly ten times larger than the current area under vine.
Since 1938, the appellation for the Grand Crus of Chablis was defined but it took another 29 years to identify the Premiers Crus. When looking to buy Chablis, look out for the four classifications under which all Chablis falls: At the top is Grand Cru; 2nd, Premier Cru, 3rd Chablis then 4th Petit Chablis. While the classification has some merit, a better guid to quality is the reputation of the producer. A delicious, wonderful, Chablis or Petit Chablis from a top producer can be superior to a mediocre producer of Premier or Grand Cru Chablis.
That said, it is generally hard to go wrong with a Grand Cru Chablis such as Les Clos from a great vintage like 2008 or 2010. There are a total of seven Grand Cru vineyards with Les Clos being the largest with 26 hectares and enjoying the highest reputation. Others include Bougros, Preuses, Vaudésir, Grenouille, Valmur and Blanchots. There are many more Premiers Crus but the ones to look out for include Fourchaume, Montmains and Vaillons.
Chablis produces light bodied wines that often divides people – those who are fans love its refreshing high acid levels, its pure, unoaked lean style and use words like 'minerally', 'chalky' and 'steely'. Others who don't enjoy it may describe it as 'tart', 'sour', 'thin' or 'lacking in flavour'. Much depends on one's expectation of Chablis. If you understand that from this very northern climate, the style that is best expressed is lean, precise, detailed wines with vibrant acidity, then you won't be disappointed. But for some who expect a Chardonnay based wine with generosity and tropical or fruity expressions will certainly be disappointed.
Today's Chablis is a far cry from my first sip nearly three decades ago. There has been a revolution in the vineyard led by conscientious domaine owners and the wines are very exciting. The very best are serious wines that may be austere when young but will evolve, acquiring surreal, complex flavours and age for decades. At the very top end of the quality pyramid is Domaine Vincent Dauvissat and Domaine Raveneau. Alongside these two highly respected producers are others who are equally quality driven and produce exceptional wines. Chablis is a large region and there are a long list of rather bland Chablis out there but do look out for producers such as Jean-Paul and Benoit Droin, Jean-Marc Brocard, Bernard Defaix, Patrick Piuze and Christian Moreau.