Burgundy in Paris
---
---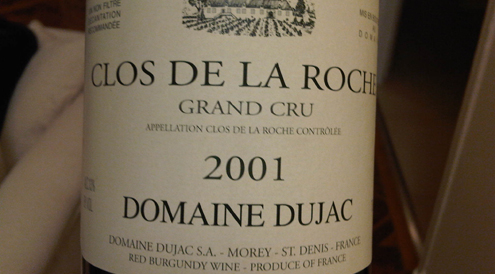 This month I am blogging from France. On my first night in Paris, I enjoyed a delicious bottle of 2001 Domaine Dujac Clos de la Roche. Although a few years from its peak, the fruit was glorious, filled with a multitude of mixed red berry flavours balanced by firm tannins and acidity. The wine possessed all the tell-tale signs of a great wine — complex flavours going beyond just berries to spicy, garrigue flavours and ending with a long finish. A great way to start off my Europe trip!
On the second night I enjoyed a much more modest wine from Burgundy, a 2005 Domaine Belleville Mercurey purchased from a local wine shop on the 1st arrondissement. Mercurey is one of the regions where delicious early-drinking Burgundy reds can be found at prices closer to Beaujolais than the Cote d'Or. At only 25 Euros, the Belleville Mercurey was bright, fruity and cheerful. It reflected the favourable growing conditions of 2005 and it offered everything a good Burgundy red at its peak should provide — delicious, elegant light-bodied style that is a great accompaniment to numerous dishes, including what we enjoyed with it, slow-cooked salmon with teriyaki sauce.
Below are a handful of my favourite Burgundy producers:
1.Domaine de Romanee Conti (DRC) – This is the epitome of Burgundian excellence. In eight and a half centuries La Romanee-Conti can count just nine owners and is recognized as one of the most famous wine making estates in the world. DRC wines are known for their distinct spiciness and the longevity of their wine. Everything about their wines express class, breeding, elegance and heritage. The best red Burgundy producer, period. 
2.Domaine Leflaive – With 13 acres of Grand Cru vineyards, this is one of the best white wine producers in Burgundy. Leflaive uses biodynamic techniques to cultivate a natural balance for grape growing to create some of the longest lived white wines from Burgundy. This domaine has an obsession with quality and is consistently good year in, year out.
3.Domaine Armand Rousseau – Reputably the best Grand Cru Chambertin producer in the world, with a strong focus on tradition. Rousseau is all about finesse and delicacy; the wines are feminine but with incredible power and longevity. The wines are all about 'the iron fist in the velvet glove.'
4.Domaine Taupenot Merme – The roots of this family go back to 1760 with vineyard holdings today in Gevrey-Chambertin, Morey-St. Denis and Chambolle Musigny. Now in the seventh generation, this family domaine focuses on traditional and pure winemaking coupled with organic farming. These are great value red Burgundies starting from their Village level Chambolle Musignys to their Grand Cru Chambertins.
Happy drinking!