Bollinger's rare, forgotten champagnes
---
---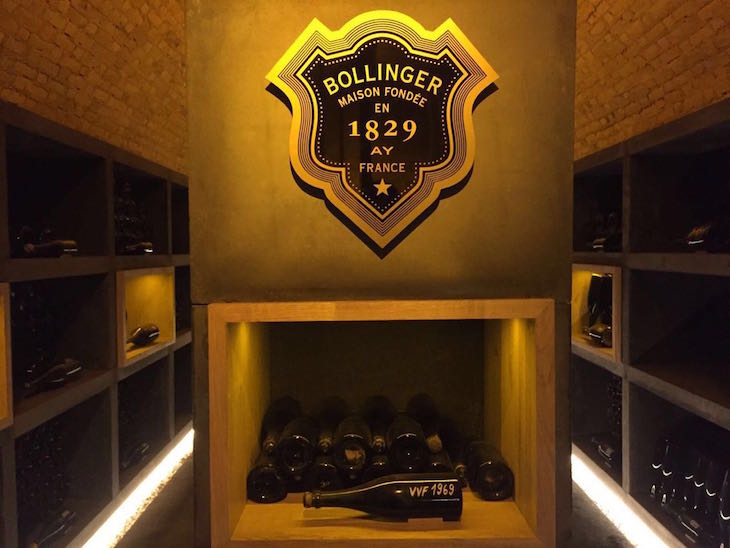 In 2010, 600 bottles were discovered in the Bollinger cellars dating back to 1830. These bottles were likely part of a stash that was being hidden from the Germans during World War II. In June this year, I had a chance to taste some of these amazing bottles that will be auctioned by Sotheby's New York on November 19th.
The wines were astonishing in their freshness and vigor. It was the first time I tasted champagne that was more than 180 years old. The 1830 Bollinger left me speechless; it was not a champagne in our common understanding of an effervescent wine. The character of the wine was more like Sherry, a still wine with obvious oxidation and age. But there was still life and vigor with dried herbs and green tea leaf notes. After the wine was discovered in 2010, it was carefully disgorged by the Bollinger team in 2014. Out of 54 bottles that were found and disgorged, only 13 bottles were deemed acceptable. I was privileged to be tasting one of the 13 bottles.
There were many impressive wines and for the first time, I gave two 100 points to champagne in the same tasting – one to the Bollinger Vieilles Vigne Francaise 1969 and one to the 1937 Bollinger La Grande Annee Brut. Please see my notes below.
Bollinger Vieilles Vignes Francaises Blanc de Noirs 1969
A gorgeous Bollinger that is intensely aromatic with notes of white truffles, layers of dried thyme and Chinese wood ear mushrooms. A beautiful wine that is long, intense and unforgettable; how do you forget the smell of freshly shaved white truffles? It was disgorged in 2012 with 4 grams per litre dosage.
100 points
Bollinger La Grande Annee Brut 1937
Deep gold color with hint of amber. A glorious wine with layers of dried mushrooms, smoke, black truffles and caramel notes. Amazing wine with great depth and a very long finish. The finish is incredibly long – last more than 30 seconds on the palate. Disgorged in 1969 with 11 grams of residual sugar.
100 points
Bollinger La Grande Annee Brut 1924
Amazing white truffle nose with layers of dried herbs and orange peel. A beautiful white that is no longer a Champagne but rather a still white with flavors of earth and delicate spices. Long, lingering finish.
99 points
Bollinger R.D. Extra Brut 1952
Complex and powerful with layers of biscuits, toast and honey. A delicious, intense Champagne with a generous palate. This is the first vintage of Bollinger RD which was released in 1967 and also disgorged in 1967. There are 13 grams per litre dosage that adds to the full mouthfeel and rich texture. After this vintage, the dosage became much lower.
98 points
Bollinger La Grande Annee Brut 1914
Spicy aromatics with spicy flavors like cardamon and cloves with layers of floral notes – dried lavendar and jasmine. Beautifully silky, light and spicy with a long finish. Disgorged in 1969 with a dosage of 5 grams residual sugar.
98 points
Bollinger R.D. Extra Brut (Jeroboam) 1973
An incredible Champagne that is so fresh that one would not guess it is over 40 years old. The color is still golden and the flavors still have yellow fruits along with biscuits and toasted mixed nuts. The wine opens up after an hour in the glass and continues to grow in size and improve.
97 points
Bollinger R.D. Extra Brut 2002
This gorgeous, complex Champagne just kept improving in the glass as it opened up. Like a great white wine, the wine expanded, adding depth and length with aeration. Flavors range from toast, citrus to spices and orange peel – still primary flavors suggesting the wine has a long way to go. Impressive wine.
97 points
Bollinger La Grande Annee Brut 1945
Deep gold color. Savory herbs and dried Chinese mushrooms on the nose. This Champagne is more like a full bodied aged white wine from a ripe vintage rather than a Champagne – there is very little bubbles left and the flavors are full and layered. Ripe, generous and creamy, ready to enjoy as a generousl white wine. Disgorged in 1969 with 11 grams of residual sugar.
95 points
Bollinger La Grande Annee Rose 2005
Despite the pale salmon-pink color, this rose has an intensity that is impressive. The palate is powerful and focused with layers of cherry and spicy notes but it is the generosity and depth that makes this rose Champagne memorable.
95 points
Bollinger Rose NV
A wonderful rose that is generous, rich, filled with red berry flavors while still having the core backbone of minerality and tension. A beautiful rose with a lingering finish.
94 points
Bollinger Special Cuvee Brut (Magnum) NV
Bollinger has a generous, full bodied style and the Special Cuvee is a good example of the house style – generous with nice palate weight and a roundness on the mid palate. Lovely, fine acidity supported by layers of delicate flavors and nice length.
92 points
Bollinger La Grande Annee Brut 1830
Deep amber with notes of mushrooms and dried herbs. It is still ailve but tasting more like Sherry and offering dried herb and oxidized flavors. The palate is like a dry still white with green tea leaf characters. The wine was discovered in 2010 and disgorged in 2014; there were originally 54 bottles and after opening the bottles, only 13 were deemed acceptable. No dosage added.
90 points