Blind Tasting Challenge including Yao Ming's Cabernet
---
---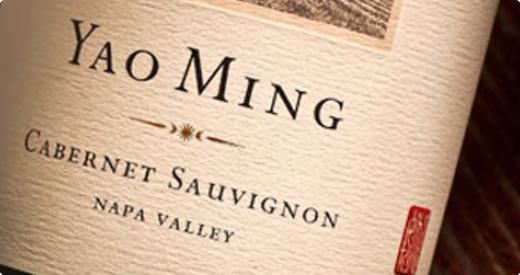 On February 10th, 2012, I decided to conduct a casual, fun blind wine tasting inviting a small group of seven Hong Kong-based wine professionals. There were a few wines I wanted to taste blind including Yao Ming's recently released 2009 Cabernet Sauvignon from Napa Valley and the 2009 Jiabeilan from Helan Qing Xue which won an International Trophy in Decanter World Wine Awards 2011. It was a lineup of eight Cabernet-based wines from around the world that included three wines owned by Chinese: Sloan, Yao Ming and Jiabeilan. The price point of the wines were above US$50 per bottle retail with wines like Sloan traded at above US$300.
The wines were poured in a separate area with the waiting staff at China Club who handled each wine and labelled them from one to eight. The glasses were brought to us, rather than the wines being poured at the table and we had a new glass for each wine. We were also able to keep all the wines in front of us so that we could go back to the wines at any time. The wines were rated out of 100 points with the scores handed in anonymously and tabulated at the end. 
The results were surprising. The group's two top wines were Sloan 2006, ranked number 1 and 2005 ranked number 2. Sloan is a Napa Valley winery now owned by a Hong Kong-based businessman who purchased the winery last year for US$40 million (according to The Napa Valley Register). The wine that came third for the group was actually my favourite, the 2007 Ridge Vineyard Monte Bello.
The group voted Sena 2008 as their fourth favourite and in fifth place was Yao Ming's 2008 Cabernet Sauvignon. It was ranked fifth by the group but one person rated it as their favourite commenting that the wine had depth and elegance. In sixth place was the 2008 Ducru Beaucaillou which was as young and exuberant as I remember it from barrel but disappointing since the wine lacked the depth and integration I expected from a four-year old Ducru.
The last two wines I chose not to rate because I felt the wines were not representative. The Fisher Insignia was corked and the Jiabeilan was oxidised. It was an educational blind tasting which had many of us discussing the drinkability of wine (Ridge would have won hands down in this category) versus intensity and personality in a blind tasting lineup which was led by Sloan. Pricing was another topic of discussion and for wines like Sloan and Yao Ming, one has to judge for themselves whether these wine warrant their very high price tag.
1. 2008 Vina Seña, Aconcagua, Chile
Full-bodied, ripe, balanced red wine with lovely flavours and a long length. Opulent without heaviness. The wine has velvety tannins and a cedar, spicy finish. Fantastic wine and one of my favourites in a blind tasting lineup of wines sold at twice its price.(93)
2. 2007 Ridge Vineyard Monte Bello, Santa Cruz Mountains, California, United States 
Very elegant, gorgeous complex nose with lots of violets and roses. This is an elegant red wine that is medium in body with grace and lightness. Lovely wine that is young and will obviously age well. Though one can enjoy it now, it would be best to wait at least 2-4 more years. In this blind tasting lineup, it stood out with its elegance and wonderful floral perfume. (93)
3. 2006 Sloan Winery, Napa Valley, California, United States
Very rich, ripe, mouth-filling wine with good depth and amazing concentration. Very powerful intense style with grip and intensity in the finish. This is a massive wine with power and depth but not a wine that can easily be enjoyed with a meal. Shows well in a tasting with good structure and depth. Excellent length. (91)
4. 2005 Sloan Winery, Napa Valley, California, United States
Attractive nose of plums and violets with hint of chocolate. A medium rather than full-bodied style striving more towards elegance. Nicely balanced Napa Valley wine with ripe flavours coming through and good length. (90)
5. 2008 Château Ducru Beaucaillou, Saint Julien, Bordeaux, France
Very intense blackberries, fresh and young – love its vibrancy. However, the flavours are very raw right now as though it is still a barrel sample. It shows good potential to age. Very young, closed at the moment. Wait 3-5 years before opening. (89)
6. 2009 Yao Ming Cabernet Sauvignon, Napa Valley, California, United States
Plummy, ripe, full-bodied wine that has the friendliness of Californian fruit. The nose and front palate is open and friendly but the finish is slightly rough. Tannins are slightly coarse rather than fine and the finish moderate to short. This wine retails for US$289. (87)
7. 2005 Helan Qin Xue Winery Jiabeilan Cabernet Sauvignon, Helan Mountain, Ningxia, China
Very spicy and herbal in flavour. Good balanced wine but unimpressive. Lacking in complexity and depth. On tasting after 5-10 minutes, found this bottle to be oxidised and flavour muted. (Not Rated)
8. 2005 Fisher Vineyards Coach Insignia, Napa Valley, California, United States
Drying on the palate and fairly short. Not rated since the wine is musty/slightly corked. (Not Rated)