Best Year Ever for Wine's Auctions in Asia
---
---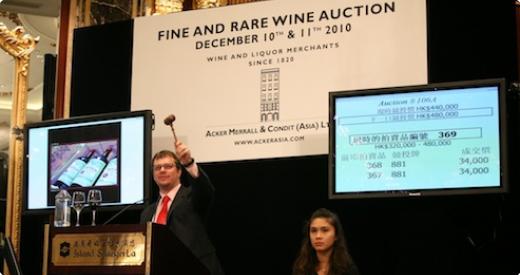 The last gavel has sounded for the wine auctions in Hong Kong for 2010. Acker, Merrall, & Condit held the year's last auction at the Island Shangri-La and the Grand Hyatt Hong Kong last weekend with a total sale of US$7.85 Million.  This adds up the auction house's total sales figure for 2010 amounting to US $ 63.2 Million.  
John Kapon, Acker Merrall & Condit's President and Auction Director, commented on last weekend's sale, "The excellent sale rounds up the year brandishing many spectacular achievements and results made by Acker Merrall & Condit. We once again stand at the top of Hong Kong's wine auction market, and continue to take pride in being the world's biggest and most important wine auctioneer." Kapon stresses the importance of having their base here in Asia, "We have established another milestone in our history by opening the Asia headquarters here right before this sale. Acker Merrall & Condit is trusted with an unmatched level of confidence by discerning collectors from around the world, and I am equally confident that we will continue to scale new heights in the forthcoming year."
Christie's capped off the auction house's Asia Wine department's best ever year in the region last November 26 and 27, fetching US$10,329,804.78.  Charles Curtis MW, the new head of sales for Asia, said the total 2010 sale of US$21,734,112.52, is the Asia department's best yet.  
And who would forget the phenomenal year forSotheby's, with their Lafite auction last October fetching a stunning US $698,076 for the parcel of three bottles of Lafite 1869 and the Sotheby's Bordeaux Collection from SK Network wine sales, achieving a record sale of US$10 million in 1.5 hours.
S.H. Kang, Head of Wine Business, SK Networks, commented after the sale, "We believe that Hong Kong will continue to grow as a hub of the global fine wine market."
In 2010, Sotheby's Hong Kong wine sales totalled US$52.5 million, in which the equivalent figure in 2009 was US$14.3 million, registering an impressive increase of over 250%.  This Hong Kong total has surpassed London (US$22.07 million) and New York (US$14.68 million), contributing to 59% of Sotheby's worldwide wine sales total in 2010.  Sotheby's HK has had 11 consecutive 100%-sold wine sales since 2009, the only major auction house to do so.
It has been an exhilarating year for wine auctions in Hong Kong this year. As the gavel hits the sound block once again in 2011, it is likely for more sales records to be broken in the city safely securing its niche as the world's new wine auction hub.  Acker Merall's next auction in Hong Kong will be held on 21 & 22 January 2011, 4& 5 March for Christie's, and 22 & 23 for Sotheby's. 
Text by Maida Pineda.Photo courtesy of Acker, Merrall & Condit. Posted16 December 2010