Avoiding Fakes - know the Provenance of your Wines
---
---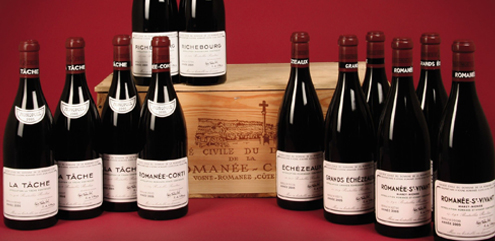 I was thrilled recently to be invited to Ambassadeurs, the fine dining restaurant of Hotel de Crillon, a grand former French palace and later, private mansion of Count of Crillon. The food, as expected was exceptional, but it was the wines I was really looking forward to: A vertical of Domaine de la Romanee Conti including a 1950 in magnum. I asked my Parisian host, "What is the provenance of these bottles?" He looked at me as though I was asking about the colour of his underwear. "This bottle is 60 years old, of course we don't know," he replied.
Quietly, I noted several American strip labels on the bottles of some of these wines indicating that these bottles had been sent to the US and found its way back to France. Others had the mark of various auction houses on the back of the bottles. Although we were enjoying these wines in France, these wines had clearly traversed the world before returning to its home country! I examined the cork and noted all were original and none were re-conditioned (topped up with younger wine and the old cork replaced with a new one). I was surprised that even in Paris I was the only one at a table of 12 wine lovers who cared so much about a wine's origin.
It also happened at a dinner in Hong Kong a few months ago. My generous host wanted to open a 1959 Chateau Margaux for a small group of friends. He loved this wine and over the years had accumulated 18 bottles at auction. That night, we opened three bottles before he found one that he felt was "the real stuff"; having consumed so much of this particular wine, he felt sure that many were fakes. It would have broken my heart but he was very nonchalant and exclaimed, "What can you do? Enjoying old wines means taking risks."
Very few people talk about fake or potentially fake wines in Asia despite the fact that many of us are aware of a growing market for empty first growth Bordeaux bottles in cities across China. We don't want to be told that we are buying or have bought fake wines. I have been invited to numerous dinners and tastings where I was certain, or strongly suspected, that some of the wines were not authentic. A recent example is a magnum of 1982 that a friend in Hong Kong generously opened for me – I had tasted this wine several times in the past year, once ex-chateau, so it was easy to identify the fake bottle. However, without the experience and confidence, validating the authenticity of mature wines on palate alone is riddled with problems.
Recently, there were rumors of questionable provenance swirling around a major auction in Hong Kong regarding the authenticity of some of the wines up for auction including mega-lots of Henri Jayer. Insider talk got so heated that the head of the auction house felt inclined to send out an email to fine wine buyers in Hong Kong to assure them that the wines had been thoroughly checked. It didn't hurt the auction—most of the lots were sold and auction records were broken.
The issue of fake wines has made headlines in major cities around the world over the past five years. This was partly triggered by court cases initiated by wine collector Bill Koch since 2006 against a German fine wine dealer called Hardy Rodenstock for allegedly knowingly selling fake wines. The case is still caught up in the US legal quagmire and has yet to reach trial, meanwhile Koch has decided to sue parties involved in selling him the wines including auction houses such as Christies and Acker Merrall.
Many seem to accept the existence of fake wines as easily as they accept corked wines in a restaurant. I don't think I can be as tolerant. We are at the crux of an amazing time in Hong Kong: The world of fine wine is shifting and Hong Kong is stepping into the limelight, spurned on by our duty-free status. Already, top Bordeaux chateaux like Cos d'Estournel sell over half of their production to Asia.
As we stand in the midst of such change, it is our responsibility to create an industry that has credibility and respectability. This means asking the difficult questions and questioning wines sold through our markets. It only takes one or two scandals to spoil the reputation of an entire industry, especially in the eyes of the affluent mainland wine lovers who look towards Hong Kong as a key source of authentic fine wines.
Reprinted with permission from the South China Morning Post