Auctions turn toward Burgundy
---
---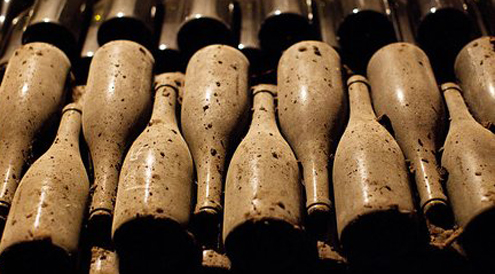 No other auction has been as successful over the past six months as the one held by Christie's this past weekend. What Christies had in their favour this time, despite the somber global financial mood, is timing. The timing was perfect for an ex-domaine sale of wines from the cellars of legendary Burgundy wine maestro, Henri Jayer. He is more than just a talented winemaker or vigneron, in Japan he is a wine God immortalized in the popular manga, Les Gouttes de Dieu (The Drops of God). In Burgundy, he was indisputably one of the most influential wine growers influencing an entire generation of young new talent from a very small base – he farmed only 6.3 hectares of vineyards around Vosnes-Romanee.
In the private rooms of Hong Kong's fine dining venues where wine connoisseurs often gather, it isn't DRC (Domaine de la Romanne-Conti) which most often draws superlatives but Jayer. Bringing a first growth Bordeaux these days is almost considered gauche and DRC just a bit too obvious. While Bordeaux prices have been on a continual downward spiral since early 2011, Burgundy has been growing steadily. Sales of DRC has been the most noticeable beneficiary of this trend but other top Burgundy domaines are doing well. Examples include: Domaine Comte Georges de Vogue, Domaine Leroy, Domaine Meo-Camuzet, Domaine Armand Rousseau, Domaine Emmanuel Rouget (Henri Jayer's nephew), Domaine Ponsot, Domaine Leflaive and Domaine Raveneau.
The other reason that the Jayer sale was so successful was because the wines had impeccable provenance. Consider the other two very successful sales over the past 18 months – the ex-cellar Lafite sale in October 2010 and the ex-cellar Latour sale in May 2011. Given concerns over provenance and authenticity, it is worth the premium to pay extra for genuine products and the Jayer sale had impeccable provenance.
Henri Jayer died in 2006 and this is probably the only time we will ever see so many of Jayer's wines sold direct from his own cellar. There have been many Jayer wines offered at auction and one fine wine importer confided, "Jayer is probably one of the most widely faked wines and I would never consider buying a Jayer at auction, except for this previous one where we know all the wines come from the great man's cellar." Christie's have a knack with timing – their ex-cellar sale of Chateau Lafite Rothschild was at the peak of the 'Bordeaux fever' in October 2010 and this Jayer sale is in the midst of a growing love affair with Burgundy.
For the Bordelaise, price adjustment is hitting the top wines fairly hard. Since early 2011, Lafite prices have been slowly deteriorating. It is still clearly in the lead, far ahead of its peers, but wines like Chateau Latour and Chateau Margaux are closing the gap. The 2008 vintage, with the Chinese number eight character written on the bottle, dropped by nearly 50% over the past year. At its peak, it was over US$2,000 per bottle and it can now be purchased at around US$1,000 per bottle.
From 2008 until end of 2010, prices rose steadily at auction and over 90% of the trading consisted of Bordeaux. Despite the financial crisis in the United States, the fine wine market, especially in Hong Kong, continued to move upwards with hardly a blip. The mood started to change in early 2011 however, and prices at fine wine trading sites like Live-ex started to show a downward trend. Many wine professionals like myself breathed a sigh of relief – the inevitable price correction has finally arrived. 
With the price correction came an opening up of the wine market beyond the top chateaux. The region to most benefit from this new direction is Burgundy. Every sommelier, wine merchant and importer I spoke to over the past six months commented that Burgundy was their fastest growing category. The shift may have started in Hong Kong but the demand has expanded beyond the city – buyers in the wine shops, restaurants and at auction may as likely be from Japan, Korea or Taiwan as from mainland China. Unlike the purely Chinese fascination with Lafite and a handful of other top Bordeaux chateaux, lovers of top Burgundy exist throughout the region. Pockets of DRC lovers who are willing to pay astronomical prices for the best bottles exist not just in greater China but also in Japan, Korea and Singapore.
With wine auctions focusing on Burgundy, it looks likely that prices will move rapidly upwards. Jayer's auction was 100% sold and raised HK$66 million which is three times their pre-sale estimates. The question now is whether this marks the beginning of the shift toward Burgundy or its peak. I am willing to bet on the former purely because of supply and demand. The top Grand Cru wines by producers like DRC, Dujac or Vogue number in the hundreds of cases in contrast to tens of thousands of cases for cru classe chateaux in Bordeaux. There is simply not enough to go around. If you already have favourite producers and wines from Burgundy, I would suggest stocking up on them now before prices escalate further.
Reprinted with permission from South China Morning Post