Auction Fever
---
---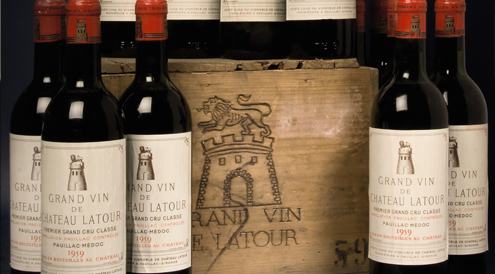 John Kapon is a savvy businessman and auctioneer. He wasted no time when the wine duty was eliminated in February 2008 to hold a major wine auction in Hong Kong just three months later. As President of Acker Merrall & Condit and head of one of the largest, most successful auction companies, John understands a thing or two about marketing and making a statement. Acker's first auction was billed as 'the largest wine auction in the history of Asia' and the hard cover bright red auction catalogue was a doorstopper – it must have cost a fortune to print and to post. Wine collectors and writers were spoiled with great wines during an entire week of pre-auction wining and dining. Since then, Acker has been at the forefront of a paradigm shift in the wine auction world that centred around London and New York which is now focusing on Hong Kong.
Hong Kong has already surpassed London in wine auction sales and during the first quarter of 2010, the combined four auctions held in Hong Kong surpassed that of New York according to Peter Meltzer, auction correspondent for Wine Spectator. For those of us writing and commenting on the wine industry, we began to get auction fatigue around the end of 2009. 
'This auction fever has to die down', I remember saying to friends a year ago. With fierce bidding, buying in a Hong Kong auction often means higher prices paid for the same wine versus buying in Paris or New York. So why is it still growing so rapidly, I wondered. The main benefit for buyers is that the wines can be enjoyed right away without fretting about shipping and other logistics of bringing wine from overseas.
After a brief summer break, wine auctions are back. My calendar is filled with auction dates with September being the busiest month. All four of the top auction houses (Acker, Christie's Sotheby's, Zachys) will hold a major auction in Hong Kong between September 11 and October 3rd – that is more than an auction per week! Ambitious auction houses like Acker plan to hold an auction nearly every month from September to January. 
As invitations and press releases crossed my desk, one particular Christie's auction in September caught my eye: A one-day sale of wines from the SK Networks collection. It is common for auctions to focus on single-owner sales, but these are usually individuals rather than a corporate Korean giant like SK Networks, with nearly US$18 billion in annual revenue. After making a few enquiries, I found out that since 2005, SK has been slowly amassing a fine wine portfolio worth over US$120 million with all the stock lying in London or Bordeaux. Over the summer, they quietly established their Hong Kong office, their third overseas branch – the other two are in Bordeaux and London.
I know that when Koreans are focused and committed to something, they are formidable, despite the odds. Just look at the car industry when Hyundai entered or the electronics business when Samsung decided to make a mark. When I spoke briefly with Suk Hyung Kang, the head of SK's wine business, he used expressions like "endless devotion", "dedication to the wine industry" and "surpass existing competitors", which gave me an inkling of their ambitions for the Hong Kong and China market. I was impressed that they own a Bordeaux negociant company so they can buy direct from the chateaux, cutting out unnecessary margins. I was more than impressed when I was told point blank, "Financially, we target US$1.5 billion in total wine sales by 2012". I have never heard any wine business target a figure in the US$ billions before.
Reprinted with permission from the South China Morning Post