Asian flavours in Verdelho and Verdejo
---
---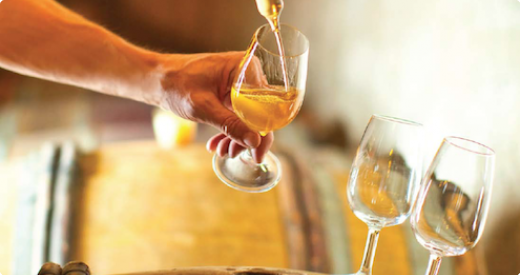 It is easy to confuse Verdelho with Verdejo. But for the fact that the names are syllable apart, they are distinct varieties. Verdejo is an aromatic variety indigenous to Rueda in Spain that has been proven through DNA analysis to be distinctively different from the Verdelho grown in Madeira and Australia. Jeannie examines the flavour profile and structures of these two grape varieties, using Asian-based ingredients as descriptors.
Verdelho
Verdelho's original home is in Portugal's Atlantic isles where it is one of the grapes that produces a fortified wine called Madeira. Known for its marked acidity, Verdelho is often used to produce aromatic medium dry wines with hints of caramel. It is the most planted of the four "noble" varieties in Madeira, which are Sercial, Verdelho, Boal and Malavsia.
In Australia, Verdelho is not a popular export variety but is appreciated domestically. It yields a wide range of styles, from clean, simple and lightly floral to oak matured fuller-bodied wines. The fruit flavours can range from fresh dragon fruit to warm tropical fruit expressions with a sweet, floral note. Verdelho in any form is destined to be consumed early to fully appreciate its simple fruit profile and fresh acidity.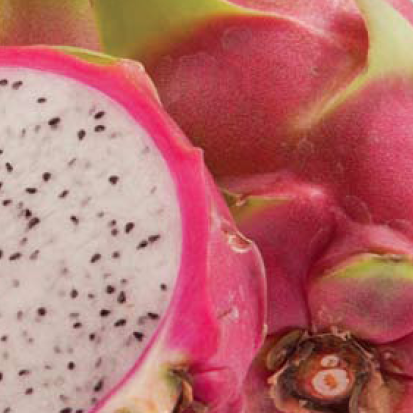 The Asian descriptor for Verdelho is dragon fruit, also known as pitaya. The fruit comes from the cactus family and is cultivated in Vietnam, Taiwan and Malaysia. The flesh of the dragon fruit is coloured white or magenta with black seeds. Its pulp is sweet, juicy and tastes reminiscent of kiwi and pear. 
Verdejo
In Rueda, Verdejo produces a light-bodied wine with delicate floral notes along with hints of citrus and herbs. With anaerobic winemaking, it keeps the fruit characters of Verdejo subdued and never aggressive, wrapped around crisp acidity. There is an underlying herbaceous character accompanied by delicate floral and star fruit notes.  It is often blended with Sauvignon Blanc. Barrel fermentation and skin contact may give Verdejo a richer full-bodied style. Its high susceptibility to oxidation makes it a key component in Sherry style wines.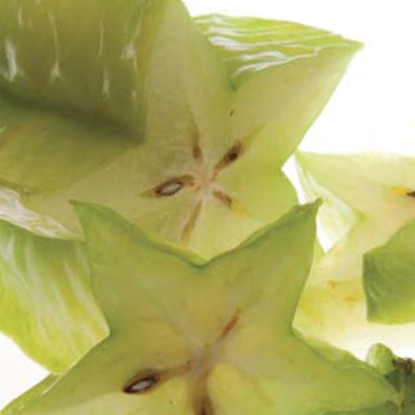 The Asian descriptor for Verdejo is star fruit, also known as carambola and native to Southeast Asia. Named for its distinctive shape, the cross section of the berry resembles a five-pointed star. Star fruit has a crunchy pulp covered by slightly waxy skin. As the star fruit ripens, the juice mellows from intensely sour to a mildly sweet with just a hint of tartness.
  References:
Jeannie C L. 2011. Mastering Wine for the Asian Palate. 1p. (Minor Varieties; Ch7-161)
Wines and Spirits: Understanding style and quality: Wines & Spirit Education Trust. Revised edition 2011
Zee F, Yen C-R, Nishina M. 2004. Pitaya (dragon fruit, strawberry pear). Honolulu (HI): University of Hawaii. 3 p. (Fruits and Nuts; FN-9).
O. Warren. 2009. Quality of Carambola Fruit as affected by harvest maturity, etc.: University of Florida. 1p. (Review of Literature on Carambola Ch2-19)