Affordable Top Picks from 2015 Bordeaux
---
---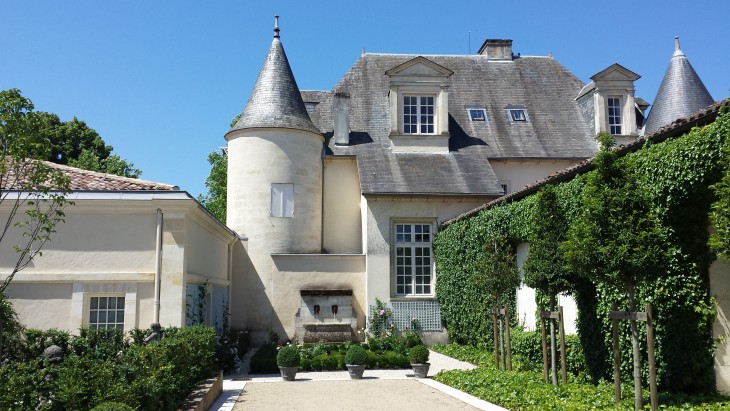 Bordeaux 2015 is a great vintage, its balance reminds me of the 2005s, its approachability recalls the 2009s while the freshness and focus reminds me of 2010. The red wines are consistent across the board while the whites are less impressive and the sweet wines also less consistent. Overall though, this is an impressive, excellent year for Bordeaux.
Baptiste Guinadeau of Chateau Lafleur in Pomerol says, "2015 had three important factors that combined to make it a great vintage. First, the flowering and spring weather was dry and warm with not much rainfall. The dry conditions contributed to producing small, concentrated berries. Second, the drought-like conditions, which started to become worrying in the summer were alleviated by bursts of rain that were welcome starting in August and September. Finally, the harvest conditions were ideal with no rot or disease pressure."
Under these favorable conditions, the top chateaux made fantastic wine and my highest rated wines are the obvious ones – Petrus, Margaux, Latour, Haut-Brion, Lafleur, La Mission Haut-Brion, Haut-Bailly to name just a handful. But the hallmark of a great vintage is in the quality of the lesser-known, modestly-priced chateaux that are below US$30 per bottle retail, based on 2014 prices since the 2015 prices are not yet available. I would expect a small increase of 10-15% from these petit chateaux for the 2015 vintage compared with the 2014s.
Below are the red Bordeaux wines I would recommend below US$30 per bottle*, grouped by appellation and rated out of 100 points:
RIGHT BANK:
Chateau d'Aiguilhe, Cotes de Bordeaux Castillon
Elegant, fresh and lively. Well made medium bodied red with plenty of juicy red fruits and floral notes. Balanced, elegant and enjoyable young. US$18/bottle. 91 points
Chateau Mont-Perat, Castillon
A serious Mont-Perat with firm tannic structure and vibrant dark berry fruit. Concentrated, full bodied with cedar and earthy flavors and a minerally finish. Well made and great value! US$11/bottle. 91 points
Chateau Grand Village Rouge, Bordeaux Superieur
Sweet red plums, black tea leaves and cassis on the nose; the palate is equally sweet with ripe flavors. There is firm structure with firm tannins – good potential to age for a decade easily. US$18/bottle. 90 points
Chateau de Bel-Air, Lalande-de-Pomerol
A seductive floral nose with violets and jasmine; the palate is equally suave and enticing with red fruits and sweet spices. Tannins are well handled with supple texture and a fairly long finish. US$25/bottle. 92 points
Chateau La Chenade Denis Durantou, Lalande-de-Pomerol
Perfumed, incredibly aromatic and pretty – violets, jasmine and red roses. Both delicate and linear with freshness despite the ripeness and sweetness of lots of ripe fruits and sweet spices. US$13/bottle. 91 points
LEFT BANK:
Chateau Capbern, Saint-Estephe
Supple, round and plump, velvety palate with layers of plums, cassis and violets. Well made, good intensity on the mid palate with a lingering finish. US$18/bottle. 90 points
Chateau de Pez, Saint-Estephe
A wonderful wine that is delightful to enjoy young but should age well over the next 6-9 years. Balanced, filled with dark berries, layers of tobacco and cedar. Good concentration offering exceptional value. The neighbor of de Pez is Calon Segur. US$8/bottle. 91 points
Chateau Beaumont, Haut Medoc
Attractive violets, cedar and cassis with an elegant, refreshing mid palate. In this big vintage where tannins could easily be extracted due to the small berry size, Beaumont has done a great job extracting just enough – flavors are vibrant, fresh and tannins velvety and supple. Well done. US$11/bottle. 90 points
Chateau Belgrave, Haut Medoc
Sweet blackberries, cassis and plums on the nose followed by supple, full bodied dark fruit profile on the palate. A juicy, generous red that is open now but should keep for a decade easily. One of the best Belgrave reds made in the past decade. US$24/bottle. 91 points
Chateau de Malleret, Haut Medoc
Consistently balanced, fruity, plummy and soft, rich and round. Good value chateau – a go-to winery for value. US$23/bottle. 90 points
Chateau Paloumey, Haut Medoc
Lively, fruity and upfront with ripe blackberries and plums on the palate. There is little over-extraction in this wine with all the freshness one would expect from a top Haut-Medoc chateaux in a top vintage. US$16/bottle. 90 points
Chateau Senejac, Haut Medoc
Soft, accessible, balanced and ripe. A medium bodied, well made Haut Medoc red with flavors that are restrained and classic. A traditional Bordeaux that leans toward restraint and has a subtle flavor profile. US$13/bottle. 90 points
Chateau Sociando-Mallet, Haut Medoc
Balanced, elegant and well made wine with restrained herbal flavors. A wine that has cassis and cedarbox flavors and a pleasant gentle character. Enjoy young. US$27/bottle. 90 points
Chateau Fonreaud, Listrac-Medoc
Ripe, plummy, generous Listrac with velvety firm tannins. Well made, full bodied, generous red that will be delicious young. Filled with mocha and dark plums with modest length. US$17/bottle. 90 points
Chateau Maucaillou, Moulis-en-Medoc
Wonderful lifted flavors with bright red berries and red plum flavors. Attractive floral and cedar aromatics and a fresh, lifted character to this Moulis red that is quite refreshing. A medium bodied, elegant red that is perfect for enjoying young and over the coming decade. US$18/bottle. 91 points
Chateau Poujeaux, Moulis-en-Medoc
A delicious, well made Poujeaux that offers plums, mocha and cassis fruit. Generous, quite open and plush with well handled tannins and good finish. US$24/bottle. 91 points
Chateau Bouscaut, Pessac-Leognan
This is a very pretty red that is both intense, lifted and focused. The wine has wonderful precision, lifted floral and red berry fruit character and freshness. The wine is beautifully composed and will be accessible even young but should age well over the next 10+ years. US$21/bottle. 93 points
Chateau Carbonnieux, Pessac-Leognan
A supple, balanced, harmonious red with lovely layers of dark fruit, herbs and cedar notes. Well made red that is quite restrained so it may not be showing its full potential now – a wine to revisit with several years of bottle age. US$28/bottle. 91 points
Chateau Olivier, Pessac-Leognan
Lively, well made red with layers of savory spices, cedar, cassis and tobacco flavors. Surprisingly open and drinkable even now, this vintage is among the best from Olivier that I tasted over the past 10 years. US$25/bottle. 91 points
Denis & Florence Dubourdieu Clos Floridene Rouge, Graves
Medium bodied, well made red with juicy plum flavors and fresh acidity. Lifted flavors with ripe tannins and a nice round finish. US$14/bottle. 89 points
*Prices are based on wine-searcher global retail average prices for the same wine from the 2014 vintage, as of 15th April 2016.